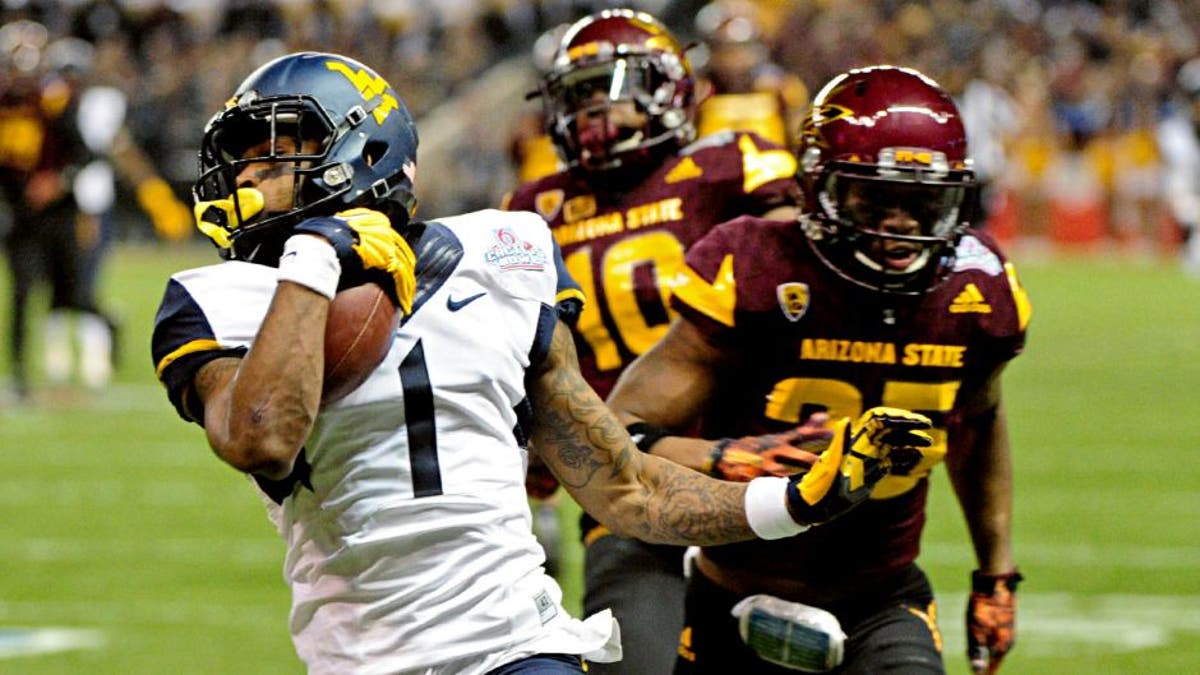 PHOENIX -- Skyler Howard threw for a Cactus Bowl-record 532 yards and hit David Sills on a 15-yard pass for his fifth touchdown with 2:19 left, lifting West Virginia to a wild 43-42 win over Arizona State early Sunday.
The Cactus Bowl made up for its late start with an assault on the record books.
The teams combined for 1,196 yards of offense and the 950 yards passing was the most in the Cactus Bowl's 27-year history.
Typically a run-oriented team, West Virginia (8-5) went to the air, and Howard broke the Cactus Bowl record of 476 yards set by Washington State's Drew Bledsoe in 1992.
Mike Bercovici threw for 418 yards and hit Gary Chambers on a 58-yard pass in the fourth quarter for his fourth touchdown of the game, but Arizona State (6-7) kicked an extra point instead of going for 2 to lead 42-36. After Sills' TD, the Sun Devils turned the ball over on downs their last possession.
Arizona State's Tim White broke the school record for all-purpose yards with 289, scoring two touchdowns and a blocked PAT return.
Howard also broke Marc Bulger's school bowl record of 429 yards, set in 1998, and connected with Shelton Gibson four times for 143 yards.
West Virginia was 14th nationally in rushing offense, thanks in large part to Wendell Smallwood. The Mountaineers clearly saw something they liked in Arizona State's porous pass defense, particularly cornerback Kweishi Brown.
West Virginia went at Brown early and picked on the rest of Arizona State's secondary throughout the first quarter, gaining 191 yards on eight receptions. Trouble was, the Mountaineers couldn't capitalize, settling for three field goals.
The Mountaineers kept going at Brown, though, and Gibson blew past him for a 59-yard touchdown in the second quarter. The Sun Devils took Brown out for a few plays, but West Virginia went right at him when he returned, scoring on a 10-yard pass from Howard to Daikiel Shorts.
Howard, who's career high was 359 yards, had 334 on 15-of-26 passing by halftime.
Arizona State's high octane offense needed a tuneup early.
The Sun Devils didn't get their initial first down until 1:51 of the first quarter and had to settle for a field goal after Salamo Fiso returned an interception to West Virginia's 22-yard line.
Arizona State finally found a gear that worked later in the second quarter, scoring on a tackle-breaking 19-yard reception by Devin Lucien. But then it failed on three tries from inside West Virginia's 5-yard line and settled for another field goal later.
A strange turn of events kept the Sun Devils within 22-18 at halftime.
Arizona State blocked the extra point after Shorts' TD and White returned it 98 yards for the first 2-point conversion return in school history. West Virginia squibbed the ensuing kickoff and Arizona State recovered, taking advantage of the short field to set up Zane Gonzalez's 35-yard field goal with a second left.
The third quarter turned into a series offensive counterpunches.
The Sun Devils moved quickly for a 2-yard TD pass from Bercovici to White. White scored again late in the third quarter by breaking three tackles and tight-roping his way down the sideline on a 33-yard reception.
The Mountaineers went back at Brown, scoring on a 64-yard pass from Howard to Gary Jennings, though it appeared Brown was expecting help from the safeties. Brown was alone when Gibson later caught a 37-yard completion and Shorts scored on a 17-yard pass the next play to put the West Virginia up 36-32 heading into the fourth quarter.
Chambers scored the go-ahead score with just under 5 minutes left when West Virginia safety Dravon Askew-Henry slipped, but Howard led the Mountaineers quickly down the field for the winning touchdown.