Series lead on the line for Clippers and Jazz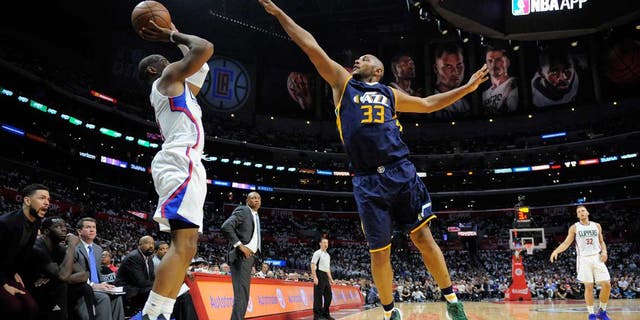 NEWYou can now listen to Fox News articles!
SALT LAKE CITY -- Getting owned in the paint by an opponent is unfamiliar territory for Utah. It's a plausible scenario that the Jazz could face again as long as center Rudy Gobert remains sidelined.
Gobert will not play against the Los Angeles Clippers in Game 3 of the best-of-seven, first-round Western Conference playoff series Friday. He is still recovering from hyperextending his knee on the first possession of the series opener, and it could take a while before he is game-ready again.
Without Gobert protecting the rim, Utah surrendered 60 points in the paint in a 99-91 Game 2 loss to the Clippers that evened the series at 1-1 on Tuesday night. DeAndre Jordan and Blake Griffin led the way in crushing the Jazz's interior defense with a flurry of dunks and layups.
The Clippers also dominated the glass at crucial times and forced Utah to try to beat them on offense instead of defense. Jazz coach Quin Snyder said his team needs to step up defensively in other ways to deal with Gobert's absence.
"Rudy is not going to walk through the door right now," Snyder said. "Whatever adjustments we make, it's not going to replicate Rudy. There's things we can do a little differently but, as far as just shoring up the paint, I'm not sure that's going to happen at a level Rudy did it."
It may come down to how effective Derrick Favors can be long term in sliding over from power forward. Favors has averaged 32.5 minutes in the playoffs after playing 17.3 minutes per contest in his final three regular-season games in April. He is averaging 14 points and 6.5 rebounds in the playoffs.
Favors has struggled a bit with fatigue as he gets used to playing heavy minutes again, but he is willing to do whatever is needed while Gobert recovers.
"It's a little different than playing the four, especially on the offensive end," Favors said. "I'm in different areas, mainly closer to the basket. Stuff like that I got to adjust to. I've been in that position before. I've talked to Quin about it. I've talked to Rudy and a couple of other guys about it. They gave me pointers on where to be on the offensive end. It's working out for me right now."
If the Clippers can replicate the level of dominance they showed in Game 2, it could go a long way toward helping them reclaim home-court advantage on Friday night. Los Angeles started strong on offense and defense Tuesday as it shot 65 percent from the field in the first quarter while holding the Jazz to 29 percent from the floor in that same stretch.
The Clippers' three main stars all chipped in with strong performances. Blake Griffin finished with a team-high 24 points. DeAndre Jordan and Chris Paul each contributed double-doubles, with Paul scoring 21 points and dishing out 10 assists and Jordan scoring 18 points and grabbing 15 rebounds before fouling out in the final minute.
They neutralized the Jazz's usual tough defense, in part by controlling tempo.
"We moved the ball great, but all in all, our pace was pretty good all night," Paul said after the game. "Whether they scored, missed or whatnot, we just tried to keep the tempo and the pace up."
Such a high-speed, all-around effort was needed. The Clippers never trailed, but they could not safely put the game out of reach until the final minutes of the fourth quarter.
Los Angeles expects a similar brand of intensity over 48 minutes from the Jazz in Utah.
"They're a team that they keep fighting," Griffin said. "They keep executing. I've said it over and over, but they're really well-coached. They don't panic."