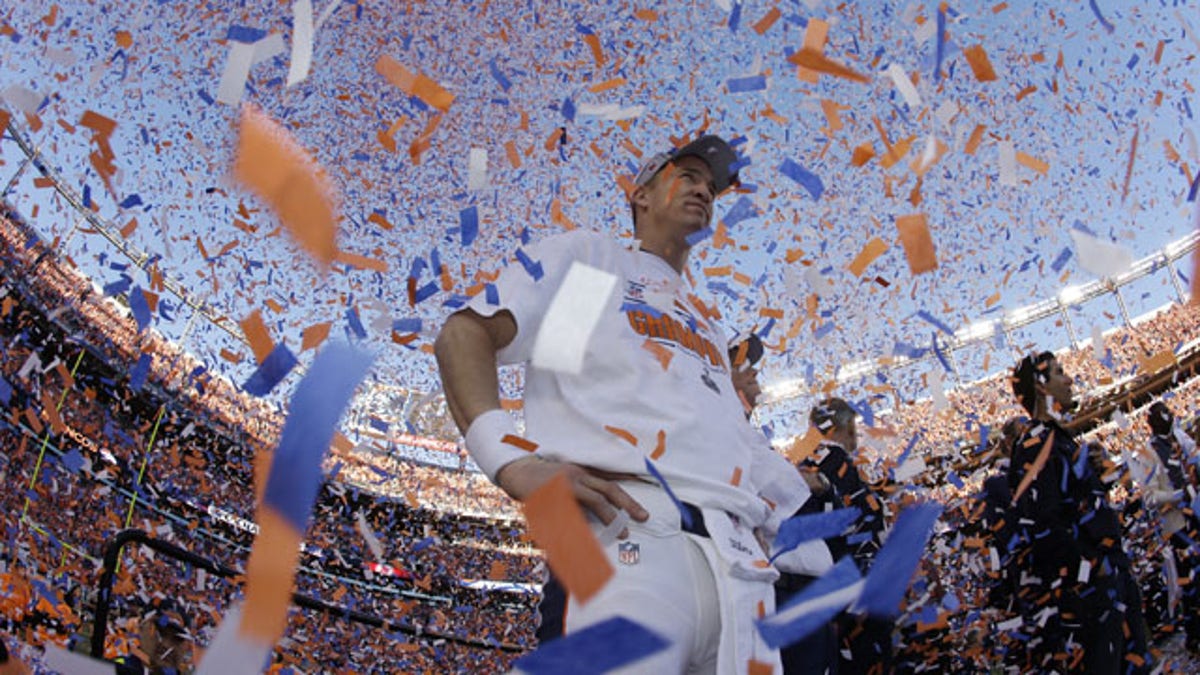 Denver Broncos quarterback Peyton Manning runs the NFL's No. 1 offense.
Seattle Seahawks cornerback Richard Sherman is a key cog in the NFL's No. 1 defense. (Just ask him.)
That intriguing matchup will be one of the main Super Bowl story lines when the AFC champion Broncos (15-3) play the NFC champion Seahawks (15-3) on Feb. 2 at MetLife Stadium in East Rutherford, N.J.
According to STATS, it's the first NFL title game since 1991 pitting the team that scored the most points in the regular season against the team that allowed the fewest.
Definitely no upstarts here.
Providing quite a cap to the season, this marks only the second time in the last 20 Super Bowls that the No. 1 seed in each conference reached the NFL championship game. The only other such matchup since 1994 also involved Manning: His Indianapolis Colts lost to the New Orleans Saints in 2010.
Manning does own one Super Bowl title already, having led the Colts past the Chicago Bears in 2007.
Already the only four-time NFL MVP -- and expected to earn a fifth such honor when awards are announced the night before the Super Bowl -- Manning can become the first starting QB to win titles with two franchises.
"He's been remarkable," said Denver's John Fox, one of six coaches to take two clubs to the league's title game. "It's unprecedented what he did."
In a 26-16 victory over Tom Brady and the New England Patriots in the AFC championship game Sunday, Manning was pretty much flawless, going 32 of 43 for 400 yards with two touchdowns.
"Peyton played great today," Brady acknowledged.
And now, inevitably, the two-week buildup until the Super Bowl will be mainly about Manning, just as this entire season has. He is, after all, the player who set NFL records by throwing for 55 touchdowns and 5,477 yards, helping Denver lead the league with 37.9 points and 457.3 yards per game. He is, already, an inescapable pitchman, seen Sunday after Sunday during TV commercials. Hey, there he was on the screen, selling cars, during the broadcast of the NFC title game. Expect even more face time now.
Manning's oft-told tale, certain to be repeated a million times in the coming days, includes his comeback from a series of surgical procedures to his neck, attempts to cure problems that led him to sit out the entire 2011 season and led the Colts to send him packing.
Against the Patriots, Manning's offense scored on six consecutive possessions, accounted for more than 500 yards, had zero turnovers and zero sacks.
Ol' No. 18's opposite number in two weeks, Seattle quarterback Russell Wilson, provides a real contrast as he seeks his -- and the Seahawks' -- first Super Bowl trophy.
The 6-foot-5 Manning is 37, in his 16th NFL season, a prototypical pocket passer who was a No. 1 overall draft pick after a stellar college career. Wilson is 6 inches shorter, 12 years younger, a skilled scrambler in only his second pro season after slipping to the third round of the draft; he's a guy who had to transfer colleges to get playing time and thought about pursuing a baseball career instead.
Clearly, Wilson picked the right sport.
"Any time you get to the Super Bowl," Wilson said after Seattle beat the San Francisco 49ers 23-17 on Sunday, "it's a special time."
Seattle's defense, led by Sherman, allowed an average of 14.4 points and 273.6 yards this season, both best in football. That unit also led the NFL in takeaways. On Sunday, the Seahawks forced three turnovers in the fourth quarter alone, including a victory-sealing interception by linebacker Malcolm Smith after Sherman stretched his left hand to tip Colin Kaepernick's pass away from receiver Michael Crabtree in the end zone.
"I'm the best corner in the game," said Sherman, an All-Pro. "When you try me with a sorry receiver like Crabtree, that's the result you're going to get."
Seattle's only other trip to the big game ended with a loss to the Pittsburgh Steelers in 2006. Denver will be playing in its seventh Super Bowl and eyeing a third title, to go with those from 1998 and 1999.
Manning can match his younger brother Eli with a second Super Bowl crown. Eli, a spectator on Sunday in Denver, won two trophies with the New York Giants, whose stadium hosts this year's game.
In addition to Wilson, other members of the Seahawks getting the chance to introduce themselves to a wide audience include rugged running back Marshawn Lynch -- some fans tossed packs of his favorite candy, Skittles, onto the field after a 40-yard TD run in the third quarter -- and coach Pete Carroll, a rah-rah sort who was a title-winning college coach at Southern California.
And maybe some of Manning's less-heralded defensive teammates -- the ones who clamped down on New England's running game Sunday and limited Brady much of the afternoon -- will get their chance to shine, too.