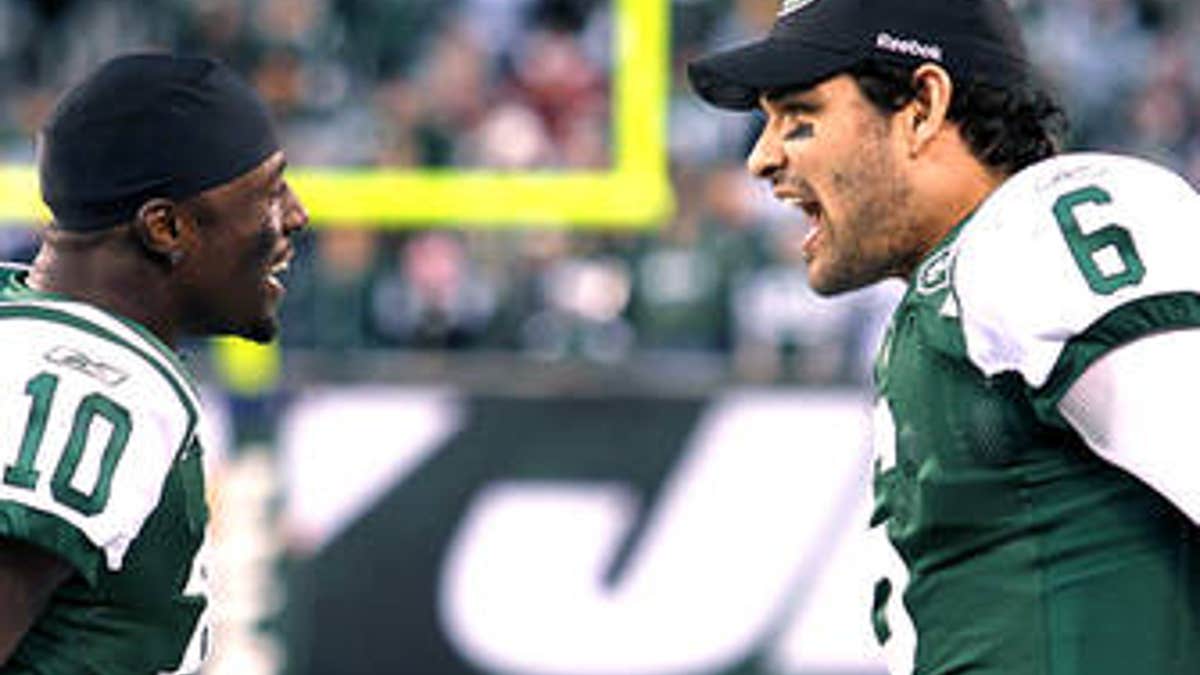 New York Jets quarterback Mark Sanchez made one mistake asking Santonio Holmes to be his valentine on Twitter.
He shouldn't have stopped there.
A card, roses and box of candy were welcome accessories. Forget about Kate Upton. Why not invite Holmes to dinner and a movie as well?
At this point, Sanchez should be doing anything -- well, just about anything -- to insure he and his wide receiver are a happy football couple once again.
The message Sanchez sent to Holmes, complete with jpeg of a red heart-shaped box of shortbread cookies, was done tongue-in-cheek. Sanchez was poking fun of last month's media reports revealing the rift that had developed between the two early in the 2011 season.
Sanchez, though, had better hope Holmes is laughing with him rather than at him over Tuesday's Tweet. That's because Sanchez needs Holmes far more than Holmes needs Sanchez.
The hero of Super Bowl XLIII for Pittsburgh, Holmes has already established himself as a top-flight wideout. Sanchez hasn't proven himself a top-flight quarterback.
This must change in 2012 if he's going to justify the "Sanchize" nickname prematurely bestowed upon him.
Sanchez shouldn't be made the scapegoat for all of New York's 2011 failings. The defense, running game and offensive line didn't perform at the same high level as the previous two years in which the Jets reached the AFC Championship Game. Jets head coach Rex Ryan slipped, too. He failed to detect locker-room unrest and continued to make brash public statements that made some players uncomfortable because the same confidence was lacking.
Such problems can sometimes be covered by strong quarterbacking. Sanchez didn't provide that. Even more disturbing, Sanchez was at his worst vs. New York's best opponents.
In five games against playoff teams -- New England (twice), Baltimore, Denver and the New York Giants -- Sanchez completed 50.8 percent of his passes. He averaged a middling 5.6 yards per attempt, which reflects plenty of check-downs and a lack of big plays despite having a threat like Holmes at his disposal. Sanchez threw four touchdown passes, six interceptions and was sacked 17 times. The Jets were 1-4 in those contests.
It's enough to make Jets fans pine for Peyton Manning -- healthy or otherwise.
There is no indication that New York will make a play for the other Manning if released by Indianapolis as expected. Ryan and general manager Mike Tannenbaum have repeatedly stressed their support for Sanchez. Ryan went so far as to call Sanchez an "ascending" talent during a Wednesday encounter with Jets media.
That type of backing meant someone else had to take the fall for Sanchez's decline. It wasn't going to be Holmes despite deviant behavior that hit a new low in the season-ending loss to Miami. The Jets guaranteed his 2012 base salary of $7.75 million last offseason when signing Holmes to a five-year, $45.3 million contract.
Replacing high-paid players, especially gifted ones like Holmes, is far more difficult under a salary-cap system than doing the same with coaches. Thus, offensive coordinator Brian Schottenheimer was given a one-way ticket to the Jersey swamps.
Ex-Miami Dolphins head coach Tony Sparano is now running the show. Sparano has never held an NFL coordinator position before and his Miami offenses were known for their conservatism in his four seasons there. But he should be savvy enough to make sure Holmes gets targeted early and often - a major Schottenheimer flaw in 2011.
A happier Holmes could defuse some of New York's internal problems. Holmes must mature - a common refrain since his college playing days. This also means avoiding inflammatory public statements that can alienate teammates like the ones he made last season that started a brouhaha with right guard Brandon Moore.
Sanchez needs to grow up, too. Living the playboy lifestyle a la Joe Namath or dating a supermodel like Tom Brady did is fine - provided your on-field results are as glamorous as Upton or Gisele Bundchen.
The ugliness now clouding Sanchez's NFL future shows how much he has leveled off since becoming one of only six quarterbacks to ever win four road playoff games and doing so by the tender age of 24. Sanchez has the NFL's second-highest interception total (51) over the past three seasons. He threw eight of them during New York's three-game losing streak that ended the 2011 campaign.
What were once considered growing pains by being thrust into the starting lineup as a rookie may actually be permanent flaws in his game because Sanchez isn't trying hard enough to fix them.
"He's lazy and content because he knows he's not going to be benched," one Jets player told the New York Daily News last month in a story that quotes teammates and staff members criticizing Sanchez's work ethic.
Ryan erred by naming Sanchez and Holmes team captains entering last season. The honor should be earned, not grown into. Neither player was ready for the responsibility that comes with leading and setting the tempo for others. The lack of outcry from Jets players about the anonymous Sanchez criticism is especially damning.
Sanchez and Holmes should spend this offseason focused on their personal and professional relationship. They have the kind of physical talent that could make them an incredible quarterback-receiver duo.
Anything less would be heartbreaking for a franchise that thought Sanchez and Holmes would be making beautiful music for years to come.