Sam Bradford feels comfortable with Eagles' tempo on offense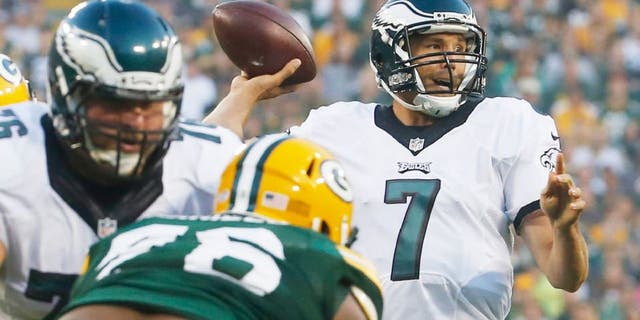 NEWYou can now listen to Fox News articles!
Philadelphia Eagles quarterback Sam Bradford has never played in Chip Kelly's offensive system before, but he has played in an offense that moved at a tempo nearly as fast as this one does. During the 2008 season, Bradford led the Oklahoma Sooners to the BCS title game by throwing for 50 touchdowns in an offense that moved nearly as fast.
"The tempo is very similar," Bradford said on Tuesday per Paul Domowitch. When we were out there against Green Bay and we were rolling and got things moving, it felt very similar to being back in college and just going."
Tempo is not the only similarity that Bradford sees between his collegiate offense and the scheme he plays in now. The base concept of Kelly's offense is to get the ball out in space so the skill position players can make plays after the catch or after contact in the running game. Bradford never got to experience a similar offense with the Rams, but this was also the base offensive concept during his time at Oklahoma.
"It's a similar mindset [to that team] in that we have playmakers all over the field, and my job as quarterback is simply to distribute and get them the ball and let them make plays in space," he said.
Not everything about the Eagles' offense reminds Bradford of the Oklahoma offense he thrived in. The Eagles use a very different mix of personnel.
"The concepts aren't quite the same as what we were doing in Oklahoma," Bradford said. "We were spread [like the Eagles]. We were no-huddle [like the Eagles]. But we played a lot in '21' personnel [two running backs, one tight end), '12' personnel [one back, two tight ends), '13' personnel [one back, three tight ends]. Whereas here it's primarily '11' [one back, one tight end, three wide receivers), with some '20' (two backs, no tight ends, three wide receivers) and '12' sprinkled in."
Since Kelly's arrival in Philadelphia, the Eagles have used more 11 personnel than any team in the NFL. It's unclear which five skill position players will primarily run with the first team offense, outside of DeMarco Murray and Jordan Matthews. At this point, a rotation based on down and distance seems like the most likely scenario, at least to kick off the regular season.
(h/t Philly)