Ryan Bader: Let me get my shot at the UFC championship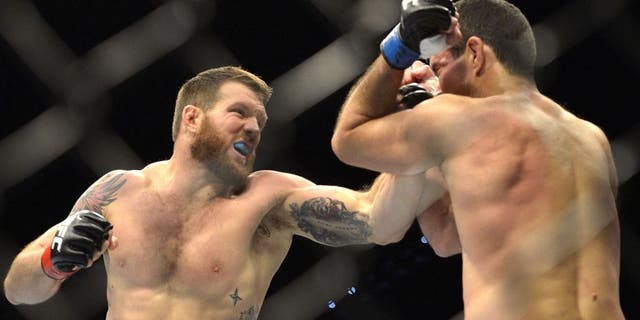 NEWYou can now listen to Fox News articles!
With five straight wins, Ryan Bader would seem to be atop the list of light heavyweight contenders in the UFC. However, now that everyone knows stripped former champion Jon Jones isn't going to jail for his hit-and-run case, it would appear likely that he could very well get a title shot before Bader, against his rival and current titleholder Daniel Cormier.
Speaking with Submission Radio recently, Bader said he was not trying to be distracted by hypotheticals. As far as he is concerned, "Darth" will fight Cormier, next.
"As of right now, my mindset is, I'm fighting Daniel Cormier until we hear what happens with Jones," he insisted.
"So I don't know. That's my mindset right now."
If Bader were in charge, he'd make Jones wait for him and DC to fight it out. "What I think [the UFC] should do, is they should wait ... I don't know, 10 months, and give Ryan Bader this title shot, and [Jon Jones] can come back and fight me once I get that. That's what I think should happen," he detailed.
Of course, there are no shortage of excellent fighters for Bader to fight, in lieu of Cormier. The streaking fighter doesn't believe that it makes sense to fight dangerous fighters who have already had their shots at UFC gold, and failed to bring it home, however.
"You know for me, I'm looking at fights that make sense right now. [Anthony Johnson] had his shot, let me get my shot. Gustafsson just had his shot. Who's in front of me? Gustafsson and Anthony Johnson," he reasoned.
"I have a five-fight winning streak right now -- the longest one in the UFC in their Light heavyweight [division] by far. So for me, these guys all got to get there shot, and you're going to keep on recycling them? So I think I deserve it enough to go out there and fight Cormier. Why would I just take the fights just to take a fight?"
Bader may make one exception, however, in the form of former title challenger Glover Teixeira. Teixeira is set to fight next month against Patrick Cummins, and is also just 1-2 in his previous three fights.
However, the Brazilian is the last man to beat Bader -- by TKO in 2013 -- so the American would welcome the chance to get revenge. "That's one, that's just a personal one for me," he explained.
"He was my last loss, and I want to go out there and avenge that and to even solidify it even more. So that's more personal. That was something I said if Jon Jones comes back, and they said, Daniel Cormier and Jon Jones are fighting for a title and they're fighting in June or May or April or what not, then that would be something to consider, because that's a personal thing that I want to get back. And I've always wanted to fight him after that loss. So that was just more, not strategic or anything like that, that's just more personal."