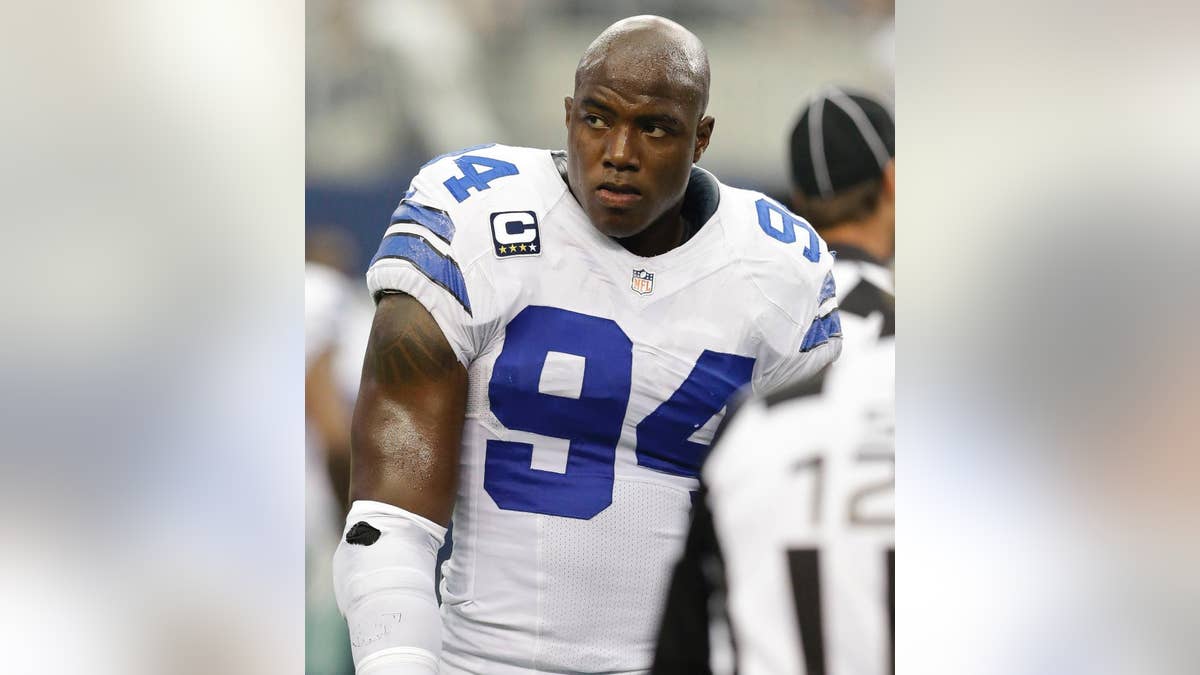 DENVER – Von Miller used to text, call and visit his mentor for pointers on pass rushing.
Now, his teacher is his newest teammate.
Yeah, it's safe to say the Denver Broncos hybrid linebacker is a big fan of bringing DeMarcus Ware on board.
After all, Miller's own pass rush moves are inspired by watching Ware terrorize quarterbacks for the Dallas Cowboys, where he had a franchise-record 117 sacks before being released. He can't wait to listen to Ware's suggestions on the field rather than over the phone.
Well, once Miller's ACL is back to full strength. Miller is currently working out in a pool, but hopes to soon be cleared for some light jogging and bike work.
Then, it's back to learning under Ware.
"This is great, seeing a guy that I molded my game after," Miller said Saturday as he took part in a program through his foundation to help identify kids in need of eye care. "Just to be able to pick his brain or how he gets ready for games, how he practices, how he stays consistent — this is big."
The Broncos have been on quite a defensive spending spree in free agency, bringing in the 31-year-old Ware, cornerback Aqib Talib and safety T.J. Ward at a cost of $110 million ($60 million guaranteed).
Of course, being on that side of the ball, Miller gave the moves a whole-hearted endorsement. It's also not a shock the Broncos are concentrating on defense after a 43-8 loss to Seattle in the Super Bowl.
"We had great guys before, but the guys we have now are big-time players," said Miller, who turns 25 on March 26. "This is a huge upgrade. We have guys coming off injuries and when you get a guy like Talib and Ward and Ware, it will solidify the whole defense."
Miller is coming off a rough season, one in which began with a six-game drug suspension and ended with a torn ACL on Dec. 22. Ware believes he can help get the 2011 rookie of the year on track. They already have a strong bond.
"When Von first came in, before he got drafted, I talked to him a little bit," Ware said. "Being able now to have the opportunity to play with him is a whole different thing. I'll be in the same locker room with him, being able to teach him some things. I'm looking forward to that opportunity. I just think that it's going to be great."
Miller couldn't agree more. He grew up a Cowboys follower and one of his favorite players was Ware.
"Seeing Demarcus' whole stance — I got that from him. I got all that from him," said Miller, who played at Texas A&M. "He is one of the best pass rushers in the league. ... I think having him in the locker room will be great."
When Miller first joined the Broncos, he thrived with Elvis Dumervil playing on the opposite side. Miller had 11½ sacks his rookie season and 18½ in 2012, before Dumervil bolted for Baltimore in 2013.
In Dumervil's place, the Broncos turned to Shaun Phillips, who had 10 sacks. Miller struggled at times once he returned from suspension and had five sacks before suffering his ACL injury at Houston.
His temptation is to hurry back, but he's taking things slow.
"I'm doing fine. I am doing great. It feels better every day," Miller said. "I feel confident and that I will be ready to go."
Any timetable for a return?
"It's tricky because you feel great some days and you want to do more than what you're really supposed to be doing," he said. "Right now, I am ahead of where I am supposed to be."
___
AP freelance writer Dale Bublitz contributed to this report.
___
AP NFL website: www.pro32.ap.org and http://twitter.com/AP_NFL