'Rumble' Johnson wants Bader for his next opponent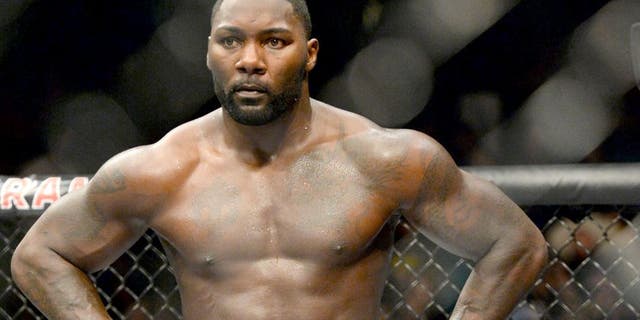 NEWYou can now listen to Fox News articles!
Fresh off a knockout win at UFC 191, Anthony Johnson would like to face Ryan Bader for his next fight inside the Octagon.
According to Johnson's manager Glenn Robinson via "UFC Tonight," the No. 1-ranked light heavyweight contender is interested in a fight against Bader after he defeated his teammate Rashad Evans at UFC 192 last weekend.
Bader is currently riding a five-fight win streak in the Octagon while creeping up the rankings in the light heavyweight division.
Johnson recently finished Jimi Manuwa after falling to current light heavyweight champion Daniel Cormier in May.
As for Bader, his manager Dave Martin told the show that they are holding out hope for a title fight against Cormier before committing to any other potential matchups.
While it appears former champion Jon Jones is on his way back to the Octagon where he will draw Cormier in his first fight back, the UFC still hasn't reinstated him after he received an 18-month probation following a hit-and-run accident and arrest in April.
Until Jones is officially back and announced to face Cormier next, Bader is holding out hope that he earns a title shot.
Considering both Johnson and Bader fought within the last few weeks, there's plenty of time for the UFC to decide on a next matchup for each of them based on Jones' potential return in 2016.