Rough ending: Dodgers rally past Mets in Game 2 to even NLDS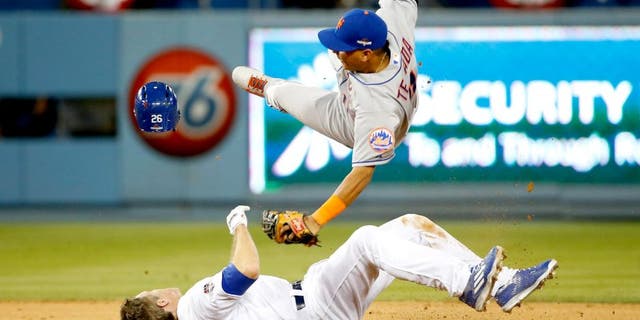 NEWYou can now listen to Fox News articles!
The Los Angeles Dodgers evened their NLDS with the New York Mets with a 5-2 win on Saturday.
Pitching was the story early as Zack Greinke pitched seven innings of two-run ball for the Dodgers, and Noah Syndergaard allowed three earned runs in 6 1/3 innings.
But the game turned on a takeout slide by the Dodgers' Chase Utley in the seventh inning. Mets shortstop Ruben Tejada suffered a broken leg on the slide and was carted off the field. Utley originally was called out at second base, but then was ruled safe on a replay review.
The Dodgers tied the score on that play, then added three more runs in the inning.
Yoenis Cespedes and Michael Conforto homered for New York off of Greinke.
Game 3 is Monday at Citi Field, with Matt Harvey starting for the Mets and Brett Anderson starting for the Dodgers.