Ronda Rousey on 34-second KO win: I still made mistakes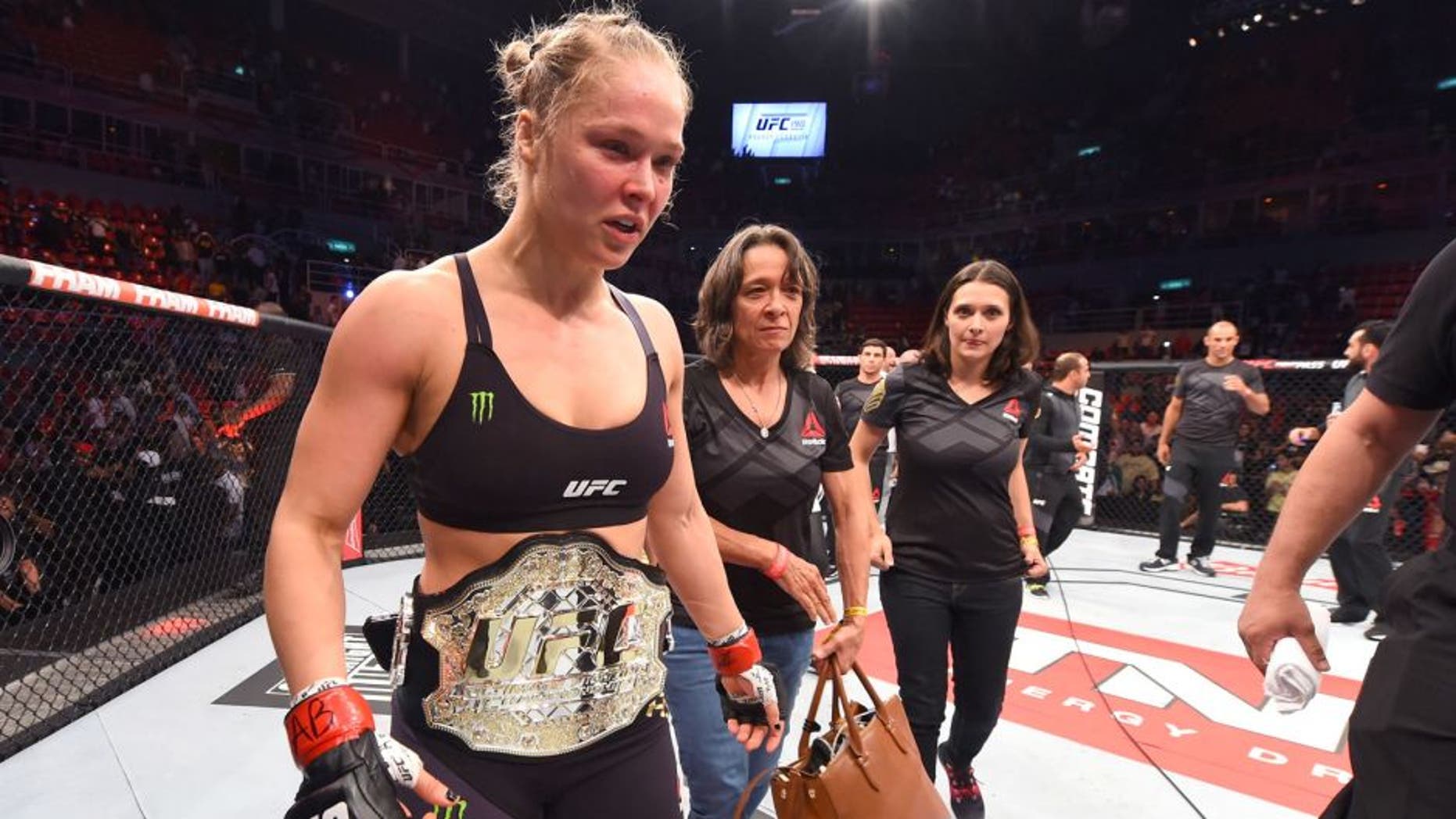 There are many things that separate UFC bantamweight champion Ronda Rousey from her peers: her lifetime in combat sports, her athleticism, her killer instinct. However, it is likely her pursuit of perfection that separates her the most.
A case in point: Immediately after her sterling 34-second KO win over Bethe Correia last Saturday in Rio at UFC 190, Rousey was obsessed with reviewing the fight tape so that she could pick apart her mistakes. That's right, Rousey noticed mistakes in her KO performance.
"I kind of want to see the video already because I know I made a couple mistakes," she told Megan Olivi.
Rousey likely gets that drive for perfection from her Judo world champion mother, AnnMaria DeMars. In fact, Ronda could see the frustration in her mother's eyes immediately after the win.
"So that was the main thing in my mind. And, my mom was standing in the corner, glaring at me because I specifically wanted to knock [Correia] out. I didn't want to say it but I did. So, I really went out of my way to. I still won, though, right mom? You can't really get that mad at me," she pleaded to her mom, standing to her right, with a smile.
Indeed, Rousey took Correia down quickly but made no effort to follow her to the ground. Instead, Rousey tried to time an uppercut punch as Correia stood to her feet.
Shortly after, Rousey dropped the Brazilian with a right hand to the temple, knocking her out cold. Still, it was too long for both Rousey and her mom.
"Well, I think she did really well but it wasn't perfect because she could've beat her quicker, and she knew she could've beat her quicker," DeMars said.
"But it was under a minute so we all promised her we'd do the hamster dance if she won in under a minute. So, me and your sisters owe you a hamster dance."
(So if Correia could've lasted a little longer, would we have gotten to watch the most feared woman on the planet do the hamster dance?)
But back to Ronda's supposed mistakes. Even though Correia lost quickly, she did manage to hit Ronda more than anyone else ever has.
Even before watching the fight tape, Rousey knew one crucial mistake that she made on her feet. "My posture could have been a little bit better," she explained.
"I was counting on her putting her hands out front and I did get poked in the eye, so I knew that was coming. So, I was keeping my head back a little bit anticipating that, and I don't think I should have."
She still got the job done, and managed to keep her cool despite months of trash talk from Correia and one final attempted insult from her opponent's brother, as she walked to the cage through the Rio crowd. "It was a little annoying when Bethe's brother, the guy with the blue hair, threw a Brazilian flag in my face," she recounted.
"I wasn't even mad that he threw something at me but I was just like, 'Why would you throw your own flag on the ground?' I thought that was really weird. And that was like the only thing where I was like, 'What's wrong with you?' and then I went back to what I was doing."
Yeah, the whole throwing your nation's flag to the ground in an attempt to distract a rival isn't something I really understand, either. That aside, Rousey was welcomed with fanatic adoration by the Brazilian crowd.
Afterwards, Rousey said she was nearly moved to tears by their chanting her name. "I was pretty close [to crying]," she admitted.
"I was holding it back. I was trying. But yeah, this has been . . . sometimes it's surreal. I feel like it's a dream, or something. But every single time I get back in there it seems like it was just yesterday that I was there. I don't know. It's hard to describe. Sometimes I'm not even sure that this is my life."