Ron Rivera: Cam Newton Should Be In Pro Bowl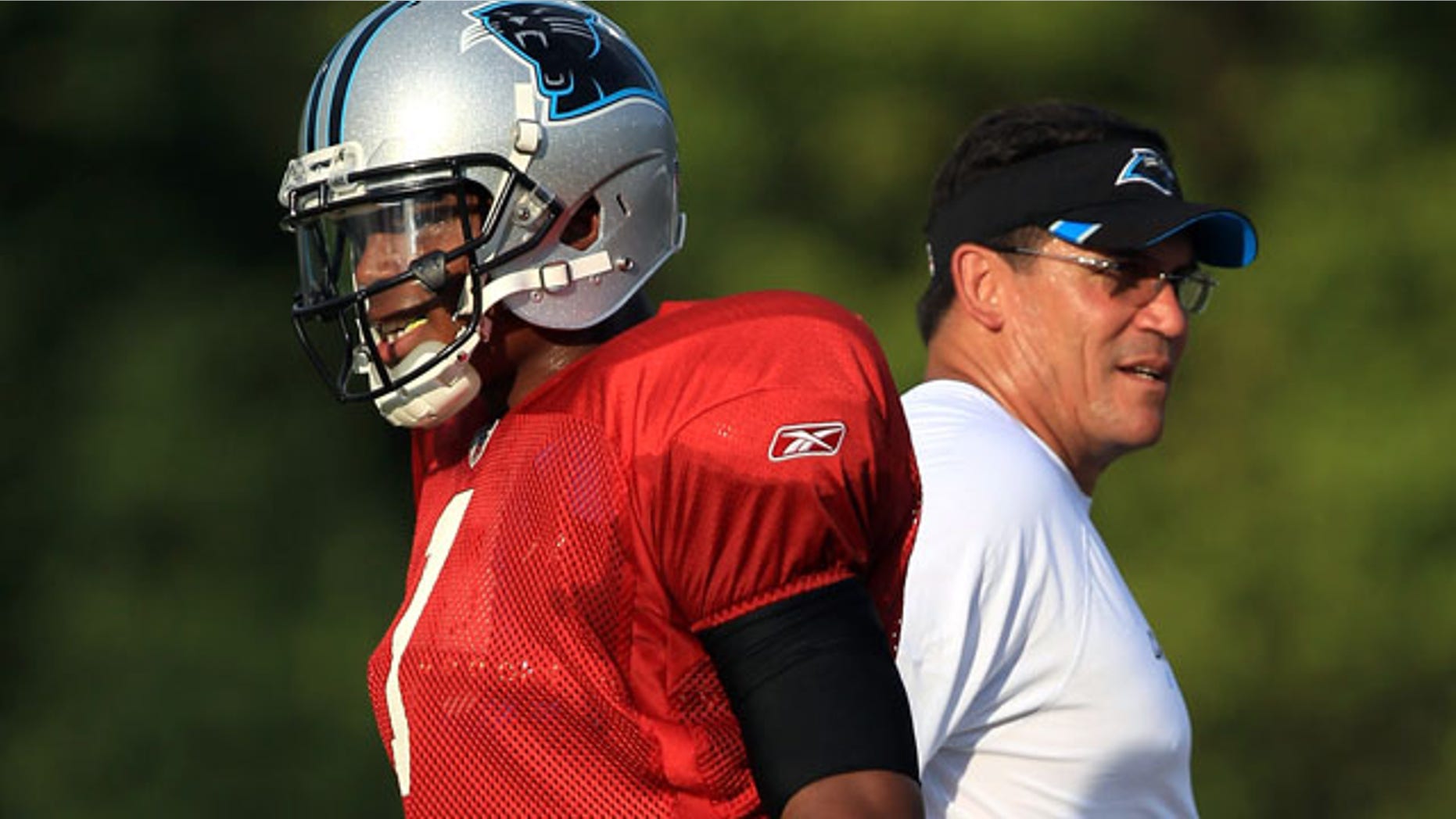 Cam Newton may be a rookie, but his coach believes he should already be discussed among the NFL's best.
To that end, Caroline Panthers coach Ron Rivera believes the dynamic quarterback deserves a spot in the Pro Bowl.
"I think he's deserving, I really do," Rivera said. "In light of everything he's gone through I think the young man has proven himself. It's just another process in his development. I think there are a lot of deserving players in this league and we'll see how it goes.
"But I do believe his work this year speaks for itself and speaks to what we've done offensively and as a team I think the young man has been tremendous."
Rivera's not alone.
Newton ranks third in the fan balloting at quarterback in the NFC behind Aaron Rodgers and Drew Brees, two players who are viewed as locks to make the team. Three quarterbacks from each conference are selected to participate in the Pro Bowl.
Newton set a league record this season for touchdown runs by a quarterback with 13 and is needs just 167 yards passing to break Peyton Manning's rookie passing record.
Newton ranks just ninth in the NFC in the passer rating, but third in the fan voting with 508,522 fans, about 57,000 more than the Lions' Matthew Stafford and nearly 190,000 ahead of Eli Manning of the Giants.
But while Newton has been remarkable and fun to watch, not everyone believes he should be the NFC's third quarterback in the Pro Bowl.
CBS analyst and former NFL quarterback Rich Gannon said if he were choosing he'd probably take Manning because he's made fewer mistakes and put his team in position to win the NFC East despite a rash of injuries to the wide receiver and tight end positions.
He thinks that while Newton can be great, he still has areas to needs to improve, most notably with taking care of the football.
He points out that Newton has thrown more interceptions (16) than touchdown passes (15), which makes it hard to consider him as a Pro Bowl.
"I think you really have to earn that Pro Bowl nod," Gannon said. "But you start talking about Eli and I think he's had a better job as far as bringing his team back in games."
Still, Gannon said he's impressed with what Newton has done for the Panthers considering they were last in the league in several major categories last season — total offense, yards passing and points scored.
This year the Panthers rank fifth overall on offense and 11th in scoring.
"You look at the guy and he's combined for almost 30 touchdowns and he's taken a passing game that was awful, I mean just plain awful, and made an immediate impact," Gannon said. "So that's pretty impressive, particularly for a rookie quarterback."
The fan ballots count for one-third of the entire Pro Bowl vote.
The other two-thirds come from the coaches and players.
And by the way some players talk around the league, Newton should do well in the player voting.
"He's something special," said Falcons linebacker Curtis Lofton. "He can do things most quarterbacks can't do. He's a very accurate passer, too. He's a true dual threat quarterback. I knew watching him in college that he'd be pretty successful in this league. He's pretty special."
Added Falcons safety William Moore: "He's like playing a D-lineman. It's like a D-end at quarterback. Then he's so fast. The last time we played, I gotta chance to get him down. But he doesn't go down with one hand. You've gotta gang tackle him. It's going to be important this week."
Panthers wide receiver Steve Smith believes Newton is deserving, but said it's difficult to make the Pro Bowl as a rookie — although Smith did just that in 2001 as a return specialist.
Smith said most rookies have to build their resumes first.
"He's played extremely well as a rookie, but the NFC is a tight race," Smith said. "Sometimes as a rookie you get overlooked. People will say, ok, but let's see if you can do it again and then we'll pick him."
Newton has been dynamic at times this season.
He has a chance to become the only quarterback in NFL history to throw for 4,000 yards and run for 500 yards in the same season.
"He is developing a complete game, which is exciting," Rivera said.
Smith said that while another young quarter, Denver's Tim Tebow, is getting all of the headlines, he considered Newton a better player.
"If Tebow is standing next to me I would tell it to his face — come check me out in five years, Jack, and you'll know who's the best quarterback," Smith said.
He says Newton's versatility makes him a better quarterback.
"Everybody wants to crown Tebow as a versatile quarterback," Smith said. "Versatile to me means you can throw the ball very accurately, run the ball and create things. The only he can create is running. He isn't very accurate."
Based on reporting by The Associated Press.
Follow us on twitter.com/foxnewslatino
Like us at facebook.com/foxnewslatino