Rob Gronkowski explains why he wore a onesie with Odell Beckham at Drake's house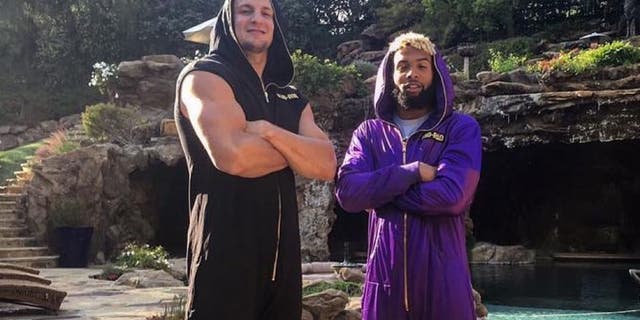 NEWYou can now listen to Fox News articles!
A month ago, New England Patriots tight end Rob Gronkowski posted this picture to Instagram:
Yes, that is him wearing a onesie with New York Giants receiver Odell Beckham Jr.
They were chilling at rapper Drake's house and apparently holding a jumpsuit party, because Patriots receiver Danny Amendola was also part of this:
Gronk finally explained this photograph in an interview with Katie Nolan for DraftKings.
"You know my boy Stevan Ridley. He used to play for us, running back. He went to LSU and is friends with Odell Beckham, who was living at Drake's. So Stevan Ridley has the onesie jumpsuits. I was with [rapper] Moose in L.A., who is Ridley's boy.
"We went to meet up with Odell, so then me and Odell got in the onesies and then we went in the backyard because it's such a beautiful backyard, and then we took pictures in the onesie."
Makes perfect sense, Gronk.