Rio Olympic organizers in search of 13K people owed money for unused tickets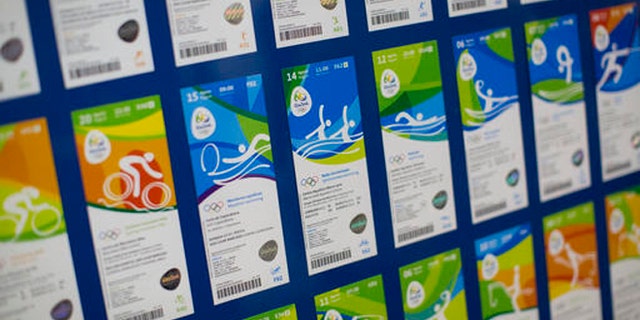 NEWYou can now listen to Fox News articles!
RIO DE JANEIRO (AP) – Olympic organizers in Rio de Janeiro are trying to hand over almost $3 million in ticket refund payments due to 13,000 people.
One big problem. They can't find them.
"We are hunting after people," Rio spokesman Mario Andrada told The Associated Press on Wednesday. "We have the money, but don't know how to get it to them."
Rio organizers allowed buyers to return tickets, which were resold.
"Instead of selling them to scalpers, they gave the tickets back to us, and we resold them," Andrada said.
Andrada said 140,000 people returned Olympic and Paralympic tickets for resale, a value of 80 million Brazilian reals ($23.5 million).
About 90 percent have been reimbursed. But incorrect bank details and faulty credit card numbers are hampering the remaining refunds that total about 9 million reals ($2.7 million).
Andrada said Brazilians represented 99.9 percent of the unpaid money. He said organizers have tried to contact people through social media and newspaper advertisements. He said an organizing committee website is also open to handle refunds.
Ticket problems plagued the Rio Games. Organizers apparently failed to sell enough tickets, leaving many empty seats at the venues and giving the games and organizers a black eye.
The Rio organizing committee will officially dissolve in August 2017, leaving behind only a lawyer's office to handle outstanding claims.
Though Rio organizers have money to pay the ticket refunds, Andrada acknowledged about 700 creditors are still awaiting payments more than three months after the Olympics ended.
He declined to say exactly how much was owed.
He said the cash-strapped organizing committee, which needed a government bailout to pull off the Paralympics, was fighting a cash-flow problem and was still owed money by the International Olympic Committee.
"We will pay everybody, there is no question about it," Andrada said. "But we're not there yet."
He said organizers needed to make about 20,000 payments to creditors, and are now down to 700.
"It's a long process," he said. "We have gone from 5,000 employees to 300, and in the meantime we have this work."
Like us on Facebook
Follow us on Twitter & Instagram