Reversal of fortune: Penske drivers dealt blows to title hopes at Texas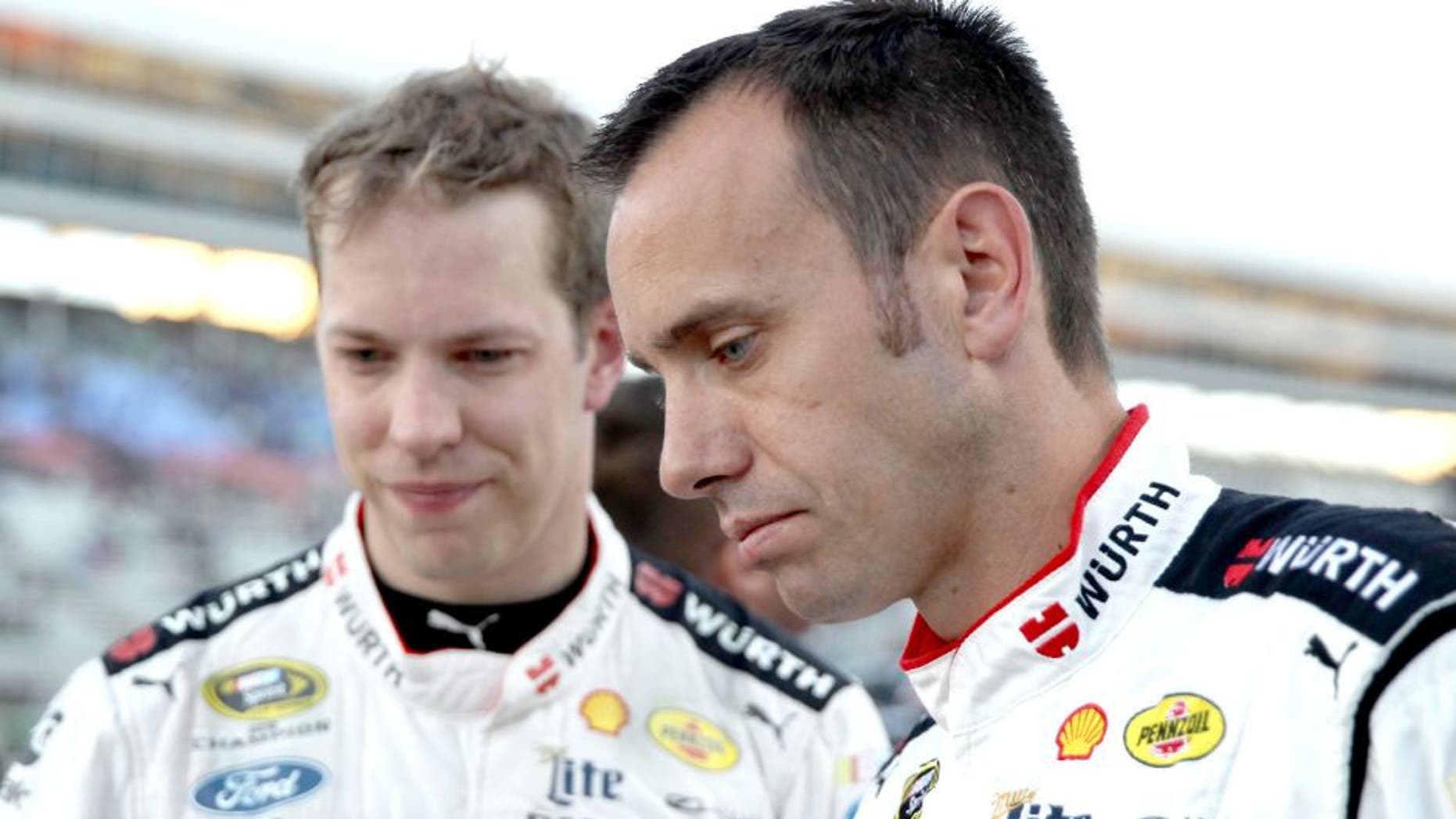 Racing is a cruel and heartbreaking sport. It always has been.
Every time the NASCAR Sprint Cup Series races, one driver wins, while 42 lose. Think about that for a minute: Every single race, no matter what. 42 drivers and their crew chiefs, pit crew, mechanics, sponsors and others associated with the team go home with varying degrees of frustration, disappointment and, sometimes, rage.
It's not a sport for the faint of heart.
And no one knows that more right now than Team Penske. Eight days ago, the team founded and owned by Roger Penske was riding high, with Joey Logano working on a three-race winning streak and his teammate Brad Keselowski having posted three consecutive finishes of ninth or better.
Last weekend at Martinsville Speedway, Logano was closing in on his fourth consecutive victory, when he got put into the fence by Matt Kenseth, who was angry about getting wrecked by Logano a couple of races earlier at Kansas Speedway and by Keselowski a few laps earlier at Martinsville. The combination of Logano getting wrecked and Keselowski breaking a tie rod and hitting Kenseth put the two Penske teammates both in a deep points hole.
It got worse in Sunday's AAA 500 at Texas Motor Speedway. Logano suffered an early tire failure on Lap 10 and finished 40th, meaning his only chance to advance to the Championship Round of the Chase for the NASCAR Sprint Cup is to win next week at Phoenix International Raceway. This despite a career-best six victories this season. None of those matter now -- it's go or go home.
Keselowski's day was almost as tough to stomach. The 2012 Sprint Cup champion dominated the race, leading 312 of 334 laps. But on Lap 331 of 334, Jimmie Johnson was finally able to pass the No. 2 Penske Ford after dogging him for the previous 15 laps or so. Instead of getting a victory that would have locked him into the Championship Round at Homestead, Keselowski finished second. And now he's in the same boat as Logano: Win at Phoenix or he's out of the title hunt.
It was a brutal blow after running so well all day -- and knowing that next week, they'll have to contend with Kevin Harvick, who has won four straight at Phoenix.
"We led 300-some laps and these debris yellows always favor someone and it wasn't our day for them to favor us," said Keselowski. "I am still very proud of our effort today. We will have a great shot at winning next week. We really needed to win this one and I know I gave it my all."
Later, he added, "I'm not sure exactly how to feel about it at the moment. The 48 car (Johnson) had so much speed them last 10 laps. As I sit right now, maybe I'll change my mind. I don't know what I would have done differently or could have done differently. ... We had damn near a flawless day. Great pit stops, fast car in qualifying. Never ran a lap in race trim, and the car was just flying in the race. My team I feel like did an excellent job all day long and has a ton to be proud of."
"Sometimes you just have to roll with the punches," added Logano. "We will be ready for Phoenix. This team is strong. We didn't take any wind out of our sails today and we showed how fast this thing was even after we crashed. I am very proud of our team."
No doubt both drivers are proud of their teams. But short of winning next weekend in Phoenix, their title hopes are shot.