Reports: Weeden to start for Texans with Hoyer still out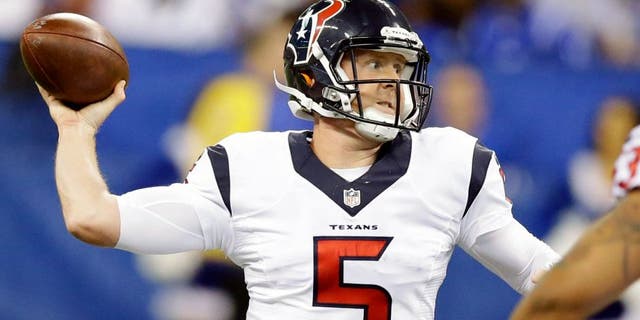 According to multiple reports, Texans quarterback Brian Hoyer has not yet been cleared through the NFL's concussion protocol and will not start Sunday against the Titans.
Brandon Weeden, who made his debut for Houston just last week after T.J. Yates tore his ACL against Indianapolis, will start in Hoyer's absence. He will be the Texans' fourth starting quarterback this season.
Hoyer suffered his concussion on Dec. 13 and, while he has returned to practice on a limited basis, he has not yet been cleared to play. ESPN reported that Hoyer is expected to meet with doctors again Monday.
With Weeden set to start, Houston signed B.J. Daniels off Seattle's practice squad to serve as backup.
The Texans are 7-7 and closing in on the AFC South title. They can clinch the division with a win Sunday in Tennessee against the 3-11 Titans and either a loss or tie by the Colts, who play the Dolphins in Miami.