Report: DeMarco Murray meets with Eagles owner about playing time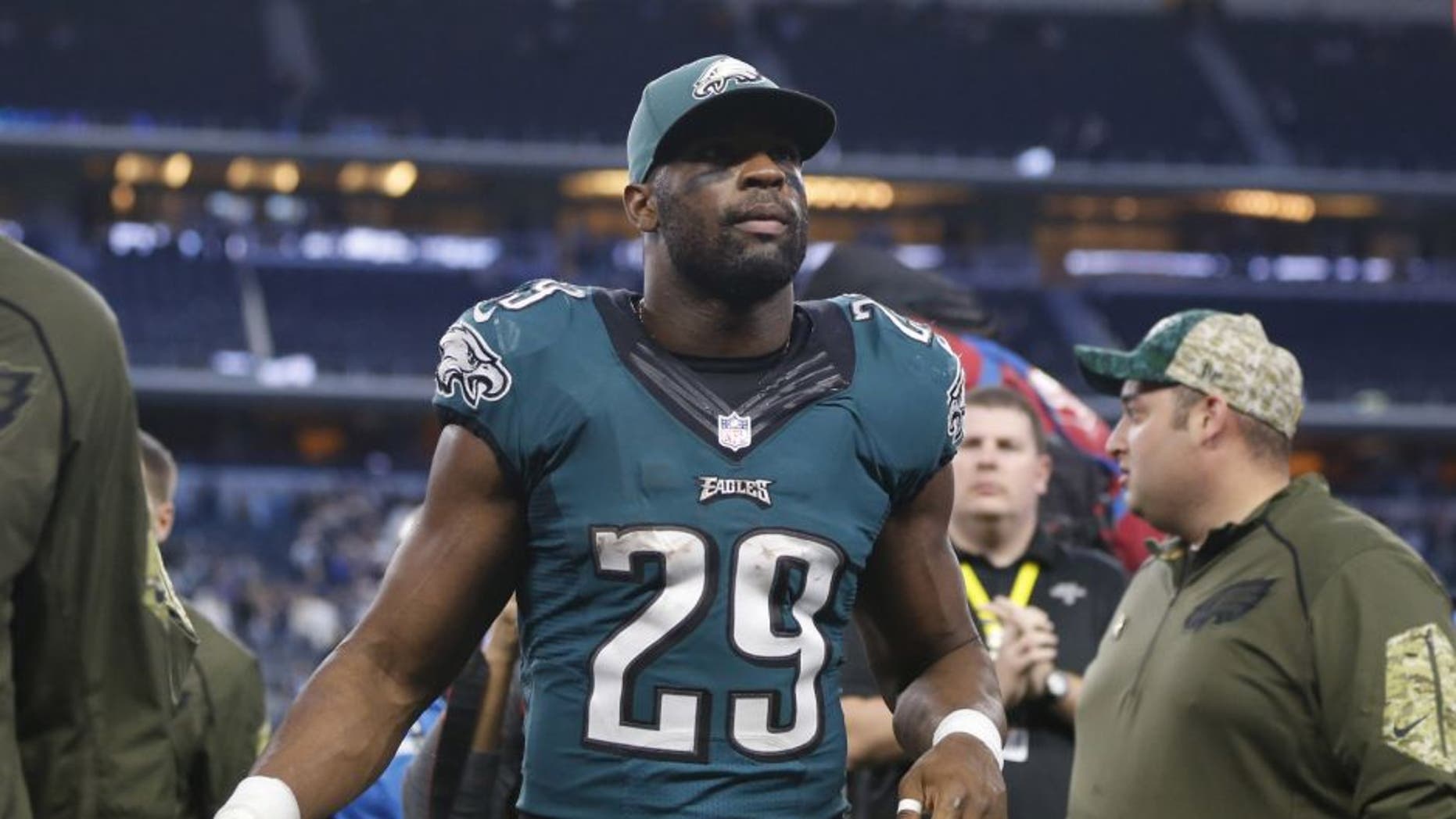 Philadelphia Eagles running back DeMarco Murray's frustrations have boiled over.
Murray, who signed a five-year, $40 million contract with the Eagles this past offseason with $21 million guaranteed, was demoted in Sunday's upset of the New England Patriots. The reigning rushing champ had a lengthy conversation with Eagles owner Jeffrey Lurie following Sunday's game, according to an ESPN report. The meeting took place on the team's chartered flight after the game, according to the report.
One NFL scout pointed out to FOXSports.com in September that Murray didn't fit the offense's scheme.
Coach Chip Kelly said on Tuesday that the Eagles will employ a running back by committee, which will be dependent on weekly matchups and health. Murray was on the field for just 14 snaps against the Patriots, carrying eight times for 24 yards. Ryan Mathews, who missed three games with a concussion, was back at practice Tuesday.
"It's a good problem to have when you have some backs that when you used all three of them, all three of them are productive for you," Kelly said. "Again, it's always, as you figure out the week, who you're playing and what you've got available to you."
Kelly said immediately after the win Sunday that he liked the matchup of smaller, quicker backs against New England's bigger linebackers. Darren Sproles gained 66 yards on 15 carries and Kenjon Barner gained 39 yards on nine carries.
This weekend the Eagles host the Buffalo Bills and Rex Ryan's aggressive front seven.
"We have four good running backs and we're comfortable with all of them," offensive coordinator Pat Shumur said.
Kelly was noncommittal on how he'll use his running backs over the final four weeks of the season. Murray has just 569 yards this season after leading the NFL in rushing last season with the Cowboys. Kelly said the players knew their roles before playing the Patriots.
"We are not trying to win a rushing championship or a passing championship or a receiving championship or anything from that stretch of the imagination," he said. "We are just trying to win football games."
Sometimes that means throwing a lot, other games it means rushing more than passing, he said.
"At the end of the day, you're judged on did you win or did you lose," Kelly said.
The Eagles are 5-7 and in a three-way tie for first place in the NFC East.
The Associated Press contributed to this report.