Report: Bills worried LeSean McCoy won't be ready for Week 1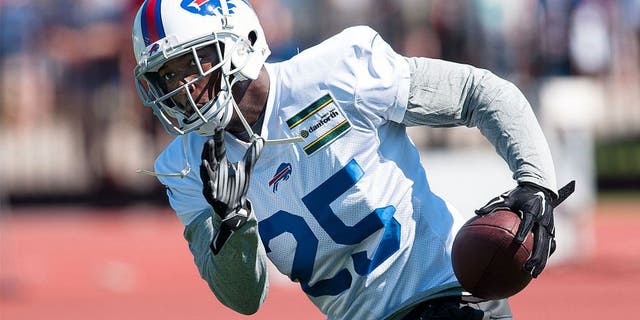 NEWYou can now listen to Fox News articles!
Buffalo Bills running back LeSean McCoy has been sidelined for the past few weeks with a hamstring injury, and it sounds like he'll be out a little while longer.
McCoy is confident that he'll be on the field for the team's regular season opener, but a team source doesn't feel the same way. According to ESPN's Josina Anderson, the Bills are very concerned with McCoy's availability for Week 1. If he is able to play, he may not be 100-percent healthy.
"It's way too early to say whether [McCoy] will play or not," the source said, via ESPN. "He is doing a little bit more every day. But hell yes, I'm concerned about that. I can't say for sure he's going to be with us Week 1. I can't say that at all. It will take everything we got just to get him ready for game day, and then [when] we get to game day [there's] no way he can be in great football shape. So I think he will be on a pitch count, I think at the very best."
McCoy has been out since he suffered the hamstring injury on August 18 in practice. It was described as a "small tear," but the Bills were still confident he would be ready for Week 1. Those thoughts have seemingly changed since then, with the possibility of McCoy being limited if he does play.
"I mean if he came around and just started feeling really, really good, heaven knows," the source told Anderson. "But [we] have to look at all the contingency plans: putting him on a pitch count possibly, or, he's not out there at all and we got to go without him and get the other guys ready -- you just don't know.
"I would recommend that he doesn't play because [we] need him for the rest of the year. [We] don't need him at 75 percent and risk losing him down the line."
The Bills are still game-planning as if he will be ready, but the source wouldn't commit to saying he would be.
"[We are] still game-planning for him to be ready," the source said. "We're hoping he will be ready, but I can't sit here and tell you that he will be ready."
If McCoy is unable to go in Week 1, it's likely that a combination of Bryce Brown, Anthony Dixon, and Karlos Williams would shoulder the load -- if healthy. All three have dealt with injuries of their own, which makes the situation even more precarious.
(h/t ESPN)