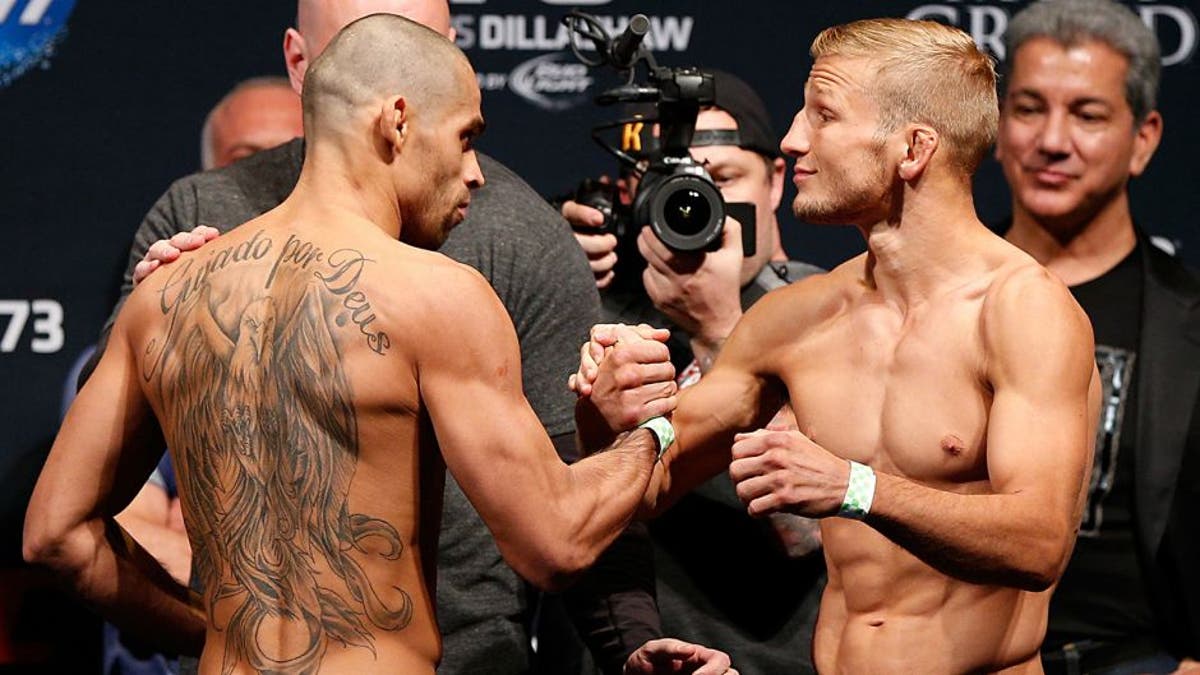 On Saturday, the UFC brings a pay-per-view quality card to network television and Chicago. In the main event, TJ Dillashaw defends his bantamweight world title against the man he took it from, Renan Barao.
In the co-main event, former world champ Miesha Tate battles contender Jessica Eye to determine who deserves to fight for the title next. All-time performance bonus leader Joe Lauzon will also take on former world champion Takanori Gomi to start off the main card.
All those fighters and the many excellent undercard ones first had to make weight Friday afternoon in the home of the Bulls and Blackhawks, however. They did, even former champion Renan Barao, who has struggled in the past.
Watch the weigh-ins replay and then stick with us all weekend for complete coverage of the UFC on FOX event, as well as its aftermath!
Main Card (8 p.m. ET):
T.J. Dillashaw (135) vs. Renan Barao (135)
Jessica Eye (136) vs. Miesha Tate (135.5)
Edson Barboza (155) vs. Paul Felder (155.5)
Takanori Gomi (155.5) vs. Joe Lauzon (155.5)
FOX Prelims (6 p.m. ET):
Tom Lawlor (203) vs. Gian Villante (205)
Danny Castillo (155.5) vs. Jim Miller (155)
Kenny Robertson (170) vs. Ben Saunders (170.5)
Bryan Caraway (135.5) vs. Eddie Wineland (136)
UFC Fight Pass Prelims (4:15 p.m. ET)
Daron Cruickshank (155) vs. James Krause (155.5)
Andrew Holbrook (155.5) vs. Ramsey Nijem (156)
Jessamyn Duke (135.5) vs. Elizabeth Phillips (135)
Zak Cummings (170.5) vs. Dominique Steele (170.5)