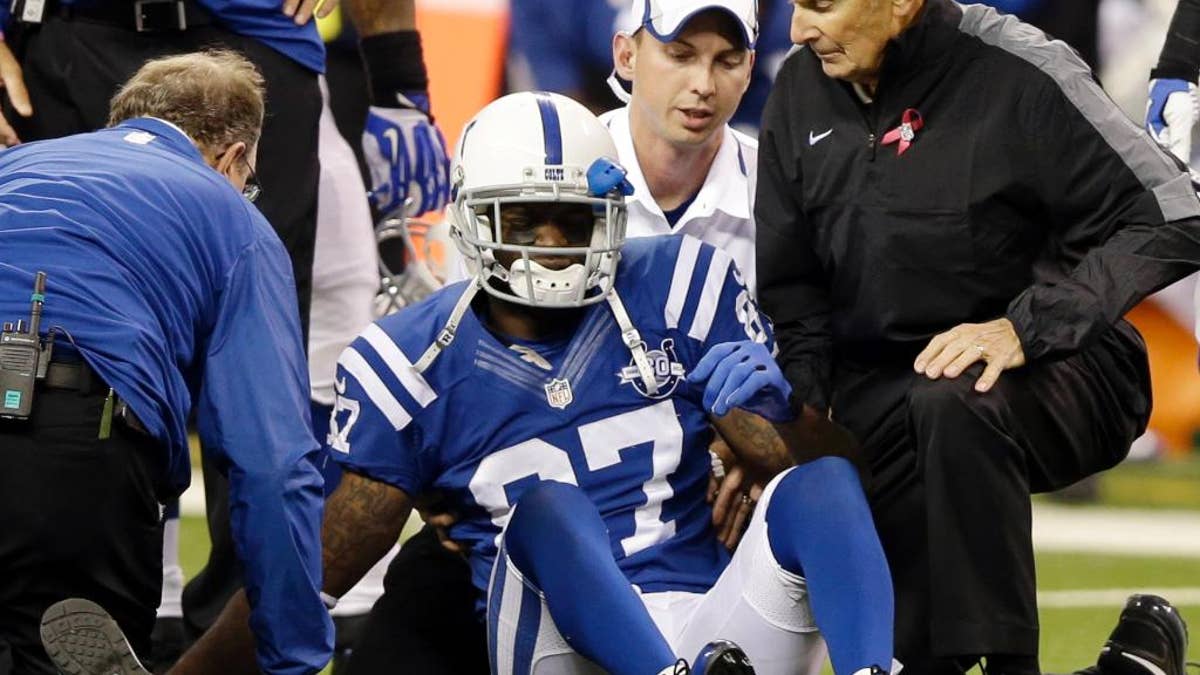 INDIANAPOLIS – Reggie Wayne never doubted he could get back to being himself on the football field.
Not last October when his right knee gave out late in the Colts' win over Denver. Not when he put in hour after hour strengthening the torn ACL on his own. Not even when the Colts played it safe in the preseason. Nope, Wayne always expected his knee would heal, his speed would return, his cuts would be crisp and the critics who counted him out would be wrong.
All he has to do now is prove he's back. It starts Sunday night against the defending AFC champion Broncos and old friend Peyton Manning.
"I know what I'm capable of doing," Wayne said Friday as he enters the final year of his contract. "When you're rehabbing two or three times a day there's no time for doubt, and if you have doubt, there's no sense in getting up at 5 o'clock in the morning to rehab. It's time to show everyone what four to eight hours a day, every day, away from your family was all about. It's time to show everyone I'm the Reggie of old, if not better."
Wayne needed more than just grit and determination to get through this offseason.
For months, he heard the same critique: 35-year-old receivers don't come back from this sort of injury. He had watched the seemingly invincible Marvin Harrison, a former teammate, succumb to what was described then as a bruised knee at age 35. Harrison missed the final 11 regular season games in 2007, returned for the playoffs and lost a fumble the first time he was hit. The next season, Harrison finished with 60 catches, 636 yards and five touchdowns, his lowest numbers in a non-injury plagued season during the Manning era, and that's how his career ended.
Those inside the Colts organization never doubted Wayne's comeback would be different.
Instead of giving up on the guy who befriended coach Chuck Pagano at the University of Miami in the late 1990s, who gave up money to re-sign with the Colts in 2012 and delivered the season's signature moment with a career-best 212-yard day in an incredible 30-27 comeback victory over Green Bay — days after Pagano left the team to start his battle against leukemia — everyone supported Wayne.
Pagano promised reporters almost immediately that Wayne would defy the odds, and his teammates became believers, too.
"I saw him in the offseason, I kept up with him, texting him and when I saw him run for the first time, I said, 'He's going to shock the world,'" receiver T.Y. Hilton said.
Still, Pagano had to be cautious.
He kept Wayne off to the side or in the background as teammates endured their offseason workouts in April, May and June. At training camp, Wayne was limited to a strict regimen of two practices every three days. And even when Wayne lobbied for more work in the preseason, he got to play in just two series against his hometown team, New Orleans.
Wayne's first real game in 10 1/2 months is, ironically, against the team he sustained the injury against and against the same quarterback who helped him emerge as one of the NFL's best receivers.
For a handful of hours Sunday, Wayne acknowledges, Manning will be a foe — not a friend — and that Manning will feel the same way about him until it's over. But for the first time since getting hurt, Wayne will be under no restrictions.
"If it's a normal game day and there's 60 plays, I hope it's 60 plays," Wayne said. "If it's 80 plays, that means we're doing a good job, then I hope it's 80 plays."
The only people more eager to see him back on the field are teammates and coaches, who say Wayne's mere presence provides a calming effect on the field.
"I know I sleep a lot better knowing he would suit up and play on Sundays," Pagano said.
Wayne insists this season opener will be just another chapter in a career that has already produced 1,006 receptions, 13,556 yards, 80 touchdowns, six Pro Bowl selections, two AFC titles and one Super Bowl ring.
As for the ending, he's still plotting it out.
"There are not very many guys who are 35, at receiver and still playing," he said. "So it's time to go out and have some fun. I've been playing a cheerleading role for a long time. It (football) is something I've been doing since I was 7 years old and I still love it."
___
Online:
AP NFL website: www.pro32.ap.org and www.twitter.com/AP_NFL