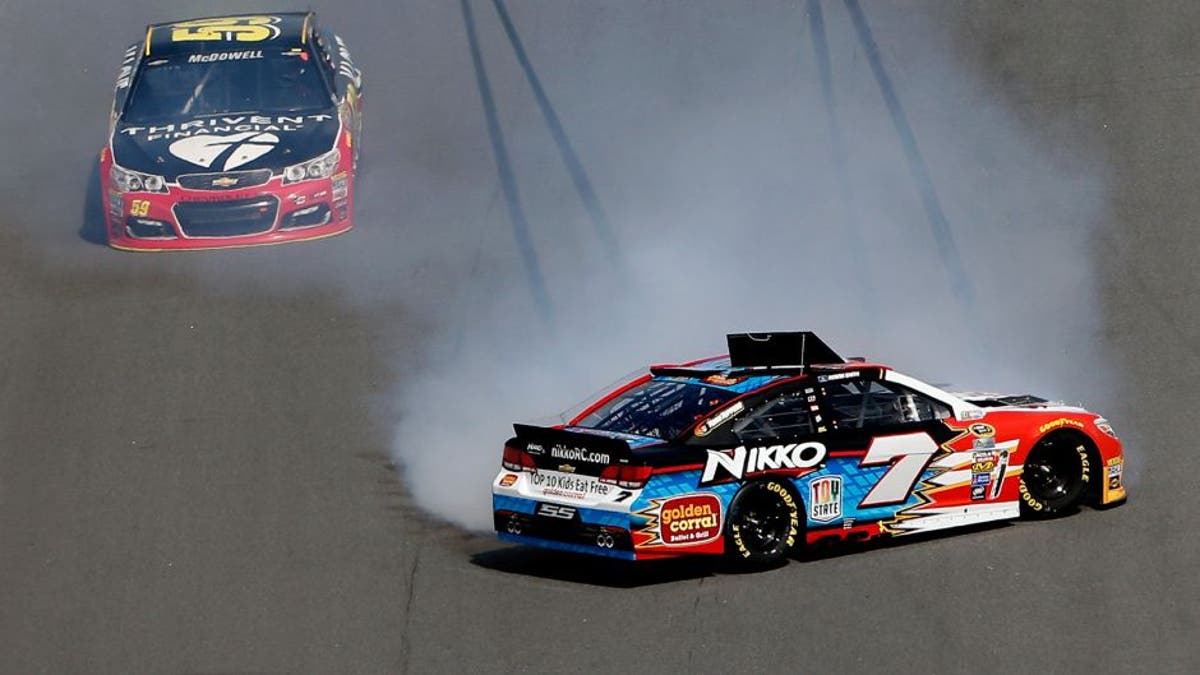 Largely overshadowed by the amazing finish of Sunday's Daytona 500 was the performance of a driver and team that defied virtually everyone's expectations.
Tommy Baldwin Racing, a low-budget, single-car enterprise that brought in Regan Smith as its new driver for the 2016 Sprint Cup season, finished an impressive eighth in The Great American Race in Smith's first outing with the team.
Smith, who won a Sprint Cup race at Darlington in 2011 but has spent the past three years in the XFINITY Series with JR Motorsports, was ecstatic to fare so well on the sport's biggest stage.
"It feels good," the Cato, New York native told FOXSports.com in the Daytona International Speedway garage.
"Four weeks ago I didn't have a ride so I'm really happy to have a top-10 here. Tommy Baldwin Racing, Tommy, all the guys on this team, we've got a group of racers put together and they work hard, they race hard and they pour everything they've got in these race cars. I'm just happy he let me drive it."
Baldwin, who is both the team's owner and crew chief, was just as pleased as his driver was to come out of the gate so strong in 2016.
"All the guys worked really hard all winter long," Baldwin told FOXSports.com. "We knew all week that we had a really good car, and we knew if we put him in a good position for the final 20 laps that we'd be good to go. That's what our strategy was the whole time -- just go get him up front enough so he could do his thing. Regan's a really good plate racer. A good start of the season, for sure."
While Sunday's 200-lap race featured more than one incident, notably absent was the familiar multi-car wreck that often eliminates a sizable chunk of the competition at the 2.5-mile restrictor-plate track.
In other words, Smith's strong finish wasn't merely a result of attrition.
Making the finish all the more impressive was the fact that Smith spun on Lap 19 during the same incident that ruined the day of pole-sitter Chase Elliott. But while Elliott never recovered and finished 39th in the 40-car field, Smith battled back to run with the big dogs at the end of the race.
"We've got a lot of people looking at our program," Baldwin said. "We just proved today we can run with the best of them. These cars are so even and nowadays even here you have to have a really good car to finish in that position, especially because there were no (big) wrecks.
"All the leaders, all the top guys were still in it, so it was definitely a good day for us. We proved we did all the right things all winter long, working hard, and everybody did a good job back at the shop."
Smith, who was tapped in late January to replace Alex Bowman in TBR's No. 7 Chevy, looks forward to hopefully serving up more surprises with his underdog team this year.
"It definitely helps the honeymoon last a little longer," he said of his Daytona result. "I don't know how you could expect anything more. We're a small team that everybody works their butts off on. ... We'll definitely take that."