Redskins' road struggles have held the team back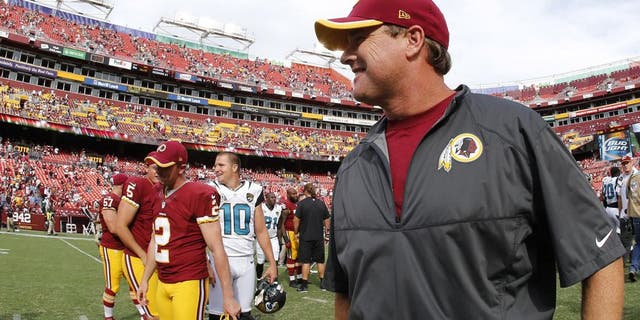 Jay Gruden knows that the Redskins need to improve in games on the road. Geoff Burke USA TODAY Sports
The Washington Redskins have not won back-to-back games during the 2015 season, and a major factor in their struggle to follow up a win has been their poor play on the road.
All four of the Redskins' wins have come at home and all five of their losses have come on the road. Head coach Jay Gruden talked about the inconsistencies that have plagued the team throughout 2015.
"I am getting some grey hairs, that's for sure," Gruden said Monday, per The Washington Times. "We haven't been the most consistent team throughout the season. We talk about adversity and bouncing back from tough times through not only the season, but in a game, in a quarter. It's very important for our guys to have that tough mindset and be resilient. They've shown that so far, but we're still 4-5 with a long way to go to reach our goals. You can see the growth, at least I can. You can feel it."
He admits that the team's poor play on the road is not an unfamiliar trend to him. It's something he recognizes that the Redskins have to change going forward.
"Yeah, there's a lot more to it," Gruden said. "Playing on the road, it's obviously tough. Getting out to a fast start, we got out to slow starts in two of those three games. Atlanta, we were kind of even for most of the game. But against New England, against the Giants, we were off to a terrible start, which allowed the crowd to get into it, make us one-dimensional on offense. Very important for us to get off to a faster start on the road, especially against Carolina. You kind of quiet the crowd a little bit."
The Redskins got off to a fast start in their Week 10 47-14 win over the New Orleans Saints. Quarterback Kirk Cousins threw for three touchdowns in the first half. The Redskins will look to do the same in Week 11, when they match up against the undefeated Carolina Panthers on the road.