Reds keeping pace in NL Central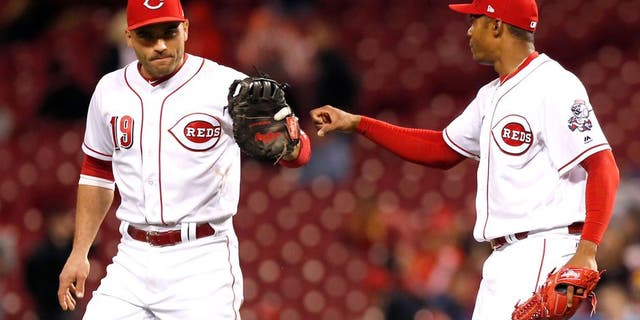 CINCINNATI -- San Francisco Giants right-hander Matt Cain has received little run support and the bullpen hasn't helped much either. But he continues to be the team's most dependable starter.
"He's really done a nice job," Giants manager Bruce Bochy said. "Really has just done a great job of bouncing back from last year. He's worked hard and he's doing some good things out there. Commanding the ball, changing speeds on his breaking ball, good changeup. Really throwing quality strikes and that's a good thing to see."
Perhaps most important, Cain appears to be recovered from a hamstring issue that forced him out of his April 24 start. Cain will make his sixth start of the season Friday night against the Cincinnati Reds at Great American Ball Park.
Coverage begins at 6:30 p.m. on FOX Sports Ohio
He has allowed only three earned runs and one homer in his past 23 innings. In 27 1/3 innings this season, Cain has walked nine and struck out 22.
"I think I can just get better about trying to get guys to create more contact early to maybe get a little deeper in the game," Cain said. "I'm constantly trying to grow as a pitcher. Each start going out there you're learning stuff, you're finding different ways to get guys out, trying to be creative with it."
Cain also has endured his share of tough luck.
The Giants (10-18) have produced just nine runs in Cain's five starts. He left his last outing on Saturday with a 3-1 lead, only to have the bullpen allow 11 runs in the final four innings of a 12-4 loss to San Diego.
Cain, 32, is in his 12th major-league season and has 103 career victories entering the opener of a three-game series at Cincinnati. He's 5-5 against the Reds with a 3.44 ERA in 12 starts.
"I still want to be able to go out there and know that every fifth day this is what you're going to get," Cain said.
Cincinnati (14-14) will counter with 40-year-old right-hander Bronson Arroyo, who's making his sixth start of the season and 271st as a Red. He's 2-2 with a 7.20 ERA in his return after missing more than two seasons due to elbow and shoulder surgeries. He's 6-5 versus San Francisco with a 2.90 ERA in 15 career starts, including three complete games.
Beginning in 2008, Cincinnati is 36-24 against San Francisco, the best winning percentage of any Giants opponent, including 25-16 in the past six seasons.
Despite some key injuries in the starting rotation, the rebuilding Reds are off to a solid start and keeping pace in the National League Central with wins in four of their past five. The Reds took three of four from the Pittsburgh Pirates this week after finishing the series with a 4-2 victory Thursday.
"There's some parity to start the season," Reds manager Bryan Price said. "I think you look around and most people would think the Cubs have the most talent and the most depth in the rotation and the bullpen and the regulars bench. They're built to be winning right now.
"However, they haven't created that separation and everyone else is kind of lingering around."