Red River Rivalry to rock Dallas as Oklahoma faces Texas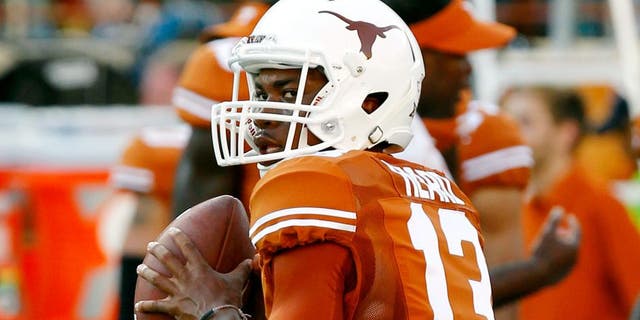 The Red River Rivalry is on tap Saturday. Will Oklahoma continue to add to the misery of Charlie Strong and Texas?
1. Take nothing for granted: Wounded animals are dangerous, even steers after the surgery, and Texas has nothing to lose by beating OU for the second time in three years while being a prohibitive underdog.
2. Turnovers: When an arch-rival, that has talented players, is the underdog, what keeps them in the game ... gives them hope? Turnovers are on that list. The Sooners need to play a clean game and reside in the turnover free zone plus refrain from getting ill advised, untimely penalties. These two areas can make any game close and prevent the best team from winning on any given Saturday.
3. Sooners offensive line play: Texas will do as West Virginia did, and others to follow, and take as many shots at Baker Mayfield as possible. The OU running game can reduce those hits but that success obviously starts up front. So, the question is, can the Sooners' O-Line consistently whip the UT D-Line?
4. 'Horns QB Jerrod Heard: Great athlete who seems to have the strongest pulse on the Texas team. OU must be able to contain Heard and not allow the QB to keep Texas in the game by making big plays and converting third downs with regularity. The tackling of Texas' No. 13 is huge in the Cotton Bowl.
5. Jay Norvell: Former Sooner assistant is calling the plays for Texas. Is that an issue as it relates to "insider trading?" I'm thinking not so much, but certainly Norvell will be motivated to make his first Red River Rivalry game in Burnt Orange a success. Nonetheless, it will be somewhat strange to see Coach Jay across the field.
6. Mayfield: One has to assume that Austin, Texas, native Mayfield has been waiting his entire athletic life to be the starting QB in the Oklahoma-Texas game. Mayfield's energy and athleticism has lead the Sooners to their 4-0 record. Hopefully, Baker can squeeze this emotional game down to simply focusing on first downs and no turnovers.
7. Sooner defense: Had a solid week last Saturday against a tough, physical WVU team and Mike Stoops' guys seem to be taking big steps in the right direction, especially when compared to 2014. When the Sooners play fast and physical defense from the safeties up to the big eaters, this unit can be very good, even in the video game offensive league known as the Big 12. Nonetheless, beware of Texas RB's challenging OU's manhood.
This is the 110th meeting of these storied programs and I take nothing for granted. These are the types of games where strange things often happen and those occurrences give the recipient of said occurrences confidence and hope. The Sooners especially need a dominating, fast start to take the steps necessary to leave the State Fair of Texas with more than a Fletcher's Corn Dog.
Prediction: Oklahoma 28 Texas 17
Boomer Sooner!
Jim Ross @JRsBBQ
J.R. is an Oklahoma native who lives in Norman with his wife Jan. He's a WWE Hall of Fame broadcaster, two time New York Times Best Selling author, and is recognized as the "Voice of Pro Wrestling" after a 40-year career in the field. His podcast, The Ross Report, can be heard on iTunes weekly and is one of the most listened to podcasts in the world. JR's line of BBQ Sauces, Chipotle Ketchup, Jalapeno Honey Mustard, and All Purpose Seasoning/Dry Rub are available at the three Norman Homeland Grocery Stores and online at www.wweshop.com.