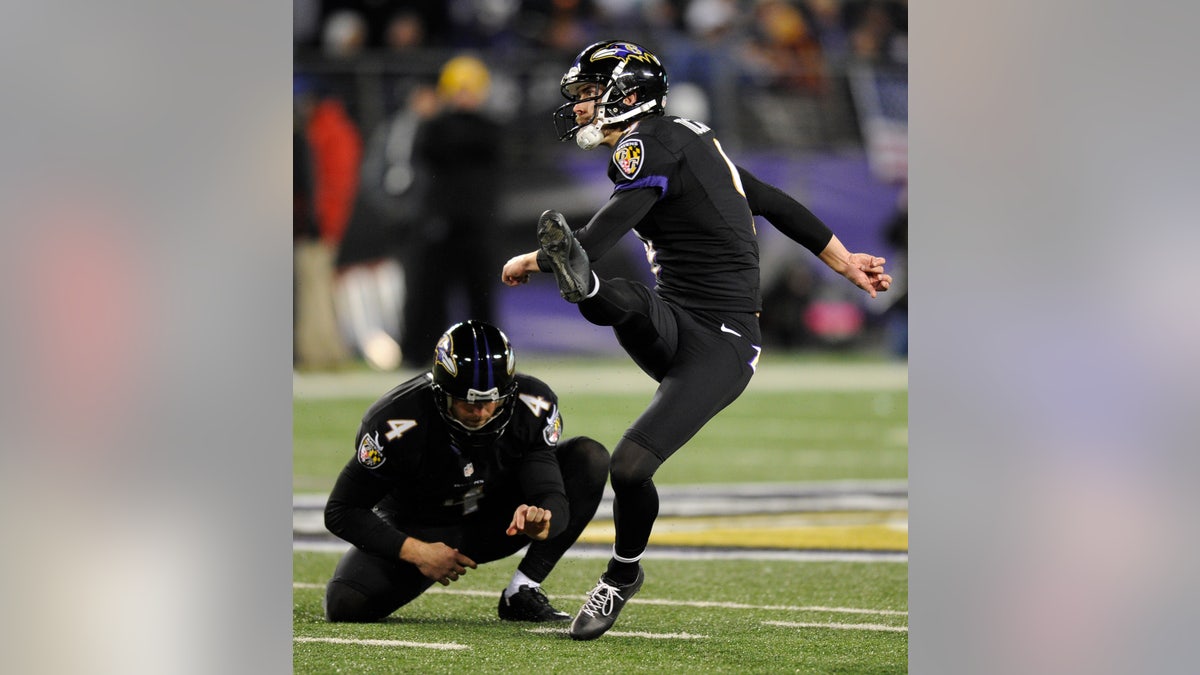 OWINGS MILLS, Md. – The Baltimore Ravens most formidable offensive threat these days is Justin Tucker, a quirky fellow whose skill set transcends kicking a football with uncanny accuracy.
Despite scoring only one touchdown in each of its last two games, Baltimore won twice because Tucker kicked four field goals against the New York Jets and five more in a 22-20 victory over Pittsburgh.
"The guy has been really, really good," Ravens quarterback Joe Flacco said, "and we've won a lot of games because he's hit kicks."
Riding its first winning streak since September, Baltimore (6-6) is in the middle of the playoff hunt heading into Sunday's game against the Minnesota Vikings (3-8-1).
Tucker has made 27 straight field goal attempts — nine short of Matt Stover's franchise record — and is 29 for 31 in his second NFL season after going 30 for 33 last year.
"I definitely feel like I'm in a good place kicking the ball," Tucker said Wednesday, making sure to give credit to long snapper Morgan Cox and holder Sam Koch.
"Morgan and Sam are doing a great job for me, and that makes my job a lot easier when the ball is there so early," Tucker said. "As far as acknowledging the streak, or feeling like I'm on some sort of roll, it's just satisfying after a Sunday to come out with a win and to do well."
That's all Tucker ever wanted to do since he was a teenager at Westlake High in Texas, where he kicked the ball in addition to playing wide receiver, cornerback and safety.
"When I was one of just a few sophomores on our varsity football team, I had a plan that I wanted to play football for a living," Tucker recalled. "I'd always heard, don't put all your eggs in one basket. But I kind of just did. I put all my eggs in the football basket at a pretty early age."
At the University of Texas, Tucker he beat rival Texas A&M on a last-second kick. But perhaps the most significant thing he took away from the college experience was an astute appreciation for music.
Tucker majored in music because "it was important for me to get my degree in something that I would have a good time doing while I was in school."
These days, Tucker often sings opera in the shower at the Ravens training complex and has been known to break into freestyle rap in the middle of the locker room, much to the amusement of his teammates.
"He's a great locker room guy. He's funny, has a lot of character to him," defensive lineman Arthur Jones said. "He has an awesome voice. He can do opera, he can rap, he can do it all. He's a man of many talents. The music goes on and he starts freestyling, which is cool and unique."
Some players prefer county, others hip-hop or rock. Tucker likes it all.
"I kind of go through phases, so like the last couple months I've been listening to a lot of Third Eye Blind and Red Hot Chili Peppers," he said. "A couple months before that, I was listening to late 80s, early 90s hip-hop and rap. I'm kind of all over the place."
Fortunately, that doesn't apply him kicking the ball. In that regard, Tucker is usually right down the middle.
"The main kick he's got in his tool bag is kicking it straight when it's a field goal, in all kinds of conditions," coach John Harbaugh said.
Not everyone that can kick a football 60 yards and sing opera in four different languages.
Tucker can.
"He's good at both," Koch said. "He's right at the top of his game kicking, and he's by far the best opera singer I've ever heard in person."
The last time Tucker missed a field goal attempt was in Week 2, when he went wide on kicks from 50 and 44 yards. He analyzed his mistakes, made the necessary correction and moved on.
"What makes him so good? The first thing is his personality," Koch said. "He's one of those guys who's not going to dwell on the past, things he's done wrong or missed. He always looks forward to the future."
That's how Tucker felt after being bypassed in the 2012 NFL draft.
"I told myself that maybe I was selling myself a pipe dream, but I also told myself now I have the ability to choose, in a sense, where my best opportunity would be and where I might be able to make a home for the next several years, if not a decade or longer," he said.
Tucker signed with Baltimore, beat out veteran Billy Cundiff and has since clicked on an uncanny 59 of 63 field goal attempts — including six of seven from 50 yards and longer.
"That whole process, looking back on it, it was a pretty crazy time," Tucker said. "But I'd like to think it's been working out."
Especially for the Ravens. Even if Flacco can't get into the end zone, he knows Tucker has got him covered for an easy three points.
"Usually I'm running off to the sideline pretty (ticked) off that we didn't score a touchdown," Flacco said. "But when you're sitting in the locker room and you have that feeling of victory, you look back and say, 'Man, it's pretty awesome to have a guy like that.'"