Ranking the top 10 safeties in the NFL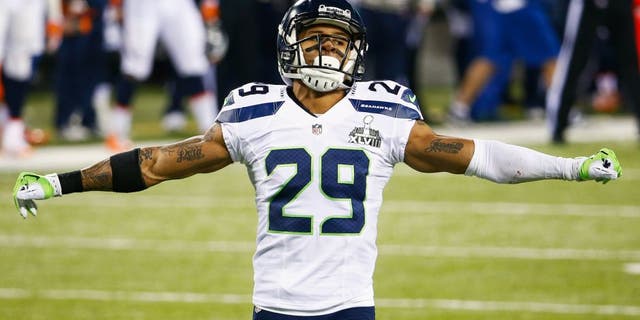 NEWYou can now listen to Fox News articles!
It wasn't long ago that the safety position was seen as somewhat of an afterthought -- a position that didn't feature hugely impactful players given their roles. Those days are long gone as the blurred line between a free and strong safety has helped mold dynamic, playmaking defenders who can both cover and hit.
This has made opposing tight ends' jobs much more difficult as they're now covered by some of the best athletes in the NFL. Size and speed are paramount in becoming an elite safety, which there are a handful of in the league right now.
Led by Earl Thomas, these are the 10 best safeties in football.
Previous rankings:
Simply put, Earl Thomas is the epitome of what an ideal safety is in today's NFL. He has every quality a coach would want in a rangy safety on defense. Thomas isn't the fastest player in the league, but he has outstanding closing speed and short area quickness to make necessary adjustments when both tackling and making plays on the ball. What he lacks in size he makes up for in elite athleticism and smarts -- the latter of which is arguably his best asset. No safety in the league diagnoses plays in the middle of the field better than Thomas does. Whether it's a receiver coming across the middle or one streaking down the sideline, Thomas can cover them all.
After a down season in 2014 when he only picked off one pass, Thomas returned to his ballhawking form in 2015, intercepting five. Once again, he played all 16 games as he's done in each of his six seasons, recording 64 tackles and one forced fumble. Thomas has long been the game's best safety, and that's not going to change next season. He's the complete package and without him, Seattle's defense wouldn't be nearly the same. He's a big reason why Richard Sherman and Seattle's cornerbacks can play as aggressive as they do. There isn't a team out there that wouldn't want Thomas on its roster.
Tyrann Mathieu doesn't exactly fall into one position or another. He's a hybrid defender who plays both the slot and safety, excelling at both. He's officially listed as a safety by the Cardinals, and that is where he does most of his damage. Mathieu was in the midst of the best season of his career before tearing his ACL in Week 15, ending what was an All-Pro year a bit early. Mathieu had already racked up 89 tackles, five interceptions and a forced fumble in 14 games, knocking down 17 passes, as well.
His impact isn't even completely felt in the stat sheet, either. Mathieu brings a certain intensity and swagger to the Cardinals defense that inspires his teammates and provides a spark when needed most. Now recovering from a knee injury, Mathieu will need to overcome yet another hurdle in his NFL career. After proving to be clean off the field and focused on it, Mathieu was on track to stardom and a possible Defensive Player of the Year Award. Instead, his 2016 campaign may be delayed. Still, he's considered one of the premier defensive backs in football.
Harrison Smith inked a five-year, $51.25 million extension with the Vikings this offseason. Casual fans were shocked by the contract, which made him the highest-paid safety in the league, but he deserves it and the Vikings knew exactly what they were doing. Smith is a versatile player who can play both down in the box and over the top as a free safety, making him so valuable to Minnesota. Smith missed three games last season but still had 66 tackles, two picks and a forced fumble while also recording 1.5 sacks.
Smith is a leader on the Vikings' defense, getting his teammates in the right positions while also masking mistakes made in front of him. At 27 years old, Smith still has his best years ahead of him and has the potential to become the best safety in the league. He's already earned the right to be called a top-three safety; he just needs to become more of a turnover machine like he was in 2014 when he picked off five passes.
Eric Berry was named the Comeback Player of the Year in 2015 after beating cancer and returning to form as a top defender for the Chiefs. He's asked to do a lot on defense, playing both strong and free safety. Not surprisingly, he performed extremely well at both spots last season and has throughout his career, though many still consider him to exclusively be a strong safety. Regardless of where he lines up, Berry flies all over the field and makes plays on a consistent basis. He may not cause turnovers as often as he did when he was a rookie in 2010, but his coverage skills and sure tackling are undeniable.
When lined up against opposing tight ends, Berry more than holds his own, often taking them out of the game aside from a few plays. He has the speed (4.47 40-yard dash) and the size to match up against the likes of Rob Gronkowski and Tyler Eifert, which he did last season. Kansas City knows it has to pay him like a top safety, and likely will after this season if no long-term deal is reached beforehand.
The Dolphins defense was horrendous last season. They were short on cornerbacks, and the pass rush was nowhere near what it was expected to be. The linebackers may have been worse than any position group in the entire NFL, but Reshad Jones made up for a lot of their mistakes. No defensive back had more tackles than he did (135), nor did any have more touchdowns pick-sixes (two), either. Jones was everywhere on defense, whether he was picking off passes or laying big hits on ballcarriers.
At times, he does get a bit too aggressive, but that's part of what makes him the player that he is. If not for his chance-taking mentality, he wouldn't create all of those turnovers. Although he made his first Pro Bowl, Jones still feels wildly disrespected as a safety for not being considered one of the best at his position. He's looking for a new contract and held out of minicamp last month, though he says those issues are behind him. A 2015-like campaign in 2016 will only help his negotiations.
On a team with Fletcher Cox, Connor Barwin and Mychal Kendricks, Malcolm Jenkins may very well be the best defender on the roster. The cornerback-turned-safety took his game to another level in 2015, his second season with the Eagles. Jenkins was a do-it-all player for Philadelphia, playing free safety over the top and even coming down into the slot to cover wide receivers. He was at his best when covering tight ends in man coverage, though. Jenkins used his past knowledge and skill set as a cornerback to stick with receivers, often blanketing them, forcing the quarterback to go elsewhere. And when the ball did come his way, he made a play to prevent a completion.
Jenkins finished the season with two interceptions and 109 tackles, forcing three fumbles, as well. He's a terrific all-around player who can lay big hits and intercept passes 35 yards downfield, which most safeties can't do. As long as he can stay healthy and continue to perform at an extremely high level both in the slot and over the top, Jenkins will be an All-Pro in 2016, or a Pro Bowler at the very least.
Unlike most of the safeties above him, Kam Chancellor is a bit one-dimensional. He still has good range and instincts, but he doesn't have the speed or coverage ability to make big plays in the passing game. With that said, he does still create a fair share of turnovers. In 11 games, Chancellor had two interceptions and forced one fumble. Hitting receivers hard is his forte, which he does each time he gets the chance to. He averaged nearly seven tackles per game, totaling 74 for the season and rarely let any ballcarriers slip through his arms. That's rare for a player of his size with his hitting ability.
Chancellor benefits greatly from the presence of Thomas being in Seattle. It allows him to play more of a linebacker role, playing closer to the line of scrimmage in the Seahawks' Cover 3 scheme. His height makes it difficult for quarterbacks to throw over him when in a drop or flat zone, too. Chancellor is a tone-setter, but that's not all he can do.
Coming out of Texas, Vaccaro was thought to be a safety who could cover smaller, quicker slot receivers and drop back into coverage as a true free safety. His position flexibility was a big reason why he was taken 15th overall in 2013. Vaccaro took a bit of time to flourish into the player he was expected to be, but he elevated his game playing closer to the line of scrimmage in 2015. He totaled 104 tackles and five passes defensed, though he didn't record a single interception. Importantly, though, he remained healthy and in the starting lineup. Vaccaro's quick feet are like those of a nickel corner, and that helps to make up for his lackluster hands. In order to take his game to another level, Vaccaro has to get his hands on more footballs and create turnovers, something he's only done five times in his career. For now, he's a versatile weapon on the Saints defense.
As this list goes on, it becomes more and more evident that the best safeties in the league boast great coverage skills and can play both safety positions, if not the slot, too. Devin McCourty certainly has the skill set to play everywhere in the secondary -- free safety, strong safety, slot corner, outside corner. That's exactly what he did in 2015, even filling in at boundary corner when the Patriots were thin at the spot. Being a cornerback in college and to start his NFL career helps, and he played extremely well on the outside. When McCourty is at his best is covering tight ends one-on-one. He was asked to do that fairly often last season with the Patriots playing three-safety formations on a regular basis. This allowed Duron Harmon to play over the top and Patrick Chung to play a true strong safety role while eliminating tight ends from the equation. McCourty had just one interception in 14 games but his impact wasn't seen on the stat sheet.
No safety on this list had a more surprising season than Kurt Coleman. The 28-year-old had a career-high seven interceptions, which were third in the NFL. After starting just three games with the Chiefs and Eagles the previous two seasons, he started 15 for the Panthers and played a huge role in helping the team reach the Super Bowl. Coleman was never seen as a ballhawk prior to 2015, but that's exactly what he was. Creating turnovers was his strong suit, but he was also a sure tackler. He recorded 90 tackles and one sack, showing he's more than just a free safety playing a deep half of the field. Coleman deserves more money than he's currently making, and he admits that. But his team-first attitude has him keeping his desires under wrap. He won't make a big deal about his contract situation, which shows his value and dedication to the team.
Just missed: Reggie Nelson, Patrick Chung, T.J. Ward, Eric Weddle, Ha Ha Clinton-Dix