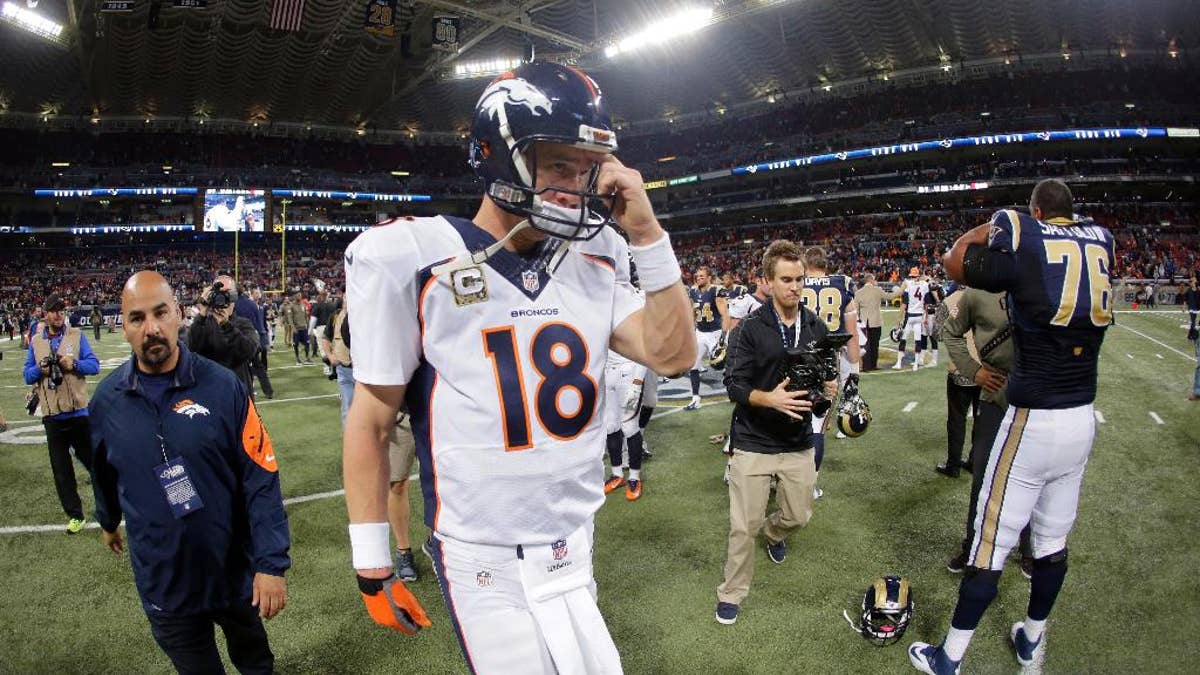 ST. LOUIS – Now that the St. Louis Rams are figuring out how to keep from giving away games, the wins are starting to come a little more often.
Shaun Hill was turnover free after reclaiming the starting quarterback's job, and the Rams used another fast start at home Sunday to defeat the Denver Broncos 22-7.
St. Louis (4-6) has frequently jumped ahead at the Edward Jones Dome this season, squandering a 21-0 lead in a loss to Dallas and a 14-point edge before losing to San Francisco.
But in their last two home games, the Rams have been able to carry their early momentum to impressive wins against Seattle and Denver (7-3) — the two teams that played in last season's Super Bowl.
The Broncos knew all about the Rams' reputation but couldn't do anything about it.
"We don't take for granted any opponents we play against. When you're playing on the road and a team like them who's known for jumping on teams at home and their defense feeds off that momentum, you've got to come in and throw the first punch," Denver defensive tackle Terrance Knighton said. "They came in and did that, and we didn't bounce back."
The Rams used an 11-play opening drive to take a 3-0 lead, then Hill tacked on a 63-yard touchdown pass to Kenny Britt immediately after a momentum-changing fourth-down stop on defense to give St. Louis a double-digit first-half cushion for the fourth home game in a row.
With wins against some of the league's best teams, the quick starts are finally starting to mean something.
"We're building this team and we're on the right track and we're moving in the right direction," coach Jeff Fisher said. "We've had some disappointing losses, some close losses and some things have happened but to be able to line up and play against these teams like we did, I think we've earned a little respect."
Other things to know about the Broncos-Rams game:
TARGETS MISSING: Manning and the Denver offense struggled to keep drives going after NFL touchdowns leader Julius Thomas and Emmanuel Sanders, the team's second-leading receiver, were both lost to injuries.
Thomas didn't return after injuring his ankle in the first quarter, and Sanders was lost after sustaining a concussion on the opening drive of the second half.
To a man, the Broncos said they didn't see the injuries as an excuse. Manning said he was comfortable with the backups in the game and should have done more to put them in position to make plays.
"I didn't feel like I carried my weight today," said Manning, who threw for 389 yards with a touchdown and two interceptions. "Offensively, we've got to score more points than seven. That's pretty plain and simple. I give the Rams a lot of credit for holding us to seven points and certainly we have to take responsibility for not doing our job on offense, and that starts with me."
It was Denver's lowest-scoring total since Manning took over at quarterback to start the 2012 season.
"It was frustrating," said receiver Wes Welker, who had four catches for 28 yards. "We'd move the ball and then we'd just kind of get stuck along the way. We've got to keep it rolling, and we weren't able to do that today."
Added Manning: "We had a good red zone plan. I don't think we ever got to call any red zone plays. I'm not sure we were ever in there today. That hasn't happened very often. I've got to find a way to get us down there more."
BRONCOS BROKEN DOWN: Rams rookie Tre Mason rushed for a career-high 113 yards in his third start, becoming the first opponent to break 100 yards against Denver's NFL-leading rush defense. The Broncos had given up only 47.8 yards a game over their previous six games.
"That's how you have to beat this team," Fisher said.
MAKING MEMORIES: Hill showed a steady hand in his first full game as a starting quarterback since 2010. Hill inherited the job when Sam Bradford was hurt in the preseason, but then injured his thigh in the first half of St. Louis' season opener.
He threw for 220 yards on 20-for-29 passing with the one touchdown. It was particularly memorable for Hill since it was the first game his 9-month-old son, Theo, has been to when he's started and finished it.
"That was kind of important for me when I was just thinking about coming into this season. I was like, 'Man, he's 9 months old. I'd really like for me to have some pictures of myself and him in this job.' ... It was important for me to come back and be able to do it some during his life."
Most important, Hill protected the ball. Austin Davis lost the starting job after committing five turnovers over the past two weeks, including a fumble and an interception that went for touchdowns after St. Louis had been leading Arizona in the fourth quarter last week. In all, Davis had 12 turnovers in nine games — six that were returned for touchdowns.
GREG'S LEG: While the Broncos' defense succeeded in keeping a struggling offense in the game, Greg Zuerlein kept adding to the Rams' total with a career-best five field goals — without a miss. Zuerlein had twice gone 4-for-4 in a game, against Arizona in the 2013 season opener and against Seattle in his rookie season in 2012.
Zuerlein connected from 37, 29, 22, 55 and 53 yards. He's now hit 11 times from 50 yards or longer in his three-year career and is 3-for-5 from that distance this season.
NOTABLE STREAKS: Manning's streak of 15 straight games with multiple touchdown passes came to an end. He had only one TD pass, a 42-yarder to Emmanuel Sanders in the second quarter. ... Broncos WR Demaryius Thomas notched his seventh straight game with at least 100 yards receiving, matching Dallas' Michael Irvin (1995) for the second-longest streak in a single season. Calvin Johnson of Detroit holds the record with eight straight 100-yard games in 2012.