Prosecutor brings $5.3M tax-fraud case against soccer star Lionel Messi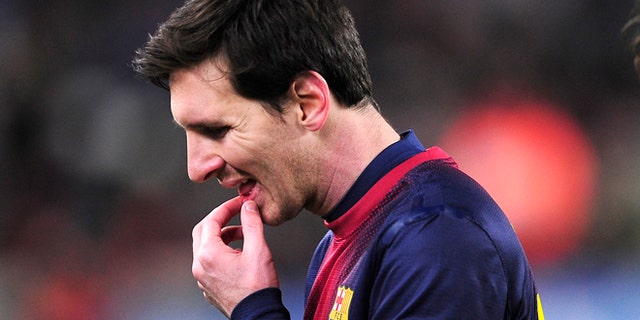 MADRID – A Spanish prosecutor filed a fraud complaint Wednesday against Lionel Messi, alleging the Barcelona and Argentina star owes $5.3 million in back taxes.
The complaint names Messi and his father, Jorge Horacio Messi. Both are accused of defrauding millions on income tax returns for 2007, 2008 and 2009.
"We are surprised," Messi said on his Facebook account, "because we have never committed any infringement. We have always fulfilled all our tax obligations, following the advice of our tax consultants who will take care of clarifying this situation."
The complaint, signed by prosecutor Raquel Amado, was submitted for trial at the courthouse in Gava, the upscale Barcelona suburb where the Argentina forward lives.
A judge at the courthouse must accept the prosecutor's complaint before charges can be brought against Messi and his father.
Barcelona declined to comment on the lawsuit.
Messi had the day off Wednesday after playing for his national team in Quito, where Argentina was held to a 1-1 tie with Ecuador on Tuesday night in a qualifying match for the World Cup.
Argentina coach Alejandro Sabella has said Messi was expected to be in the lineup for an exhibition against Guatemala on Friday.
Messi signed a two-year contract extension with Barcelona in February that keeps him at the club through June 2018 -- when he will be 31. He joined Barcelona when he was 13, and made his debut with the first team three years later.
The 25-year-old Messi has won four straight FIFA world player of the year awards. He has scored 133 goals for Barcelona over the last two seasons.
The forward scored 60 goals in all competitions this season, leading Barcelona to the Spanish league title. With Messi struggling to recover from a leg injury, Barcelona was eliminated from the Champions League in the semifinals.
Spain has been cracking down on tax evasion as it tries to repair the country's public finances amid the recession and collapse of its real estate sector.
Finance Minister Cristobal Montoro warned soccer players in April they should make sure they are "comfortable" with their tax affairs.