Preview: Injury-riddled Marlins welcome slumping Braves to Marlins Park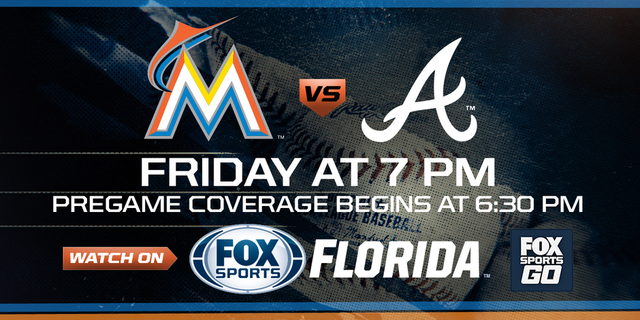 MIAMI -- Finally, the win-starved Atlanta Braves get a team they know they can beat in the Miami Marlins.
Finally, the win-starved Miami Marlins get a team they know they can beat in the Atlanta Braves.
The Braves (11-20) and the Marlins (13-20) -- the bottom two teams in the National League East -- meet on Friday night for the start of a three-game series each team is desperate to win.
"We're just not getting timely hits," said outfielder Matt Kemp, whose Braves have lost six games in a row. "We're not doing anything right at the moment."
The Marlins have been even worse lately and for a longer time period, dropping five consecutive series and compiling a dreadful 3-12 record in that span.
Making matters even tougher for the Marlins is the fact that they have had four infielders hurt in the past three days:
-- Starting third baseman Martin Prado (hamstring) will miss at least six weeks.
-- Starting shortstop Adeiny Hechavarria (oblique) went on the disabled list for the second time this year and could be out for a while.
-- Miguel Rojas, who was starting a lot at shortstop and having a career year with a .338 batting average, suffered a broken right thumb and will be out at least two months.
-- Rookie shortstop J.T. Riddle, who hit a walk-off homer against the New York Mets earlier this year, was supposed to start on Wednesday but injured a finger in pregame warm-ups.
"When stuff like that keeps happening, you're like, 'What's going on?'" Marlins manager Don Mattingly said. "Three shortstops in three days … We've been scrambling."
Mattingly made a desperation move on Wednesday and switched Dee Gordon -- who has been an All-Star at second base -- to shortstop. Gordon hadn't played shortstop since 2013, but -- barring more injuries -- he will get a lion's share of the duty there at least until Riddle returns.
Riddle, Mattingly said, should be back in three to five days.
"It's not a broken bone," Mattingly said, "and there is no long-range damage at all."
That is what passes as good news for the Marlins these days
Marlins pitcher Tom Koehler said he has seen Gordon play shortstop in the minors.
"Athletically, he can do it," Koehler said. "But he's a Gold Glove second baseman (in 2015). You'd like to keep him at second, but that's the way things are right now."
Riddle had perhaps the best line, saying the Marlins need to put yellow caution tape around shortstop.
Not sure if that is within major league rules … so Friday's game will be played sans yellow tape.
The pitching matchup, meanwhile, calls for a pair of right-handers: Jose Urena (1-0, 1.69 ERA) for Miami and Mike Foltynewicz (0-4, 4.55) for Atlanta.
Foltynewicz is coming off a brutal loss to the St. Louis Cardinals last week in which he gave up seven runs in four innings. He allowed nine hits -- including two homers -- and two walks.
Urena, though, is trending in the opposite direction. He allowed just one hit and no runs in six innings in his previous start, beating the New York Mets. In his past three appearances, including relief outings, he has a 0.00 ERA over nine innings.
Neither team is pitching well as a whole. The Braves are last in the majors with a 4.93 ERA, and Miami is last with just three saves. Miami is 23rd in ERA (4.47), and Atlanta has just five saves.
In addition, Miami pitchers have walked more batters than any team in the majors, and the Braves are next to last in batting average allowed (.264).