Preview: Dan Straily on the mound as the Marlins take on the Giants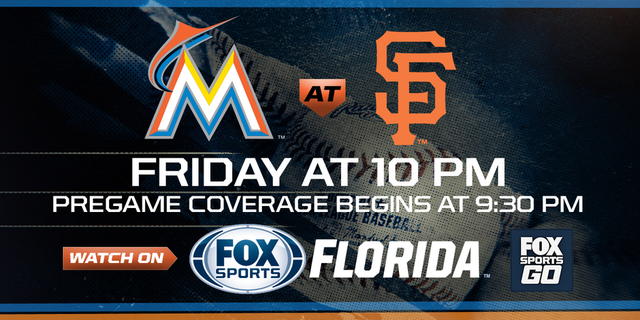 TV: FOX Sports Florida
Time: Pregame coverage begins at 9:30 p.m.
CAN'T GET TO A TV? WATCH IT LIVE ON FOX SPORTS GO
SAN FRANCISCO -- Ichiro Suzuki will continue his pursuit of Bay Area icon Rickey Henderson on the all-time hits list when the Miami Marlins and San Francisco Giants begin a three-game series Friday night.
Marlins right-hander Dan Straily (6-4, 3.51 ERA), who has never lost to San Francisco, and Giants lefty Matt Moore (3-8, 5.78), who has done most of his quality pitching at home this season, will duel in the series opener.
Suzuki, a native of Japan, had two hits in Miami's 4-3 loss at St. Louis on Thursday, passing Panamanian Rod Carew for 23rd place on the career hit list and becoming the all-time leader among players born outside the United States.
"A lot of players who have played in the past, when they retire and look back, they look at the game today and think the game is easy," Suzuki said Thursday after his historic effort. "But I felt that (Carew) was not one of those. He is a really nice man. It was very special for me to be able to pass Rod Carew, so that was more special for me today."
Suzuki's second hit Thursday put his total at 3,054, one behind Henderson, who collected 1,768 of his 3,055 hits for the Oakland Athletics.
Suzuki is 11-for-24 in his career against Moore. The .458 average is the 43-year-old's fifth best among all pitchers he has dueled 20 or more times.
Moore has won only once in his past nine starts dating back to May 13. He is, however, coming off a strong performance in San Francisco's 2-1 victory at Pittsburgh on Saturday. He allowed one run on four hits in 5 2/3 innings of a no-decision.
Moore has a 3.77 ERA at home this season, as opposed to a 7.61 mark on the road.
He is 2-1 with a 3.48 ERA in five career starts against the Marlins.
Before Moore starts his warmups, the Giants will be examining Johnny Cueto, who had to be scratched from his scheduled start Thursday at Detroit because of dizziness.
With the team coming off a 4-2 trip and seeking to go into the All-Star break on a positive note, Giants manager Bruce Bochy indicated Thursday he would like to get his top healthy pitcher another start this weekend.
"We're going to re-evaluate him (Friday), see where we're at, see where he may fit in possibly before the All-Star break," Bochy said. "That's what we'll talk about."
San Francisco is scheduled to pitch Jeff Samardzija on Saturday and Matt Cain on Sunday.
The Marlins will counter Friday night with Straily, who has gone 3-0 with a 2.25 ERA in three career starts against the Giants.
One of those starts came for the Cincinnati Reds last July, when Straily made his AT&T Park debut in a 2-1 victory. He went 7 2/3 innings, allowing one run and three hits.
Straily, a California native, hasn't lost since June 5. He has compiled a 3.29 ERA in his past five starts. He won at Milwaukee on Sunday, throwing six innings of three-run ball.