Preview: D-backs at Dodgers, 6:30 p.m., FOX Sports Arizona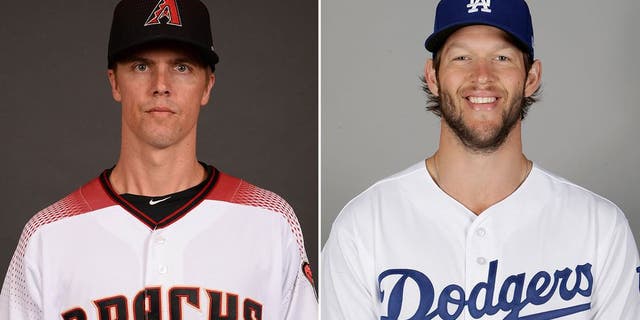 LOS ANGELES -- Good friends and former teammates square off Friday when the Arizona Diamondbacks open a four-game series against the Los Angeles Dodgers.
Former Dodger right-hander Zack Greinke (1-0, 2.31 ERA) will face Los Angeles ace Clayton Kershaw (1-1, 3.46 ERA) for the first time in the opening game at Dodger Stadium. Greinke pitched three seasons for the Dodgers before bolting to the Diamondbacks as a free agent last year.
Greinke has started the season well. In his last start, he limited the Cleveland Indians to a run on five hits, with six strikeouts and no walks, in 6 2/3 innings of an 11-2 romp last Saturday.
Greinke is 3-2 with a 3.80 ERA in seven career starts vs. the Dodgers. Last season, Greinke was 1-2 with a 5.33 ERA against the Dodgers. Los Angeles tagged him for six home runs in 17 2/3 innings, five of those occurring in a 10-2 win by the Dodgers last September.
Dodgers shortstop Corey Seager gave Greinke fits last season, going 5-for-8 with two home runs and four RBIs.
Greinke, obviously, will be intent on avoiding such a disaster. He also believes he needs to deliver a solid performance to beat Kershaw.
"He's so competitive that if I started taking it lightly, it would be a bad game plan," Greinke told MLB.com. "He has a great mindset. A great work ethic. He does everything as perfect as you'd want a pitcher to do."
Kershaw (1-1, 3.46) will attempt to regroup after being dealt a loss in his last start. Kershaw allowed four runs on eight hits in six innings in a 4-2 loss to the Colorado Rockies on Saturday. Kershaw struck out six and did not issue a walk, but he served up back-to-back home runs for the first time in his career, to Mark Reynolds and Gerardo Parra.
Kershaw is 12-8 with a 2.75 ERA in 24 starts against the Diamondbacks. He has limited Arizona to a .228 batting average. However, center fielder A.J. Pollock has experienced some success against the left-hander, batting .292 with a pair of RBIs in 24 at-bats.
Kershaw isn't looking forward to the confrontation with Greinke.
"I'll just try and block it out," Kershaw told MLB.com. "It's not fun to pitch to people you know. I'm not good at separating that. I'm just going to have to focus and really think about it like he's another guy. Then the next day I can talk to him."
The Diamondbacks (7-3) are off to a strong start. They opened with six of seven wins at home before dropping two of three to the San Francisco Giants. Third baseman Jake Lamb has been the club's hottest hitter, batting .342 with two home runs and 10 RBIs. First baseman Paul Goldschmidt and right fielder David Peralta also have two homers.
The Dodgers (5-5) were 2-4 on their six-game trip. They capped it with a 4-0 loss to the Chicago Cubs on Thursday. In losing two of three to the Cubs, the Dodgers managed just four runs and stranded 26 runners.
Third baseman Justin Turner leads Los Angeles in batting with a .355 average. Yasiel Puig's three home runs are tops for the club while left fielder Andrew Toles and catcher Yasmani Grandal have gone deep twice.