Predators in unchartered waters against Canucks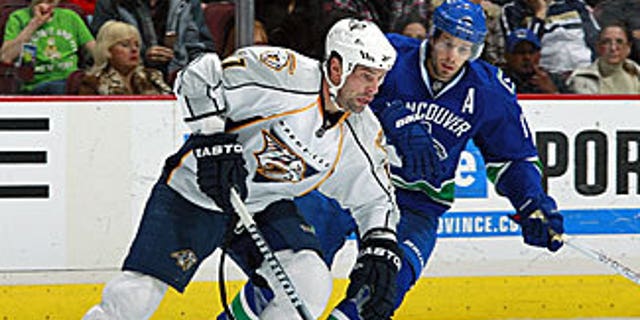 NEWYou can now listen to Fox News articles!
While the first round of the Stanley Cup Playoffs was old hat for the Nashville Predators, they're in brand-new territory now that they've won the first postseason series in the franchise's 12-season history. And welcoming them to the Western Conference Semifinals are the Presidents' Trophy winners, the Vancouver Canucks.
This series has the potential to go in a number of different directions. If it turns into a battle of special teams, the Canucks had the top-ranked power play during the regular season and could make short work of a Predators squad that got carved up by the Ducks with the man advantage in their conference quarterfinal. Vancouver was also tied for second in penalty killing.
On the other hand, the Canucks will be playing Game 1 less than 48 hours after a 2-1 overtime win over the Blackhawks to pull out a seven-game win in that series. Vancouver could have been resting up, but instead missed on three straight opportunities to eliminate Chicago and had to expend a lot of extra energy. The Predators might be able to jump on them early in the series.
The teams split four-regular season games, all played during the second half. They were low-scoring affairs and Nashville ended up with an 8-6 advantage in total goals scored.
Vancouver
Henrik and Daniel Sedin did not have a productive first round against Chicago, but you have to wonder if that will only make them more dangerous in the second round. The twins, first and fourth, respectively, in the NHL's regular season scoring race, combined for 12 points in the seven-game series against Chicago, but only 3 points and a minus-13 rating in the final four games. The right wing on their line, Mikael Samuelsson was similarly quiet, with zero points in the final four games of the first round.
Alex Burrows stepped up huge in Games 6 and 7 after having a rough start against the Hawks. Burrows had a goal and 2 assists in Game 6, and then became the overtime hero in Game 7 with his series clinching goal 5:22 into the extra session. He also scored in regulation. Burrows was taken off the Sedin line in Game 6 and put with Ryan Kesler and Mason Raymond. That became Vancouver's best line and Kesler had arguably the best game anyone could have had without scoring a point in Game 7.
Vancouver's new third line looks like it has some potential to be dangerous on both ends. Maxim Lapierre, Christopher Higgins and Jannik Hansen were strong in Game 7 against the Blackhawks, combining for six shots on goal, 10 hits and a 5-1 record in the faceoff circle.
Nashville
GM David Poile brought in Mike Fisher before the trade deadline hoping he'd be a difference maker, and Fisher did everything Poile could have asked in the opening round against Anaheim, leading the team with 6 points and winning 52 percent of his faceoffs -- including the one that set up the tying goal in Game 5.
But the Preds also got production from up and down the roster; seven players had at least 2 goals, but no one had more than 3. Joel Ward (3-2-5), Jordin Tootoo (1-4-5) and Nick Spaling (2-2-4, including the series-winning goal on Sunday) all stepped up. Even Jerred Smithson, who had 5 goals in 82 regular-season games and hadn't tallied since mid-January, came through with the critical overtime winner in Game 5.
Vancouver
Dan Hamhuis, who collected an assist and was plus-2 in the first round, will be amped up to face his former team. Hamhuis spent six seasons with Nashville and missed only nine regular season games combined. His defense partner, Kevin Bieksa, is the lightning rod of Vancouver's blue line. Bieksa talks a big game off the ice and backs it up by logging huge minutes and playing in all situations. He played 28:03 in Game 7 against the Hawks and finished with three hits and a shot on goal. He averaged a team-high 25:05 of ice time in the first round.
Alexander Edler and Christian Ehrhoff make up a pair that seemingly has it all, from physicality to a hard shots to sound positioning. Edler led all Canucks defenseman with 23 hits and 19 shots on goal. He had a team-high 15 blocked shots and played more than 24 minutes per game. Ehrhoff played more than 22 minutes per game and put up a defense-high 4 points to go along with nine hits and eight blocks.
Keith Ballard played a mistake-free Game 7 after being a healthy scratch in Games 5 and 6. He returned to the lineup because Sami Salo injured himself early in Game 6. Salo is listed as day-to-day. Andrew Alberts and Aaron Rome are also options. Alberts played in Games 6 and 7, but averaged only 11 minutes of ice time.
Nashville
Captain Shea Weber scored one of the biggest goals in franchise history when he tied Game 5 in the final minute, setting the stage for Jerred Smithson's OT winner. Weber also led the team with a plus-4 rating in the six-game victory against the Ducks, and overall looked every bit like the Norris Trophy finalist he is.
Kevin Klein was the only other Nashville defenseman to score, but of the six defensemen to see action, only Shane O'Brien didn't have at least one point -- O'Brien was also the only minus player.
Vancouver
Roberto Luongo answered the call in Game 7 against the Hawks after a tumultuous few days in which he was pulled from Games 4 and 5 and was the backup to Cory Schneider for Game 6 until having to come on in relief. The Vezina Trophy finalist made 31 saves Tuesday, including a series-saving stop on Patrick Sharp early in overtime. It was the signature performance of Luongo's NHL career because of the opponent and the pressure being heaped on his shoulders.
Luongo finished the series with a .903 save percentage and 2.97 goals-against average. He had a 32-save shutout in Game 1. Schneider, who left Game 6 with leg cramping, is fine and will be Luongo's backup heading into the series. He had a 3.09 goals-against average and .878 save percentage against the Hawks.
Nashville
Pekka Rinne's goaltending is the biggest reason the Predators made the playoffs -- but Nashville won a playoff series for the first time in franchise history despite its goaltender's struggles. Rinne finished the series with a 3.29 goals-against average and .876 save percentage, both light years poorer than his regular-season numbers (2.12 GAA, .930 save percentage).
Rinne, who was also nominated for the Vezina, has to play up to his full-season numbers for the Predators to get to the next round.
Vancouver
Many people in Vancouver felt Alain Vigneault was coaching for his job in Game 7 after taking a huge risk by starting Schneider over the franchise goalie in Game 6. Well, his team put together one of its best efforts of the series and perhaps of the season and he got to move on after losing Game 4, 5 and 6. This is the fifth time Vigneault has taken a team to the conference semifinals, but he's never coached beyond this round.
Nashville
Barry Trotz is in uncharted territory: the second round of the Stanley Cup Playoffs. The only coach in franchise history has led the Predators to the playoffs six times; this is the first time they've found a way to get over the hump. Trotz has spent his entire career in Nashville making the most out of the least in terms of offensive talent -- surprisingly, the Predators piled up 22 goals in the opening-round win while allowing 20. Expect him to try to play a tighter style in the second round.
Vancouver
Vancouver had the League's best power play in the regular season and it was for the most part just as good in the first round. The Canucks went 4-for-18 in the series (22.2 percent) after leading the League with a 24.3 percent power play in the regular season. However, they gave up a game-tying shorthanded goal in the final two minutes of Game 7. The Canucks' penalty kill, which was third in the regular season at 85.6 percent, dipped to 79.3 percent in the first round. Chicago connected on 6 of 29 opportunities.
Nashville
Nashville's power play was unexpectedly good in the first round, going 6-for-22 (22.2 percent) after finishing 26th during the regular season (15.2 percent). But the penalty-killers had an awful time against Anaheim, surrendering 8 goals on just 22 chances (63.6 percent) after finishing fifth in the regular season at 84.9 percent and allowing just 41 power-play goals, one short of the League low.
Vancouver
Ryan Kesler: Look for Kesler to become his dominant offensive self, especially if Nashville spends a lot of time worrying about the Sedin twins. Kesler had 41 goals in the regular season and then none against Chicago, but he played like a Selke Trophy finalist in the first round. He might play like a Rocket Richard contender in the second round.
Nashville
Pekka Rinne: The Predators are built around defense and goaltending. Rinne has to provide the kind of play in goal that he did during the regular season.
Canucks will win if … they push the pace and generate early offense in games. The Predators don't have the same firepower as the Blackhawks, so if the Canucks are able to get ahead early they should be able to salt games away. Henrik and Daniel Sedin have to be much better, but they will also likely have a great challenge going up against Shea Weber and Ryan Suter.
Predators will win if … they get back to the style of play that got them to the playoffs, Rinne plays the way he's capable of playing and the forwards continue to produce enough goals.
Dan Rosen and John Kreiser of NHL.com contributed to this report.