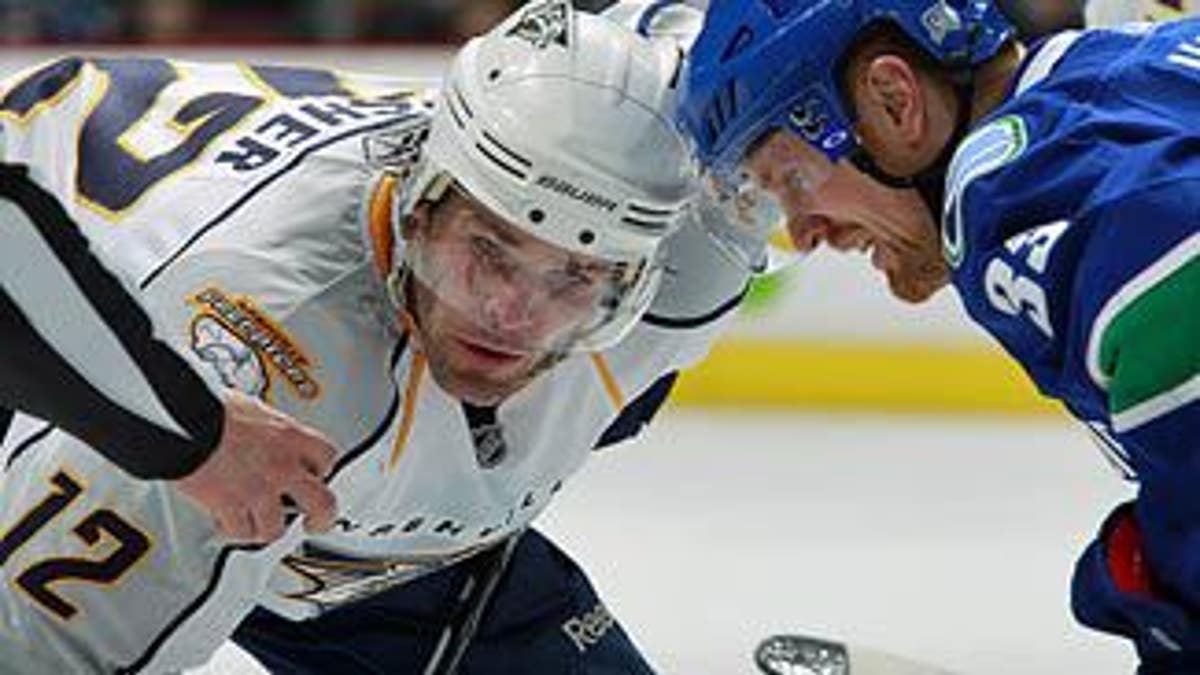 VANCOUVER, B.C. -- The Nashville Predators didn't expect to get out of the first round as one of the NHL's highest-scoring postseason teams, and they know they won't get out of the second round if they try to play a wide-open game against the Vancouver Canucks.
"We have to be a lot better defensively," Norris Trophy finalist Shea Weber said Thursday from Rogers Arena. "Without a doubt, you look at all their weapons and the amount of points their forwards have had this year, (a wide-open game) might end up biting us. We've got to make sure we're playing solid and really helping our goalie out."
Nashville averaged better than a full goal per game more in its six-game series against Anaheim than it scored during the regular season. It finished the first round tied with Chicago, Philadelphia and Tampa Bay for the NHL lead with 22 goals, but the Blackhawks, Flyers and Lightning all played seven games while the Predators took out the Ducks in six.
However, that same number 22 was alarming to the Predators and their coaching staff for a different reason. They gave Anaheim 22 power plays in the six games, and eight of the Ducks' 20 goals came with the man-advantage. That's way out of character for a team that finished the regular season ranked third in defense with only 2.32 goals allowed per game and tied for sixth in total times shorthanded (272).
"We showed in the regular season that's our game -- play well defensively, low-scoring games," said goalie Pekka Rinne, Nashville's Vezina Trophy finalist. "I expect to play those kinds of games against Vancouver."
Odds are if the Predators don't revert back to their tight-checking, disciplined ways against the Canucks starting with Game 1 Thursday (9 p.m. ET, VERSUS, CBC, RDS), they could be in for a short series.
The Canucks scored only 16 goals, including four on the power play, in seven games against the Blackhawks, but they were the League's top-scoring team in the regular season thanks in part to their top-ranked power play. Henrik and Daniel Sedin combined for only 3 points and a minus-13 rating over the final four games against the Hawks, but they still arguably are the most dangerous forward tandem in the NHL.
Daniel finished first in the League with 104 points while Henrik was fourth with 94. They combined for 77 power-play points.
"Something those two have is pretty special -- their ability to find each other is uncanny," said Weber, who along with defense partner Ryan Suter likely will draw the assignment against the Sedins and right wing Mikael Samuelsson. "They just know where each other are. We're going to have to be at our best, but it's not just us -- it's everyone on the ice."
That is the Predators' way. They reached the playoffs because they played nearly every shift as a five-man unit backed by a world-class goaltender. Things changed against Anaheim and they were able to survive in part, as Jordin Tootoo told NHL.com, because the Ducks' "top guys didn't really like playing in their defensive zone."
Nashville will attempt to get the puck deep and forecheck the Canucks into submission like they did the Ducks, but don't expect them to take too many risks.
"We're not a team that can trade chances," Predators coach Barry Trotz told NHL.com. "Like, we can trade chances if Peks is right on his game, but you don't know. But I also don't think they want to trade chances all night when they're playing, either. As coaches you want to limit chances and take advantage of your opportunities."
Follow Dan Rosen on Twitter at: @drosennhl