PHOTO: 'Star Pats' is Julian Edelman's glorious Star Wars parody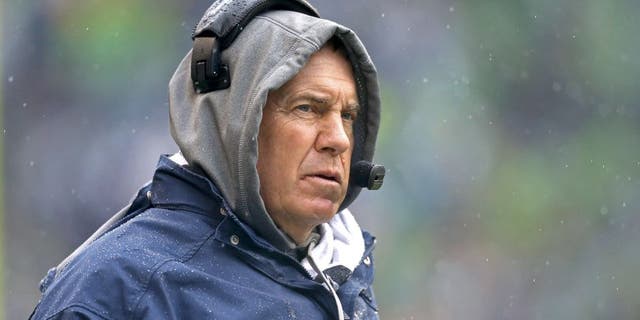 NEWYou can now listen to Fox News articles!
Bill Belichick: evil supervillain? Julian Edelman thinks so. Otto Greule Jr Getty Images
For some, Monday Night Football was a highly-anticipated "Star Wars: The Force Awakens" trailer wrapped in three hours of a not-so-clean football game. The trailer debuted during halftime of the New York Giants-Philadelphia Eagles game, and it has millions excited about the film's release in December.
After the trailer was revealed, New England Patriots wide receiver Julian Edelman shared this glorious photoshopped poster for the hilarious parody film, "Star Pats" on Twitter. Soak it in for all of its greatness.
The "film" casts Bill Belichick as villain Rylo Ken, Edelman as Rey, Tom Brady as the wise Han Solo, Danny Amendola as Princess Leia, Jamie Collins as Finn, and most importantly, Rob Gronkowski as Chewbacca.
If only this brilliant mashup was real. It wouldn't break Star Wars' record-to-be, but in New England, it would get plenty of eyeballs. And to Edelman's credit, the casting is perfect.
Han Solo and Chewbacca are best buds, as are Brady and Gronk. Belichick has always been seen as an evil mastermind, while Edelman has always been a hero in his own eyes. Collins is a dynamic playmaker who can play a role in several ways -- just like Finn, who's seen in the trailer as a Storm Trooper and a Rebel. And as for Amendola, there isn't really an explanation for that one.
MORE NEWS: Want stories delivered to you? Sign up for our NFL newsletters.