Philadelphia vs. Boston Game 3 live blog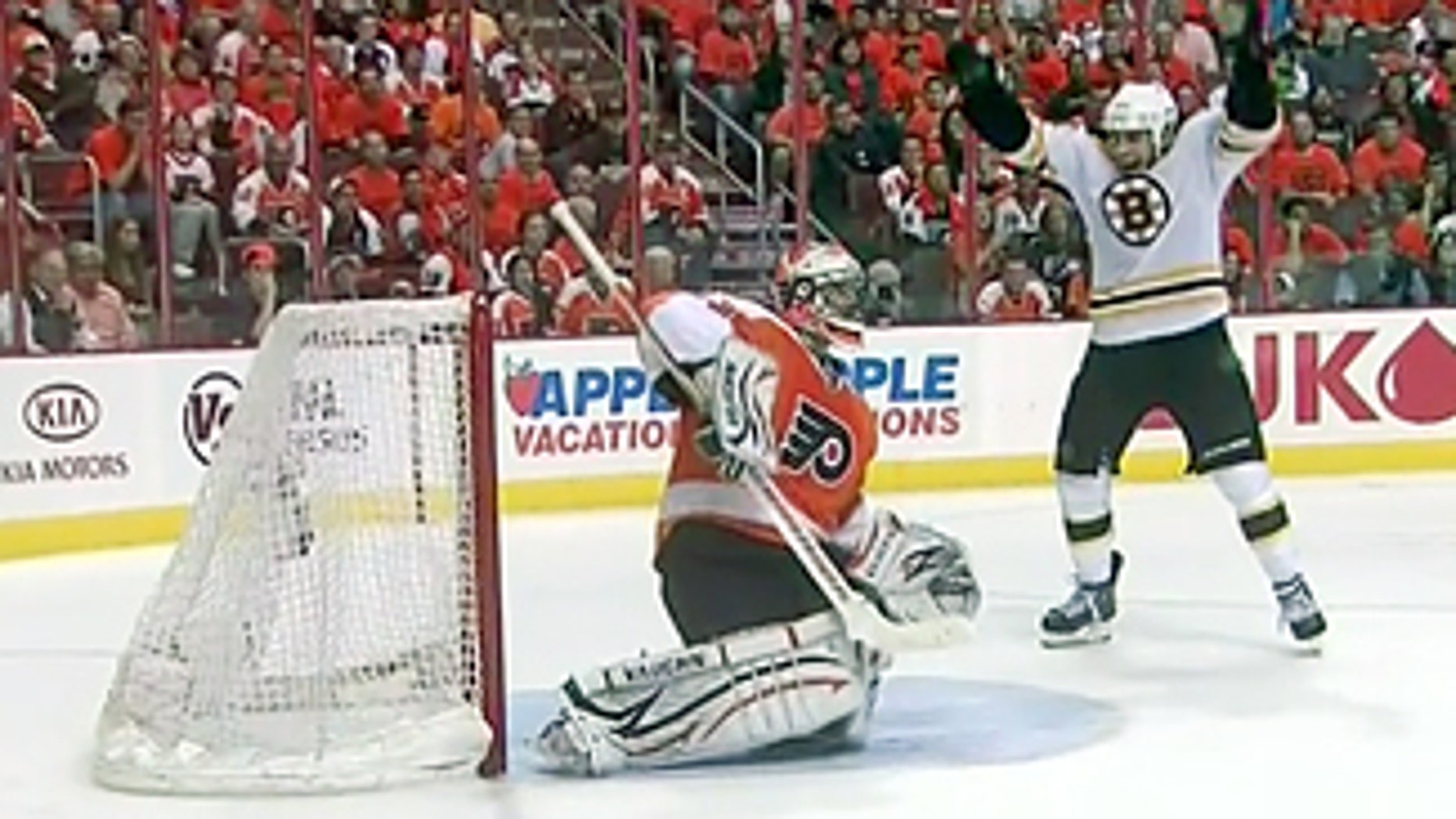 20:00 That's it from the Garden. Boston wins 5-1. See you here Friday night.
18:38 The drought is over. Zdeno Chara just scored on the 5-on-3 with a rocket over Sergei Bobrovsky's glove after a series of passes moved the puck all over the offensive zone. Goal, BOS 5-1
18:14 Make it a 5-on-3 for the rest of the game as Braydon Coburn takes a cross-checking penalty. 
18:06 Boston will be on the PP for the rest of the game -- unless they score or take a penalty. Mike Richards hauled down Patrice BergerOn as he tried to shoot at an empty net.
17:50 Boston uses its timeout after an icing. With the way they have dominated faceoffs -- 30-8 after two periods -- they can be a bit more confident in icing the puck. Claude Julien just wanted to rest players out there. His top D have played huge minutes. By the way, Peter Laviolette has chosen to pull Bobrovsky, which is the right message to send to his team.
12:51 Philadelphia thought it had cut lead to 4-1, but the goal was waved off because Scott Hartnell had knocked net off its moorings before Sean O'Donnell could slam home rebound. It has been that kind of night for the Flyers. It must be said though that Hartnell has been one of the more involved Philadelphia forwards in this game, especially around the Boston net.
10:55 The Flyers have some questions to answer before Friday's Game 4. First and foremost, you have to wonder who will be in goal. It appears it has to be Sergei Bobrovsky, who has played well in reelief the past two games. Brian Boucher's meltdown after being pulled could not help matters for him. Just as importantly, what will the Flyers do with Jeff Carter. He was not full speed in Game 3 and had little impact despite the fact that Philadelphia juggled lines to cater to favorable situations for him. Finally, they must wonder which JVR they will see. Wednesday's JVR was far less impactful than the dynamo that controlled Game 2 from start to finish.
5:08 The Flyers can't get anything going in the third as Boston plays a clinical -- at times cynical -- game with a three-goal lead. One of biggest reasons Flyers have trouble generating offense is they can't win a faceoff. After two periods, Boston held a 30-8 advantage in faceoffs. It's impossible to generate sustained attack if you can't control pucks after stoppages.
Start of Third Period
End of Second Period, BOS 4-1. Shots: PHI 26, BOS 22
20:00 Boston couldn't score on another power play -- this one caused by a Kimmo Timonen penalty -- but they are getting closer. Rich Peverly had a wide open net after some fancy passing, but was denied when Sergei Bobrovsky did the splits to get a toe on it. Several seconds later, Patrice Bergeron hit the post. Those opportunities are the good news. the bad news: Boston is 0-for-30 with the man advantage this postseason.
16:26 The Tim Thomas spell has been broken. Andrei Meszaros, of all people, just did the honors . Is it too little, too late? By the way, that goal was by Philadelphia's fourth line, with Darroll Powe and Dan Carcillo getting the assists. Thomas had stopped 68 straight shots by Philadelphia. Goal, PHI 1-4
15:14 Brian Boucher's night is over. He just allowed a bad goal to Nathan Horton, who made a great rush and avoided the attentions of Kimmo Timonen to get off an across-the-grain shot that flabbergasted Boucher. The Flyer goalie slammed his stick against the post as he was summoned to the bench. Boucher also walked down the runway to the dressing room, throwing his stick in disgust. Sergei Bobrovsky is now in.  Goal BOS, 4-0
13:39 Something did go in, unfortunately it was the puck in Philadelphia's net. This may be the backbreaker, not because Boston has a 3-0 lead, but because the Bruins fourth line provided the goal on a perfect odd-man rush in transition. That has to be demoralizing for Philadelphia, while uplifting to Bruins. What a shot by Paille, who picked the far corner. He had just 5 shifts in first period. Goal, BOS 3-0
12:13 Is Tim Thomas getting in the heads of the Philadelphia shooters? He has stopped all 20 shots he has faced in this game and is on a string of 65 straight saves. After a while, shooters will start to cut it too fine beliveing they need to be perfect to solve a hot goalie. It happened to Boston often in the first round against Carey Price. The answer though is more shots, even of the simple variety. Law of averages dictates that something will go in.
9:19 Boston is now 0-for-29 on the PP, but it is showing signs of progress. They did a much better job of gaining the zone and moving the puck around. Johnny Boychuk had a good slapper that was blocked and Patrice Bergeron was just wide on a one-timer from the slot. Are baby steps like that enough for a Bruins team that certainly is suffering a crisis of confidence when it comes to the man advantage.
7:05 James van Riemsdyk just took an offensive-zone high sticking penalty. It'll be interesting what Boston does with it. They have yet to score on the PP this postseason and it is one of the team's few negative storylines at this point in the series. Philadelphia can not let Boston score here and gain some confidence.
3:31 Bruins top line just had another good cycling shift that ended with Nathan Horton going hard to the net. Philadelphia's Sean O'Donnell has had enough of that though and made him pay with afew stick jabs, a prelude to an entertaining bout between the two. Kudos to O'Donnell, a wily vet, for trying to pick his team up and blunt some of Boston's momentum.
2:03 Bruins got start they needed, killing off the remainder of Patrice Bergeron's penalty. Flyers had one quality chance, but Boston defenseman Zdeno Chara had best chance of all after Gregory Campbell caused a turnover iN the enutral zone with a great forecheck.
Start of Second Period, BOS 2-0
End of First, BOS 2-0. Shots: PHI 12, BOS 10
20:00 And, that's it for the first. Boston got off to a fast start and has continued to apply the pressure. Philadelphia has settled down from a disastrous 63-second span to start the game, but needs to put more pressure on Tim Thomas.
19:44 Philadelphia will have some momentum going into second periood as Patrice bergeron takes a hooking penalty in the Defensive zone. Philadelphia's second PP of the game and it will have fresh ice for the majority of it.
14:31 It's amazing what a hot goalie can do for a team. Boston has so much confidence in Tim Thomas right now and it shows in their play as they are aggressive in tryiNg to make plays in their own end because they know they have insurance policy in Thomas. He just did it again, making huge toe save on Nikolay Zherdev.
12:09 Boston killed that penalty relatively easily. It often seems a team is more eager tyo kill penalties caused by misplaced effort than those of the mental-lapse variety. Brad Marchand dropped a big hit on Ville Leino during the kill that had Garden happy. Back at regular strength, Boston is playing four behind the red line. Will be hard for Flyers to get through neutral zone.
9:00 And just like that, Milan Lucic gets a penalty. But, I think this is a penalty Claude Julien will live with as the big power forward was whistled while driving to the net looking for a rebound after Dennis Seidenberg hit the post with awrister. Lucic set up the play by holding and protecting the puck along the end wall despite being hit by Braydon Coburn.
7:36 Jeff Carter has seen a fedw shifts so far -- with different lines -- but has not had a huge impact on the game yet. Scott Hartnell, though, is trying to rattle Tim Thomas' cage in hopes of getting vezina hopeful off his game. After whistle, Hartnell gave Thomas slight shove with his stick, but Zdeno Chara answered quickly. Boston will have to keep its discipline, while Philadelphia can push the line because Boston's power play has been so ineffective.
4:09 Philadelphia needs something to hang its hat on here and it has a few options. Boston has not been good at holding leads this postseason, see Game 7 against Montreal, which is eerily similar to this one as far as the start. Plus, Philadelphia has last year; remember Boston was up 3-0 in game 4. Also, Brian Boucher gave up two quick goals in Game 2 and settled down to allow Philadelphia several chances to win the game. It's too early to panic.
1:03 An absolute nightmare of a start for the Flyers as David Krejci scores on the very next shift, just 33 seconds after Chara's goal. Krejci made a cheeky pass to himself off the endboards to keep control of the puck in the offensive zone before playing a little give-and-go with Milan Lucic, who got the puck back to Krejci for a one-timer. Philadelphia burns its timeout and fans here are mocking Brian Boucher. Goal, BOS 2-0
:30 Brian Boucher did not survive even a minute without finding calamity as Zdeno Chara scores just 30 seconds in, rifling a slapper from the top of the circle under the crossbar. We haven't seen that shot from Chara much in these playoffs. It should be noted that Boucher made a big save on Brad Marchand right before the Chara goal. Goal, BOS 1-0
7:00 p.m. It's not a huge surprise, but it is official that Flyers went back to Brian Boucher in goal for Game 3. Boucher, who missed several minutes of Game 2 with a hand injury, was not bad in the OT loss Monday night and he remains team's best option in net. It will be interesting to see how he plays tonight. He grew up less tahn an hour south of here in Woonsocket, R.I., and this has to be special for him. Will be interesting to see if he can survive first period without finding calamity. has not been able to do that yet in this series. By the way, as a sidenote on the whole goalie situation, the Flyers had a fourth goalie on the ice this morning, adding youngster Johan Backlund to the goalie carousel. Sergei Bobrovsky, though, is the backup for Game 3.
6:57 p.m. Let me just say before things start here in a bit that Dennis Seidenberg has been great for the Bruins in the past seven games. He was switched onto the No. 1 pair in game 3 as boston tried to find a better way to deal with Montreal's fast forwards and he has really blossomed playing alongside Zdeno Chara. He is earning more and more trust on a regular basis from the coaching staff and has played even more than Chara in a couple of games during this stretch. You know, though, that I just put a curse on the guy. Sorry in advance.
6:44 p.m. The changes are much more subtle for the Bruins. Adam McQuaid, who injured his neck in Game 2, is out for Boston. Veteran Shane Hnidy is in, making just his second appearance of the postseason and just his fourth of the year. He will likely play third-pairing minutes with Tomas kaberle, but don't be surprised if Boston coach Claude Julien goes with four D for long stretches of this game. He played Hnidy less than five minutes in his first-round outing against the Canadiens and he said Wednesday morning that he believes his top-four D -- Zdeno Chara, Dennis Seidenberg, Andrew Ference and Johnny Boychuk -- can handle a lot of minutes. They certainly did the job in Monday's Game 2. By the way, for more on Hnidy and his situation, check out this story I wrote from the morning skate. 
6:38 p.m.  There will be no miracle for the Flyers tonight. Defenseman Chris Pronger is not taking part in warmups. In fact, there were rumblings earlier in the day, that the Flyer caPtain may not play in the rest of this series. There has been talk of both back and hamstring injuries when it comes to Pronger, but there is no way of knowiNg for sure. It does appear, however, that Philadelphia is getting some help as Jeff Carter makes a return to the lineup for his first appearance since Game 4 in Buffalo, a span of 14 days. Carter, who apparently has a knee injury, labored in the morning skate and pre-game warmups, is still adangerous scorer that has to concern the Bruins, especially on the power play.