Padres look for 2 in a row vs Brewers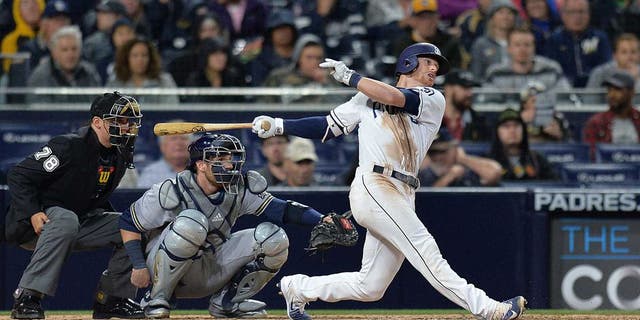 SAN DIEGO -- Clayton Richard draws the Tuesday start, and it is doubtful the San Diego Padres left-hander will tiptoe around the Milwaukee Brewers' lineup, regardless of its firepower.
Richard (2-4, 4.34 ERA) is coming off a stellar outing in which he stifled the dangerous Texas Rangers. He did so by throwing caution to the wind and his offerings into the strike zone. Richard said it was "a plan of action," and the plan worked as he ditched his passive approach for one that invited hitters to swing.
In seven innings at Texas on Thursday, Richard allowed one run on five hits.
Milwaukee counters Tuesday with right-hander Jimmy Nelson (1-2, 3.99), and he is coming off an equally impressive rotation turn. Against the Boston Red Sox, he allowed an unearned run, four hits and four walks in 6 2/3 innings during a no-decision on Thursday. He struck out eight.
"Jimmy, he had good stuff last time and he made quality pitches," manager Craig Counsell said of Nelson's work in the Brewers' 4-1 loss to Boston. "The start before that, he just made mistakes in the middle of the plate.
"He's got to stick to the edges of the plate, like most guys, and when you get to the edges of the plate, he is going to be effective. So it was nothing new, nothing different. It was just a game where he really executed.
"Jimmy pitched really well; Jimmy did an outstanding job. The first batter of the game hit a ball real hard, and that was the end of the hard contact for me."
Nelson has scuffled against the Padres, going 1-3 with a 3.80 ERA in four career starts. Two of those losses came last year, when he was charged with eight runs in 12 innings. He lost both of his starts at Petco Park.
Richard has been up and down this season. He was so good in his opening start -- six shutout innings -- and then so shaky up until his last one. After his season debut, he racked up a 6.06 ERA as rivals hit .338 against him. Among the reasons for that was Richard walking 15 batters in 32 2/3 innings.
So Richard didn't mess with Texas, choosing to attack the strike zone instead of nibbling at it. The result was six shutout innings to start the game until Mike Napoli bashed a hanging slider for a home run in the seventh.
"He threw the ball really well, literally one mistake all day to Napoli," Padres manager Andy Green said. "The rest of the day, lights out. His sinker was working well. He pitched exactly how he wanted to, gave us every opportunity to win the baseball game."
Richard is making his ninth start and 15th appearance against the Brewers. He has split a half-dozen decisions and compiled a 5.04 ERA.
Brewers slugger Eric Thames, who is tied for the NL lead in homers with 13, could return Tuesday after skipping the Monday game with an illness. However, third baseman Travis Shaw, the Brewers' top RBI producer with 31, is likely out again due to an injured right index finger.
The Padres will be looking to clinch at least a split of the four-game series after rookie Hunter Renfroe provided a walk-off, 10th-inning homer on Monday for a 6-5 San Diego win.