Packers coach McCarthy confident offense will improve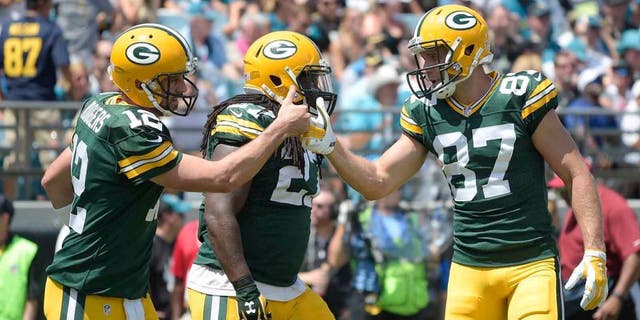 GREEN BAY, Wis. -- There are plenty of concerns surrounding the Green Bay Packers' offense headed into Sunday's NFC matchup against the Dallas Cowboys.
The Packers' rushing attack has been productive, but their backfield has some uncertainty with starter Eddie Lacy and backup James Starks hobbled by injuries.
The passing game, usually the team's strength, has sputtered along as quarterback Aaron Rodgers is off to the worst start of his career.
Largely because of the passing game's struggles, Green Bay enters Week 6 ranked 12th in scoring and 25th in yards.
The numbers aren't pretty, but coach Mike McCarthy remains confident the offense will improve.
"It's usually one or two or three plays that can define your overall performance -- or the perception of the performance," McCarthy said on Wednesday.
"So, we're in tune with that. We understand it. This is a process. This is a long year. We've done some good things throughout our football team, but we're well aware of not only why we're doing things, but how we're doing things and what we need to do to get better."
That starts with getting the Rodgers-led passing game back in gear.
Rodgers ranks seventh in NFL history in completion rate, but is ranked last this season with a rate of 56.3 percent. Nobody, however, is pushing the panic button.
"This is the game of football. He's not going to roll it out there every day and be perfect and be Superman," quarterbacks coach Alex Van Pelt said on Thursday.
"I think the standards have been set and he set them. He's played some fantastic football and he will play fantastic football moving forward. Just right now, we're in a little bit of a lull."
Rodgers didn't seem worried, either, joking on Wednesday that maybe he shouldn't "throw it away as much" and take more sacks to boost his completion rate.
"You know what, I've got to be more accurate, and I will," Rodgers said. "We've got to make the most of the opportunities on 50-50 balls and the balls we should catch and complete."
Getting Rodgers and the passing game on track could be critical against the Cowboys because of the uncertainty in the backfield.
Lacy had limited participation for a second consecutive day because of an ankle injury that he got in the third quarter against the New York Giants.
Lacy, who ranks fifth in the NFL in yards per carry, said he did only individual drills until the medical staff shut him down for the rest of Thursday's practice in hopes of getting him ready for Sunday.
"That's what we're shooting for," Lacy said. "Hopefully, I'm able to get out there and play."
Added running backs coach Ben Sirmans: "You never know until we get to the game, but I think he's going to be fine."
Not only is Starks dealing with a knee injury, but he's not with the team. McCarthy said Starks will be out of town until Saturday as he deals with a death in the family. Could Starks even help on Sunday?
"We'll answer those questions once we get to that point," McCarthy said.
The only other running back on the team is Don Jackson, an undrafted rookie who's on the practice squad.
NOTES: The Packers released No. 3 quarterback Joe Callahan, an undrafted rookie from Division III Wesley. A corresponding roster move was not made, but the Packers could use it to bolster their depth at running back or activate defensive tackle Mike Pennel or cornerback Demetri Goodson, who are practicing after serving four-game suspensions. To play on Sunday, they must be activated by 4 p.m. Saturday.