Pac-12 Media Poll: Ducks chosen to win Pac-12 North, USC favored for conference crown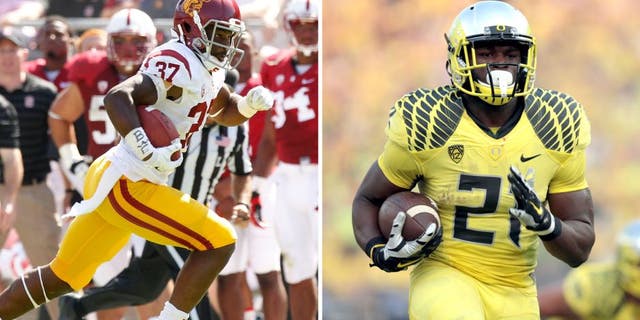 The Oregon Ducks have once again been chosen by the media to win the Pac-12 North. However, in a mild upset the USC Trojans have been named the preseason favorites to win the conference title by the media.
The Ducks picked up 37 of the 45 votes in the Pac-12 North as they look to repeat their division championship. In the terms of the conference title, 17 members of the media chose the Ducks to repeat as Pac-12 conference champions. The Trojans received 21 votes, the most given to any team.
Here are the official Pac-12 media poll votes:
North Division
1. Oregon (37 first-place votes)...262 total points
2. Stanford (8)....231
3. California....174
4. Washington....129
5. Washington State....89
6. Oregon State....60
South Division
1. USC (32 first-place votes)...254 total points
2. Arizona State (7)....200
3. UCLA (6)....180
4. Arizona....155
5. Utah....105
6. Colorado....46
Conference Title
USC (21 votes)
Oregon (17)
Arizona State (3)
UCLA (2)
Stanford (1)
(h/t Pac-12)