Owner of Greek soccer team apologizes after running onto field with holstered gun to protest goal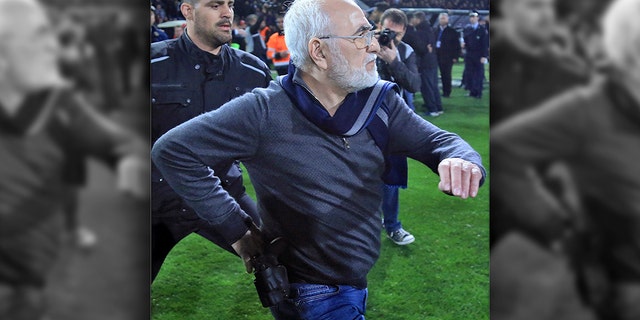 The owner of PAOK Thessaloniki, who ran onto the soccer field with a holstered gun on his belt to confront the referee and complain about a disallowed goal, apologized Tuesday for his "emotional" reaction.
Ivan Savvidis, the Russian-Greek businessman who owns PAOK, didn't use the gun on Sunday, but his actions led to yet another league suspension.
"I am deeply sorry for what happened. I had absolutely no right to enter the pitch the way I did," Savvidis said Tuesday in a statement on PAOK's website.
He added: "Please believe I had no intention to engage in a brawl with our opponents or the referees. And I obviously did not threaten anybody."
Savvidis, who took over PAOK in 2012, was born in Georgia during the Soviet era and made his money with the privatization of a cigarette factory in southern Russia in the 1990s. His Agrocom company has extensive interests in tobacco, agriculture and real estate.
He also spent two terms in the Russian parliament from 2003-11.
Tatyana Gordina, the deputy CEO in charge of corporate communications at Savvidis' Russia-based Agrocom Group, stressed Savvidis had not made any threatening gestures.
"There were no threats made by Ivan Savvidis, especially not involving the use of a weapon, during yesterday's match," she said. "There was an emotional walk out onto the field, probably a breach of sporting regulations, and nothing more. Most of the headlines in the Greek press exaggerate the facts."
However, action is being taken to cure Greek soccer of its violence and disorder.
A Thessaloniki prosecutor ordered a judicial investigation into the incident Tuesday. The probe also will examine why police allegedly ignored instructions from a prosecutor on duty at the match to arrest Savvidis on the spot.
In the potential title decider between PAOK and AEK Athens, a late goal was disallowed, leading to the uproar involving Savvidis and his foray onto the field.
The government decided to stop league matches indefinitely following Sunday's turmoil.
The incident prompted Prime Minister Alexis Tsipras to evoke a famous legend about the conquests of Alexander the Great.
"At some point, we have to decide to cut the Gordian Knot, take collective action, and ignore the political consequences," Tsipras said, referring to a simple solution for an intractable problem.
FIFA strongly condemned the incident and sent a delegation to Athens for talks as the country faced the threat of suspension from international competition.
The league suspension is the latest attempt by a government to rein in Greek soccer's powerful bosses, who have far-reaching interests in infrastructure, shipping, gambling, and the news media, and who operate against a backdrop of habitual fan violence and allegations of corruption riddled through the sport.
This week's suspension was ordered 10 days after a court convicted 58 club officials, managers, players and others for up to 10 years in prison for a match-fixing scandal — including former officials from the league and the Greek soccer association.
Most of the sentences were suspended.
Tsipras' three-year-old left-wing government has twice before weighed in with violence-related suspensions, briefly stopping the league and cup competitions. And each high-profile outbreak of violence has rekindled plans for tougher surveillance, smart ticketing, and imposing tougher limits on traveling fans, as well as seeking assistance from abroad to monitor referees and match organization.
But fans and club bosses have continued to make the action look weak. Last month, supporters from a pair of rival Athens clubs chose a volleyball match for their most recent confrontation. Clashes spilled onto a street in a central neighborhood, and youths hurled gasoline bombs and flares.
Tension this season has been fueled by the soccer league's unpredictable outcome following a weak start by Olympiakos, which has lost the championship only twice in the past 21 years. The challenge is being led by AEK Athens, which has returned to the top league from bankruptcy, and northern club PAOK, which hasn't won since 1985 but whose fans are famously loyal and hot-headed.
"The government for the past three years has given great battles to manage to clean up the troubled football sector. We have won a lot, but much more remains to be done," Giorgos Vasileiadis, who is Greece's Deputy Culture and Sports Minister, said Monday. "In any case, we will not allow all this effort to be endangered, we will not allow phenomena of the past to be resurrected."
Dimitrios Malisiovas, a veteran sports commentator for public radio, said there is a general feeling of disappointment and sadness that the effort to clean up Greek soccer doesn't appear to be working.
"Since professional soccer started in 1979, the problem has always been there. Violence and corruption," Malisiovas said. "It's a bit like the Greek national debt: Too hard to pay down. Or like Hercules in ancient mythology trying to cut the head off the monster, only to see another appear. But that's what we need to fix this problem, another Hercules. Someone who is fearless and determined."
The Associated Press contributed to this report.