Ottawa Senators players apologize after being caught ripping assistant coach during Uber ride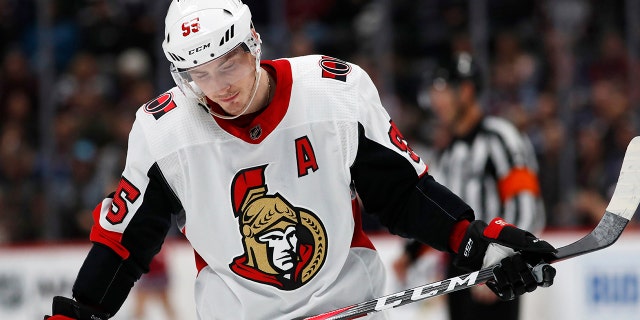 Several Ottawa Senators were forced to apologize Monday after being caught on video insulting the team and an assistant coach during an Uber ride.
The video shows the players' conversation during an Uber ride in Arizona on Oct. 29. The video was first reported by the Ottawa Citizen. The video had first surfaced on social media.
It showed Chris Wideman, Matt Duchene, Chris Tierney, Thomas Chabot, Dylan DeMelo, Alex Formenton and Colin White discussing their inability to kill a penalty and mocking assistant coach Martin Raymond, according to the Ottawa Citizen.
"We want to apologize publicly to Marty Raymond, our teammates and coaches for our comments in Phoenix, Arizona on October 29," the players said in a joint statement. "Our private conversation was recorded without our knowledge or consent. We're passionate about our team, and focusing on growing together. We are grateful for the support of our fans and organization. This is an important learning experience, and we will do better."
In the video, the driver is heard asking which team the guys play for, and Wideman, who is seated in the passenger seat, tells the driver the group plays for the Senators.
"Ottawa. If you can tell we're really pleased with our ...," Wideman says before a player in the backseat blurts out "with our PK."
The players go on to slam Raymond, who coaches the team's penalty-killing unit.
WARNING: VIDEO CONTAINS GRAPHIC LANGUAGE
"Marty Raymond, the only coach in NHL history to have the worst power play and the worst PK within a calendar year," Duchene is heard saying. He later added he hasn't paid attention during Raymond's meeting in "three weeks."
"Here's the other thing, too. We don't change anything ever. So why do we even have a meeting?" Duchene says.
The Senators are currently 29th in the league in penalty killing at 68.8 percent.
Senators coach Guy Boucher offered his support to Raymond in a statement Monday, saying the team has "very confidence in Marty Raymond's coaching."
Uber Canada's General Manager Rob Khazzam said filming riders without their consent was a violation of their terms of service.
"Filming or recording passengers without their consent is totally unacceptable and if reported/detected we will investigate," he said.
The Associated Press contributed to this report.