Opinion: These Latinos Deserve Hall of Shame, Not Fame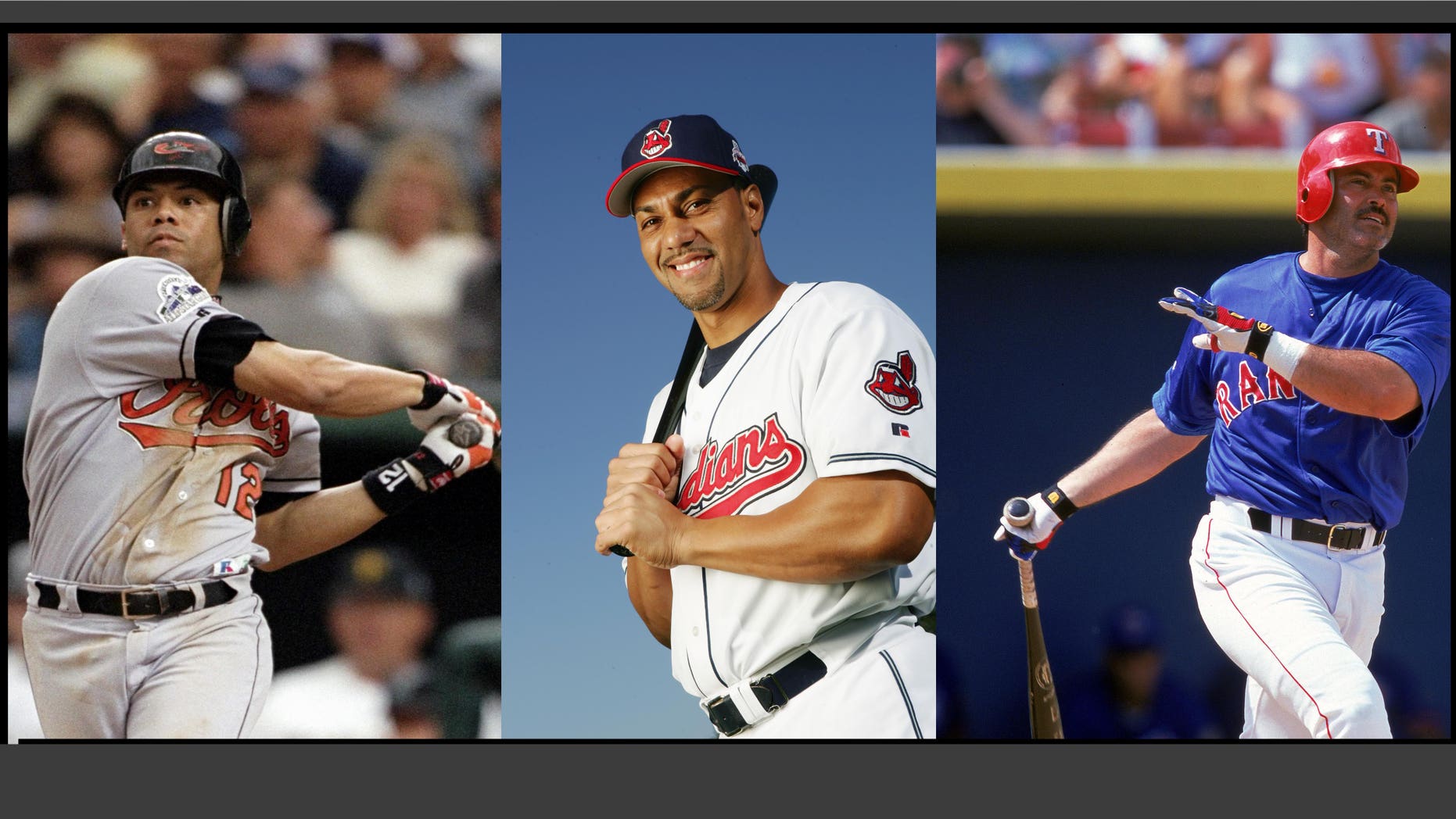 Sometimes numbers aren't the only denominators that determine whether or not a professional baseball player deserves to be remembered as a legend or a hero. Sometimes it's the decisions they made and who they are off the field as well.
The Baseball Writers' Association of America will have to weigh those factors in its consideration of three prominent Latinos, among other candidates, before making its announcement on Jan. 5. Juan González, Roberto Alomar and Rafael Palmeiro each have the numbers to be enshrined as legends in Cooperstown.
But not so fast.
Take González. The Puerto Rican slugger is a former two-time American League MVP and was known as "Señor Octubre" for the Texas Rangers. In my opinion, he was a long shot to get into the Hall of Fame anyway. But he helped us clear any debate when he was included in the infamous "Mitchell Report" that linked him to steroids.
Then there's Roberto Alomar Jr., also of Puerto Rico, who was a 12 time All-Star and two-time World Series champion as a member of the Toronto Blue Jays. On the field, he played his position well enough to earn 10 Gold Glove awards and was once admired by baseball purists. Then one day, during a heated argument with an umpire on the field, he spat in that umpire's face.
After that, he wasn't really thought of as a role model anymore. He has the numbers but will that incident come back to haunt him? To top it all off he's been sued twice this year, once by his ex-girlfriend and now by his wife. What are they suing him for?  Well, they both claim he exposed them to the HIV virus, with which they claim he is infected. Whatever the truth, the accusations and the situation are troubling.
Finally, there's Rafael Palmeiro, the former Texas Ranger and Baltimore Oriole. The first-baseman was a 12 time All-Star and a member of the elite club of players who had 3,000 hits and 500 home runs. He is one of only four players – Hank Aaron, Willie Mays and Eddie Murray are the others – to belong to this club.
He's a shoe-in for the Hall of Fame with these kind of numbers, right?  Palmeiro also has a great inspirational story in that he was born in Havana, Cuba, and was raised in the United States, the American Dream.
But beware of false idols, as the saying goes.
Palmeiro fell the hardest of all three of these baseball players. Days after hitting his 3,000 hit in 2005 he tested positive for steroids. He was suspended for 10 games. It probably wouldn't have been that big of a deal except for the fact that he went in front of Congress earlier that year and denied ever taking steroids.
"Let me start by telling you this: I have never used steroids, period," Palmeiro, his finger wagging, told members of Congress while under oath.
I believed him. Most of us did. For one, he wasn't huge or cartoon-like, such as Mark McGwire or José Canseco. Plus, he was going to be the next opportunity for Latinos/Latino Americans to get in the Hall of Fame.
But in the end, I had to accept reality about these would-be heroes. I had to give up on González, Alomar Jr. and especially Palmeiro. Because as much as I'd like to see one of "us" celebrated, as much as I want to make an exception and rewrite history to get "one of your own" into such a prestigious group, when they really don't deserve to be in anymore, I just can't give Palmeiro (as well as the other two) a pass.
Think about it: look what Jackie Robinson had to do and put up with to get in there.  He had to be perfect on and off the field. And how about Roberto Clemente? He died in a plane crash en route to Nicaragua to deliver aid to earthquake victims. This Puerto Rican legend was a U.S. Marine reserve in the off-season, proud of his heritage and proud of his country.
You want to put Palmeiro in the Hall of Fame with Clemente? Clemente, the man who played the sport at its purist and off the field lived like a role model for not only Latinos but EVERYBODY? Clemente, who felt he had an obligation not only to be the best ball player but to be the best human being he could be?
I sure don't.
Look at Pete Rose, who was one of the greatest ball players of all time. He has been denied entry into the Hall Of Fame after it was found out he gambled on baseball. If he can't get in there with greats Robinson and Clemente, then Palmeiro surely doesn't deserve to get in.
Baseball has an unwritten code: cheaters and liars are the ones who pay the price, no matter how many numbers they produced during their careers.
I'd love to have another Latino in the Hall of Fame, someone children can look up to and admire. I have heroes of different races and religions, but I've always believed it means a little more when that idol or role model has a name that sounds like a little like mine, or has certain features that may look like me or one of my relatives.
But we can't make exceptions for these people. We have to play the game like everyone else.
Victor García is an associate producer for Fox News Channel and a regular contributor to FoxNewsLatino.com.
Follow us on twitter.com/foxnewslatino
Like us at facebook.com/foxnewslatino