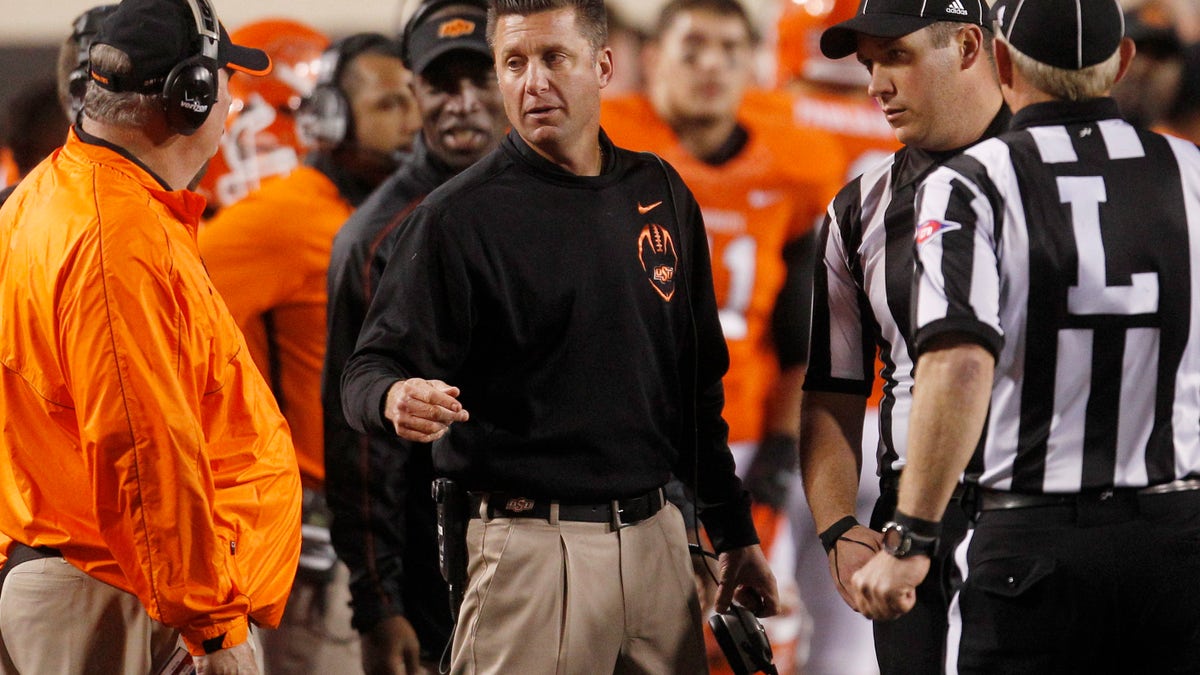 STILLWATER, Okla. – The departure of Oklahoma State's offensive coordinator and buzz about the Cowboys' defensive coordinator and head coach haven't distracted the team from its preparations to play Purdue in the Heart of Dallas Bowl on Jan. 1.
The Cowboys (7-5) will be without Todd Monken, who left as offensive coordinator to become the head coach at Southern Mississippi. But Monken might not be the only coordinator coach Mike Gundy will have to replace. Defensive coordinator Bill Young — a coaching veteran of 45 years — has said he doesn't know how much longer he plans to coach, although he talked Thursday about recruiting and next season as if he will be back.
Gundy also was mentioned in connection with openings at Tennessee and Arkansas before opting to remain at his alma mater.
"We understand that coaches have to do what is best," starting quarterback Clint Chelf said. "When you win games that can happen. People come talk to your coaches. We all know we have another game left. For us, as players, you have to go out and keep practicing, keep performing and hope the team wins."
Replacing coordinators has become commonplace during Gundy's eight seasons. Three of them — Larry Fedora and Dana Holgorsen on offense and Tim Beckman on defense — went on to head coaching jobs before Monken did so.
Gundy and his other offensive assistants — a group that includes wide receivers coach Kasey Dunn, inside receivers coach Doug Meacham, running backs coach Jemal Singleton and offensive line coach Joe Wickline — will call plays against Purdue (6-6), although Gundy didn't specify Thursday who will have the final say.
Gundy did say he's been involved more in offensive coaching meetings this month than he's been since giving up play-calling duties with Holgorsen's arrival before the 2010 season.
"We've got a plan that we'll have completed by Sunday," Gundy said. "We'll have it broken down based on position on the field. We'll make a play call. There will be conversations that go on between coaches on the headphones. The quarterback has to make that determination when we give him the play."
Gundy also said he hasn't started the process of replacing Monken, because it would be unfair to the Cowboys' seniors for him to not devote his full attention to bowl preparations.
The buzz around the coaching staff doesn't seem to faze the players much.
"It's not too big of a distraction," defensive lineman Cooper Bassett said. "We know it's a business. We came here, I came here to Oklahoma State and I signed my letter of intent for Oklahoma State University, not to coach Gundy.
"Since I've been here, we've started out with a different defensive coordinator. Coach Young is our second defensive coordinator. Since I've been here, we've had three offensive coordinators. It's part of it. It's part of the business of college football and the reason that happens is because we've had success."
Young missed the first two games of the season because of medical treatment for an aneurysm between his eyes. He has said that the health issue made him rethink his future, although he sounded Thursday like someone ready for another season of coaching.
"All I'm thinking about is this next ball game," Young said. "I really am. Retirement is not in the picture for me right now.
"I certainly haven't been talking about it. People have asked me the question and I've answered it the best I could. I don't want to be a distraction. I love these players. I want to get out here and coach this ball game and do the best we can and then get on to recruiting."
Gundy said he has "had very little conversation" with Young about the issue.
"I think he's at a point in his life that he's probably is going to make a decision on what path you take," Gundy said. "At some point, you get to where you want to think about what you want to do for the next 10 or 20 years of your life. I think it's really that simple."
The Cowboys' opponent in the Heart of Dallas Bowl also is dealing with coaching issues. Purdue fired Danny Hope earlier this month and appointed receivers coach Patrick Higgins as the interim head coach for the bowl game. Purdue already has named Kent State head coach Darrell Hazell as the Boilermakers' new head coach.
Gundy said preparing to play a team going through a head coaching change can be difficult.
"I'm not so sure who has the advantage," Gundy said. "When you lose a coordinator like we have, I lost a quarterback coach, an organizer on offense and a play-caller. I don't know what their situation is. I don't know how many of their coaches are still coaching or how many have gotten jobs. I haven't kept up with that. I'm not a fan of either situation."