Ohio State quarterback's knee injury before Michigan game prompts calls for investigation
Ohio State coach Urban Meyer furiously called for an "all-out investigation" after the Buckeyes' 31-20 win over Michigan on Saturday, after what he said was a knee injury suffered by quarterback J.T. Barrett before the game.
Barrett left the game in the third quarter, limping off the field because his right knee was hurting. Dwayne Haskins relieved Barrett and helped lead the eighth-ranked Buckeyes to a 31-20 victory against Michigan on Saturday.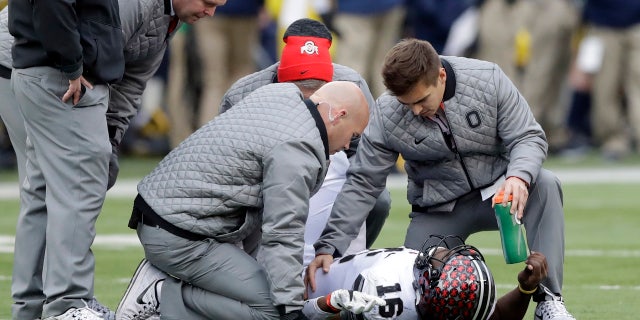 Meyer said Barrett was hit by a camera or cameraperson before the game, which injured his right knee.
"Too many people on the sideline," he said at a pregame press conference. "I'm so angry right now."
The coach placed blame on himself for allowing the incident to happen, and asked why the sideline wasn't patrolled better.
Barrett said his knee twisted when someone tried to squeeze by him and it aggravated a problem he has been playing with all season.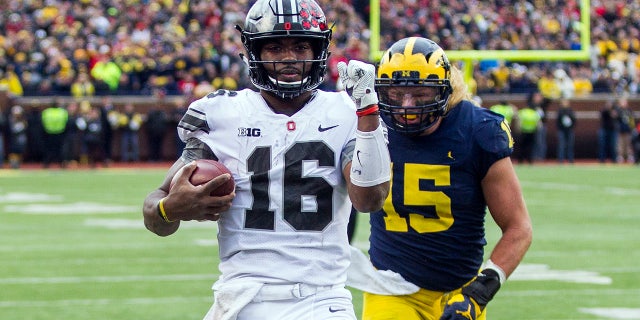 NO. 6 AUBURN TOPS NO. 1 ALABAMA 26-14, EARNS SEC TITLE SHOT
"He was close to our bench," he said.
It did not keep him from starting, but after a run in the third quarter he stayed down on the field and grabbed his right knee. He later limped off the field and toward the locker room.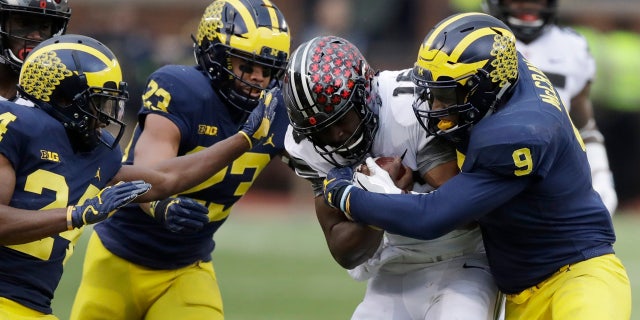 Barrett was 3 of 8 for 30 yards with a touchdown and ran 15 times for 67 yards and another score. He went out with Michigan leading 20-14 in the third.
Barrett previously injured his knee against Indiana in the season opener, and was able to get it back in place, according to Cleveland.com.
EPIC: COLLEGE FOOTBALL COACH GIVES REPORTER POLITICALLY INCORRECT WEDDING ADVICE
The senior said he'll play in next week's Big Ten championship game against No. 5 Wisconsin, hoping to help the Buckeyes win and perhaps earn a spot in the College Football Playoff.
While Barrett was relatively calm about the contact, which he didn't think was intentional, Meyer was clearly angry and wanted more information about what happened.
"It's an all-out investigation," he said.
The Associated Press contributed to this report.