Oakland Raiders running back Marshawn Lynch sits during national anthem at preseason NFL game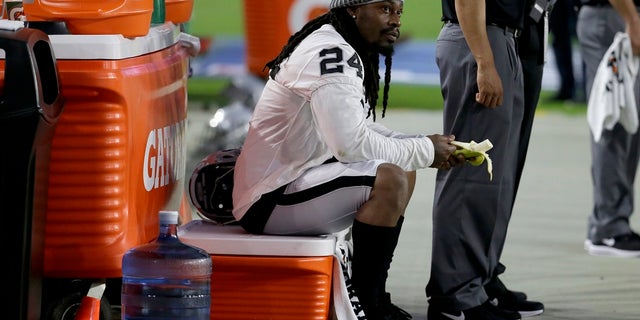 Oakland Raiders running back Marshawn Lynch sat during the national anthem over the weekend, ahead of a Saturday preseason game against the Arizona Cardinals, the AP reports.
The NFL player was photographed on top of an orange cooler with a banana in Glendale, Ariz.
Last year, San Francisco 49ers quarterback Colin Kaepernick sat and kneeled during the national anthem and protested police brutality.
Lynch previously backed Kaepernick, telling comedian Conan O'Brien in September 2016, "I'd rather see him take a knee than stand up, put his hands up and get murdered."
NFL'S COLIN KAEPERNICK COMPARES COPS TO FUGITIVE SLAVE PATROLS
"If you're really not racist then you won't see what he done, what he's doing, as a threat to America, but just addressing a problem that we have," Lynch said at the time.
Raiders coach Jack Del Rio says he didn't know about Lynch's plans ahead of the game, according to NFL.com.
"On Marshawn, talked to Marshawn trying to make sure we're on the same page," the coach said. "He said, 'This is something I've done for 11 years. It's not a form of anything other than me being myself.' I said, 'So you understand how I feel, I very strongly believe in standing for the national anthem. But I'm going to respect you as a man, you do your thing. We'll do ours.' It's a non-issue for me."