NYCFC's David Villa is a blue-collar star setting the gold standard in MLS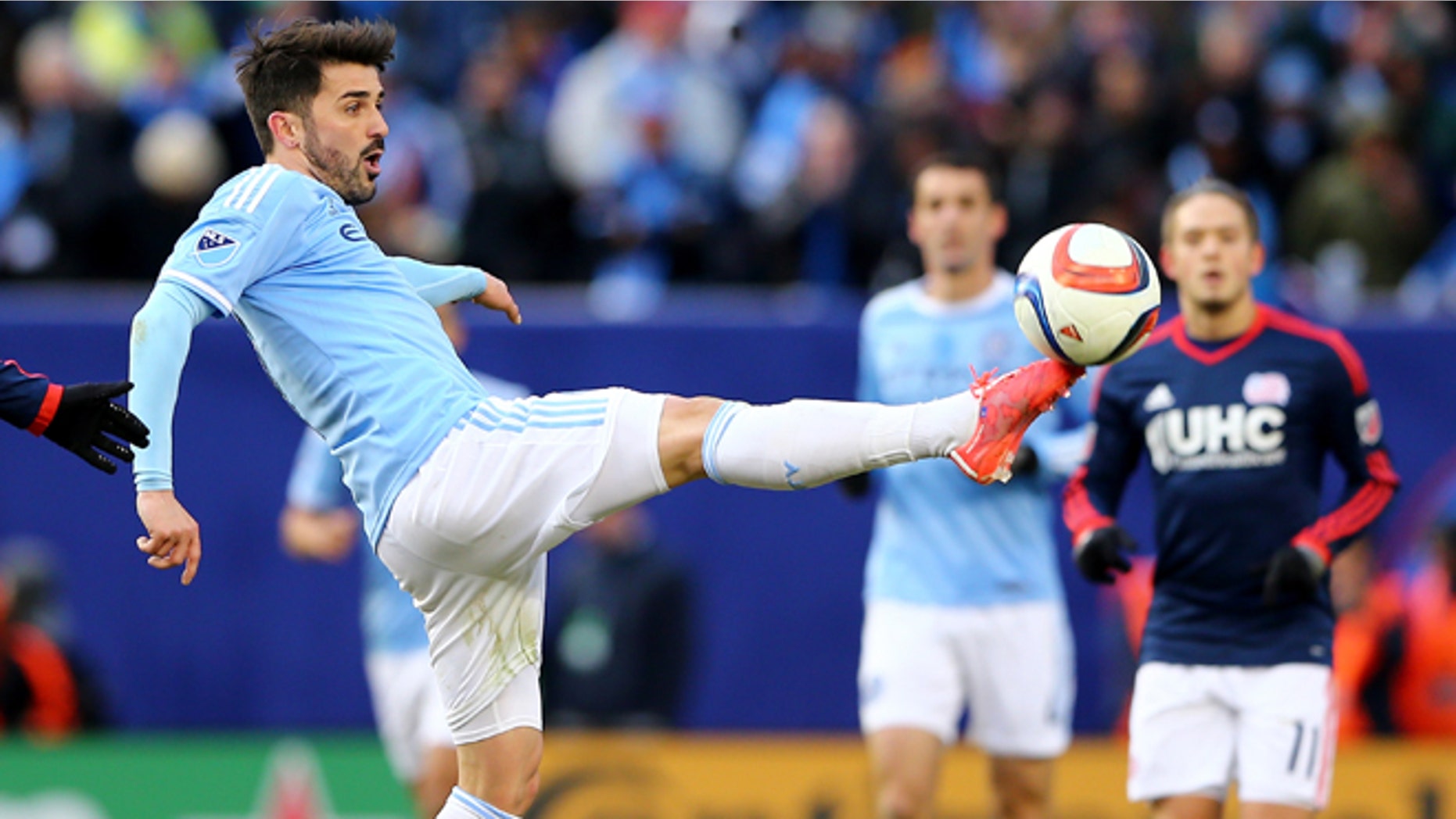 New York – He is a blue-collar worker earning a white-collar salary — a quality that not only inspires his teammates but garners respect and even admiration from opponents as well.
In fact, New York City FC striker David Villa may have set a new gold standard for Major League Soccer designated players with his overall performance in less than two years in the league.
The way the Spanish star plays with his body, mind and soul – whether while tracking down a ball at midfield or zeroing in on a pass from a teammate that he converts into a goal – has been one of the major reasons why the team sits atop the Eastern Conference standings entering Friday's action in just its second year in existence.
OK, NYCFC has a record narrowly over the .500 mark at 4-3-5, but it is a marked improvement over its disastrous 2015 maiden season, when the team finished 10-17-7.
In just a year and two months in an NYCFC uniform, Villa has scored 26 goals in 42 matches, an impressive 62-percent strike rate. This season, he is tied with Portland's Fanendo Adi and Toronto's Sebastian Giovinco for tops in the league with eight goals.
New York Red Bulls coach Jesse Marsch, who hopes to find a way to nullify the Spanish international when the teams clash in the Hudson River Derby at Yankee Stadium Saturday afternoon, spoke of his foe in glowing terms.
"Villa has been nothing short of phenomenal," Marsch told Fox News Latino on Thursday. "I think that's what everyone hoped and thought when he came. What's been impressive to see of him of late has not just been his goal-scoring prowess, but the work ethic he shows.
Marsch went on, "That has led the way for the resurgence of this team. [NYCFC coach] Patrick Vieira certainly deserves a lot of credit for the form that the team is in, but when you see guys like David Villa on the field just laying it out there, being one of the hardest workers, sliding around and battling for loose balls … He understands what this league is, and the physicality of it. He still has so much quality when he plays around the ball. It's hard not to be a fan of the way he plays and the things he does."
For his trouble, Villa is paid well by MLS standards, but that doesn't mean he still isn't something of a bargain.
According to salary figures released by the MLS Players Union Thursday, Villa earns the fifth-highest base salary in the league at $5,610,000, but the seventh-highest in terms of total compensation. In fact, he isn't even the top earner on his team. That's Frank Lampard, who has yet to play this season because of a calf injury.
The NYCFC captain's play hasn't surprised Vieira, a World Cup winner with France in 1998.
"What can I say about David that you don't know already?" Vieira said recently. "He is a terrific and fantastic player ... In football and in sport there are two different types of leader: The one who is really vocal, and the one who [expresses himself through] talent and working hard. David isn't very vocal, but he works really hard and sends that message to the players."
Vieira added, "You know when you have such a [talented star] and are having players work really hard around him, that is the real talent."
Indeed, Villa's work ethic has rubbed off on his teammates.
"He loves to have pressure," defender Andoni Iraola said. "The work that we see in him for other players is very important."
U.S. international midfielder Mix Diskerud said, 'He wants to win. You can see that every day at training and games."
The 34-year-old striker says that he hasn't changed his game from the days he filled the net for Atlético Madrid, Barcelona and the Spanish national team, with which he won a Euro Cup (2008) and a World Cup (2010).
"I don't change anything," Villa said.
For him, 2015 was a vexing season. Personally, he was at the top of his game, tallying a team-high 18 goals while NYCFC missed the playoffs in its maiden season. Afterward, Jason Kreis was fired as coach and replaced by Vieira, who brought in to install a more attacking style.
"Last year was a very difficult one for us," Villa said. "This year was different. We had a very good preseason, very calm preseason … So far we have been successful."
When he starred in La Liga, Villa participated in plenty of derbies. Now, he is helping forge a fledgling rivalry between local teams. Last year the Red Bulls swept the three-game series.
"It's good to create this rivalry," he said. "I have played in a lot of derbies in my life, different derbies in different cities, different situations. It's not about 90 minutes of soccer. You have supporters in the street in the morning … They enjoy all that day, not only 90 minutes."
Saturday's match against the Red Bulls, whose arena is in nearby Harrison, New Jersey, is part of Heineken Rivalry Week, an MLS effort to establish the type of derbies and grudge matches that have helped make the European leagues so popular.
Landon Donovan, the retired star of the Los Angeles Galaxy and the U.S. men's national team, told FNL, "When I started with the San Jose Earthquakes [in 2001], the rivalry thing was a little contrived – it still is, in some cases."
But he said, "Red Bulls–NYCFC clicks all the boxes for a game that you really want to watch."
Partly that's because NYCFC might be the most improved team in the league, although it hasn't done very well on its home turf. The team is 1-1-4 at Yankee Stadium, and 3-2-1 on the road.
"We have improved a lot. The last game was very good," Villa said of NYCFC's last home game, a 3-2 victory over Vancouver on April 30. "We are happy with the position of the table, because we are at the top. But our six home games are not good results. We need to be better."
Given what Villa has accomplished during his career and in his short tenure with the team, winning consistently at home should be an achievable goal.