The <i>Other</i> Football: Looking for the next King of Soccer in Queens, N.Y.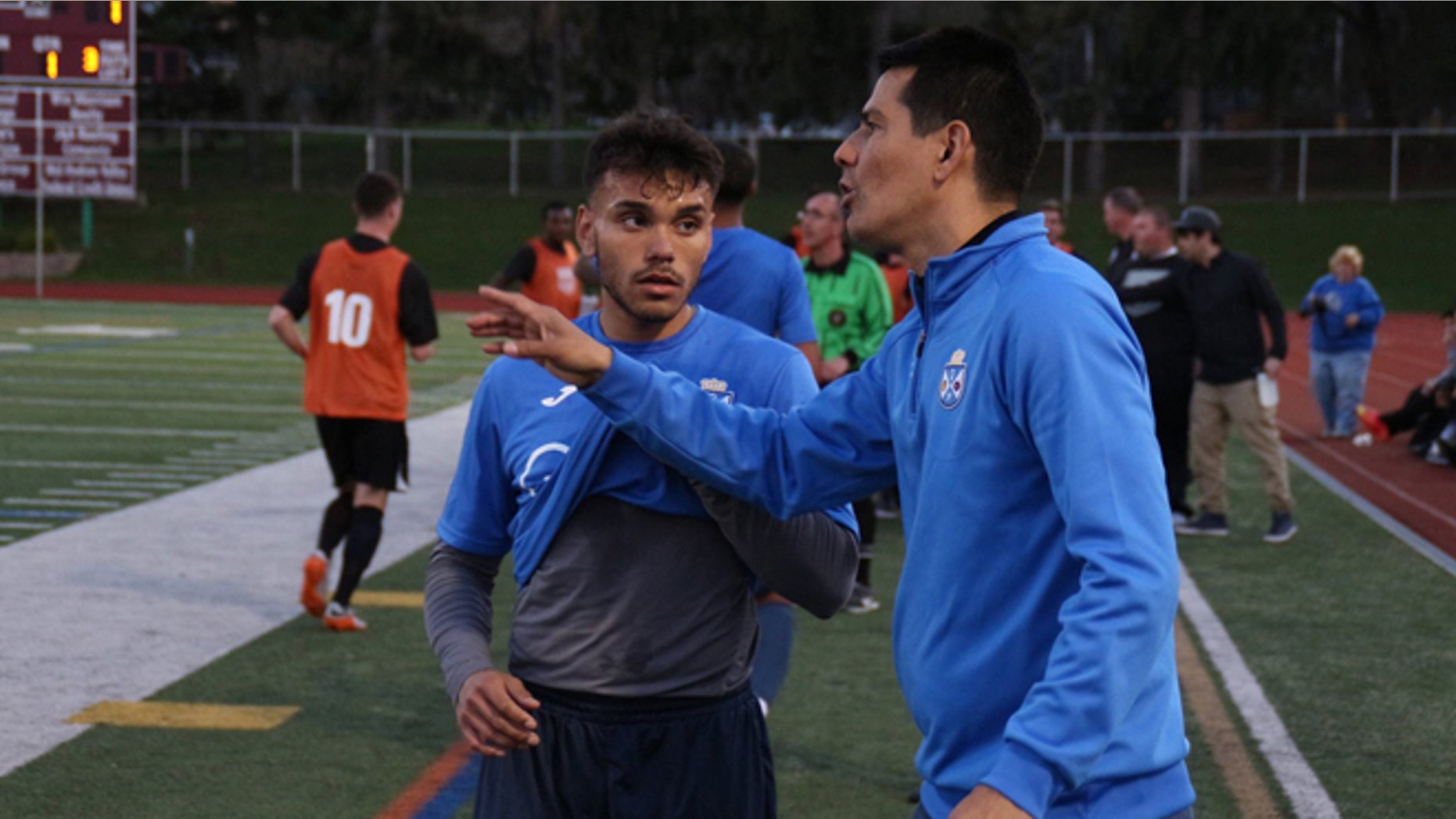 Launching a soccer team doesn't come cheap, that is of course if you do it the traditional way. The value of a Major League Soccer franchise is now north of the $150 million mark. But there's another formula being tried out in Queens, New York, by the soccer-loving owners of Kew Forest FC.
Barely five months old, the amateur club, which is nicknamed the Huntsmen or "Los Cazadores" in Spanish, starts its inaugural season in the top Long Island Soccer Football League this September.
Kew Forest's player demographics reflect the culturally diverse borough – with team members hailing from not just the United States, but also places like Colombia, Nepal, Paraguay, Honduras and Mexico.
There are some high-pedigree soccer nations on that list, and Kew Forest president and founder Benjamin Falvo is hoping to give his players an opportunity to showcase their cultural inheritance.
"I'm always concerned that players don't have an outlet much past college that gives them a chance to better themselves as a player," he told The Other Football.
He added, "I saw this as an opportune time for proper development of players, young to adult."
Falvo hopes to launch a youth team in the next year and, importantly, his club won't be a pay-to-play model, but rather it will be funded via sponsorships and selling its top talent – the way many smaller European clubs are structured.
"I really want to develop players," Falvo said. "Getting to NPSL" – the National Premier Soccer League, one of the fourth-tier U.S. leagues – "is a nice goal and advancement. But our current system, well, it doesn't reward achievement. So where we can achieve it is by developing players and selling them to clubs elsewhere."
While not giving an exact figure, Falvo believes the club will need tens of thousands to set itself up so it can do just that.
Kew Forest's philosophy won over team coach Carlos Santander, who played professionally in top leagues in Bolivia, Chile and Venezuela and won  the Copa Libertadores while playing for Paraguay's Club Olimpia in 1990.
"The project really interested me, with a lot of youth and vision [and] most importantly working with underprivileged talent that has no opportunity to reach the MLS," Santander said. "Looking ahead long term, I see a team that can reach the NASL and compete with the [New York] Cosmos, because these young guys have a lot of determination to get somewhere and be noticed in this country."
The players share Santander's enthusiasm.
"I chose to play with Kew Forest FC because I believe in its ambitions," said 20-year-old midfielder Alexis Bustillo, who played for John Jay College as well as several other clubs in the New York City area.
"We have a strong group of guys who go all out every single training session," Bustillo said. "There is no real favoritism on this team. It's just a matter of who is working harder, and, because of that, we can only get better. I believe that not only do we have the talent to play at a high level, but we have the heart as well."
The 23-year-old American midfielder Diego Soto, who played briefly for the El Salvadoran team Club Deportivo Aguila and had a trial with top Argentine team River Plate, told TOF, "Everyone is just waiting for things to unfold. This is a new club, and things are just settling down. It's going to be exciting."
Falvo is realizing a dream, and his team offers something great and something quintessentially American: a second chance.
"I feel we represent the guys who couldn't afford the pay-to-play system, and we are offering a free system to still be able to compete against those teams," he said.
It's an exciting model that can be replicated all over the country, and perhaps help U.S. national team coach Jürgen Klinsmann find the talent he so desperately needs.
Video of the week
The mighty Hammers of West Ham United played their last game at their beloved Upton Park in London – they'll be moving to Olympic Stadium in Stratford for next season – when they beat Manchester United 3-2 last week.
Listen as the fans give the players a fond farewell, singing the team's theme song, "I'm Forever Blowing Bubbles," as they walk onto the field.
From the wires
France will deploy anti-drone technology to interfere with and take control of any flying machines that violate no-fly zones over stadiums at the European Championship, part of unprecedented measures to secure Europe's biggest sports event since the Paris attacks in November.
In an exclusive interview with The Associated Press, Euro 2016 security chief Ziad Khoury said Tuesday that no-fly zones will be declared over all 10 stadiums as well as training grounds for the 24 teams at the June 10-July 10 tournament.
"We've noted the general proliferation of drone-usage in society," Khoury said in his Paris office. "So no-fly zones will be defined over every training ground and every stadium, and in most stadiums and for most matches anti-drone measures — which are quite innovative — will be deployed, working with the state, which will interfere with drones and take control of them if they are spotted."
French authorities have trained for the possibility of drones being used to disperse chemical weapons over crowds. A training exercise in April in Saint-Etienne, one of the 10 Euro 2016 cities, imagined that a drone carrying chemical agents had plunged into spectators at the Geoffroy Guichard Stadium, which will host three group matches in June and one game in the knockout round.
"When you prepare an event of this size, you must imagine all scenarios, even the most unlikely," Khoury said.
He said authorities have no specific intelligence to indicate that drones are a threat, but are preparing for all eventualities. The anti-drone measures to be deployed by the French air force and police "aren't necessarily infallible, because the technology is new and the drone phenomenon is recent. Let's say it is a dissuasive measure that didn't exist at previous sports events," he said.
"The idea is not to destroy the drones, because there could be collateral damage, notably if they crashed into the public. It is to prevent them from flying over the stadiums and perhaps to arrest their pilots," Khoury said.
Expanded security perimeters around stadiums should keep any drone pilots at a considerable distance, he said.
"So the risk for matches should be limited. For other sites, it's a different matter," Khoury said.
"With drones, it could be curiosity. It could be fans. It could be something more malicious," he said. "Nothing has been identified in particular. It's simply that we are working on all hypotheses so we could respond."
The Associated Press contributed to this report.