Notre Dame kicker finding his groove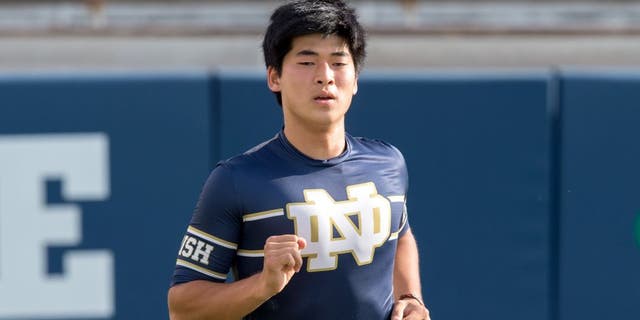 NEWYou can now listen to Fox News articles!
Among the big moments in Notre Dame's win over Navy last week was a 52-yard field goal by freshman kicker right before the end of the first half.
The longest kick of Justin Yoon's brief college career, it gave the Fighting Irish a 24-21 lead heading into the locker room.
"His zone is right there," Notre Dame coach Brian Kelly said Tuesday. "He was right on the edge of his zone, and we had a little bit of a breeze, and he felt good about it. He's not a kid that is going to put himself in a position that he doesn't believe he can make it."
Yoon later connected from 36 yards to close the scoring in a 41-24 win and leave him 7 for 9 this season.
He has gone 4 for 4 over the last four games after going 3 for 5 in the first two.
"Trying to get my momentum as a freshman wasn't easy," Yoon told reporters after the game. "A freshman going on the football field for the first time is a big spotlight, and that's a difficult experience.
"I've progressed through the games, my teammates have put their trust in me. That's the biggest thing."
(H/T Inside The Irish)