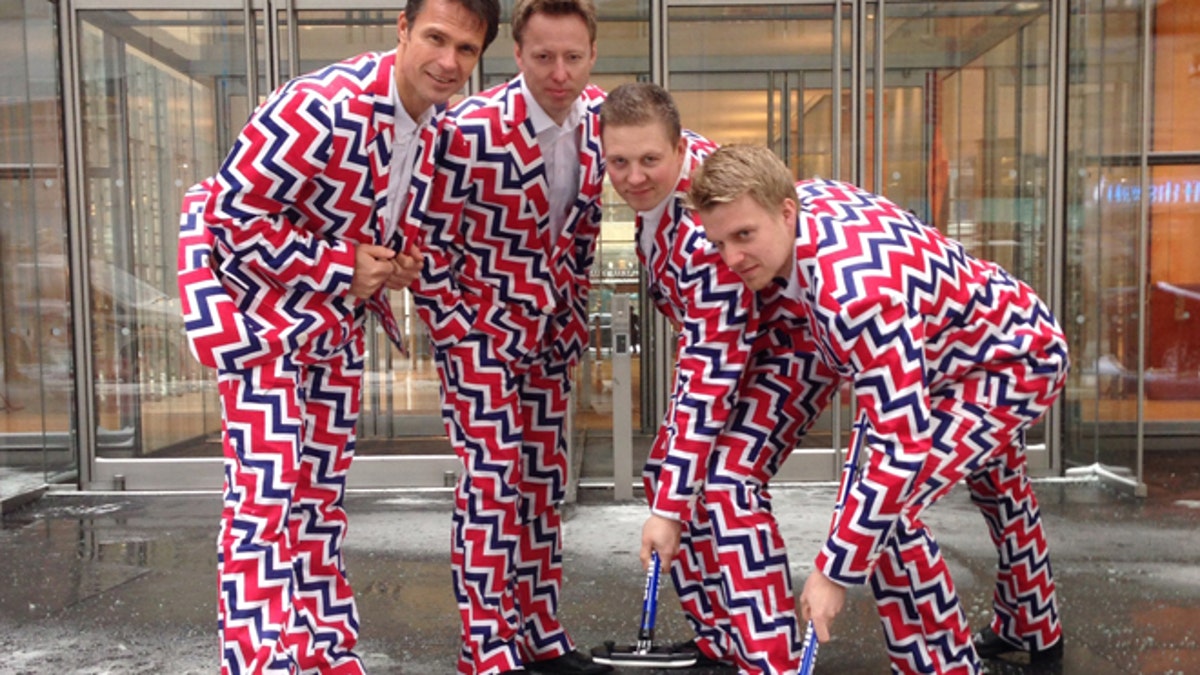 So what will be the must-see moments at the Sochi Olympics?
How about snowboard star Shaun White performing his latest trick — the front-side double-cork 1440. Or Evgeny Plushenko's quad jump, the signature move of the Russian figure skating superstar. And be sure not to miss Mikaela Shiffrin — the American skiing sensation — slicing her way through the women's slalom.
When it comes to curling, there's no doubt what the show-stopper will be.
Yes, Norway's men's team is back with their crazy, funky pants. And they'll be more outrageous than ever when the players emerge for their first game at the Ice Cube.
"Put it like this, you'll not see me wearing them," Norway coach Pal Trulsen told The Associated Press. "Except maybe at a bad-taste party or something."
The Norwegians — Thomas Ulsrud, Torgor Nergard, Christoffer Svae and Havard Vad Petersson — caused a stir at the Vancouver Olympics in 2010 when they took to the ice for the tournament's opening game against Canada sporting bold, diamond-printed golf pants in their nation's colors. With curlers having always worn basic black uniforms, tradition was thrown out of the window.
Spectators couldn't believe what they were seeing. The pants became one of the talking points of the games, quickly going viral. Even the Norwegian monarch, King Harald V, received a pair.
A Facebook page dedicated to 'The Norwegian Olympic Curling Team's Pants' peaked at 695,000 followers during the games, according to its founder Anthony D'Orazio — that figure is currently back down to close to 540,000 but is sure to grow before and during Sochi. Two of the biggest clusters of followers are in China and Brazil.
Norway's emboldened curlers — trend-setters in their own right — are taking some new patterns over to Russia.
Four have already been revealed — one has a zig-zagging chevron print, and another is black and flowery and called "rosemaling" — and several more will be unveiled throughout the Olympics. It's all very top-secret at the moment, but prepare to be amazed.
"Because we know them, we probably won't be shocked," said British curler Anna Sloan, who has become good friends with the Norwegian team. "But trust me, it will be good."
Initially stunned, World Curling President Kate Caithness has embraced the pants, which have added a whole new dimension to curling.
"I am a traditionalist, I must be honest," Caithness said in a telephone interview with the AP. "But after I saw them in Vancouver, I actually liked them. They brought focus to our sport, these crazy pants.
"It would be awful if all the teams were wearing them — it would look like a circus. But I think it's a trademark of the Norwegian team only and we like it that way."
Svae hopes so, too. After all, it was he who came up with the idea in the first place.
The long-time Norway international curler was unhappy at the black-and-gray colored uniform his team had been given for Vancouver, and asked its equipment sponsor a month before the Olympics to make them some colored pants. There wasn't enough time, so he went online to find some goofy golf pants.
He happened upon Loudmouth, an American sportswear company known for its flamboyant attire. Golfer John Daly and rock singer Alice Cooper are customers.
"It's definitely been life-changing for us," Svae said. "Not so much in the everyday but when we travel around the world for curling, it doesn't always matter if we do well or not, people still think that we win stuff because we are always in the media."
"I don't think you'll see a lot of the other teams do the same that we did," Svae added, "they feel it's our thing."
Larry Jackson, the CEO of Loudmouth, says his company's server went into meltdown several times during the 2010 Olympic final, such was the onslaught of traffic from customers wanting to snap up some pants.
"Sales have gone off the charts," said Jackson, who adds that Loudmouth has "a few interesting pants" planned for Sochi.
"It's all red, white and blue. I do believe it's going to be considered even more loud."
Norway's men will be among the favorites for gold in Sochi. But even if they come up short for the second straight Olympics, they have already made their mark in curling's long history.
"It feels as in some way we have contributed to the development of the sport," Svae said. "Maybe not so much on the ice, but certainly off it."