No. 14 LSU's season opener cancelled by lightning strikes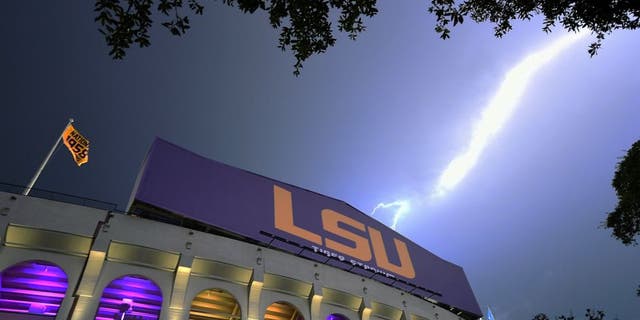 BATON ROUGE, La. -- With less than five minutes of football in the books this season, No. 14 LSU must now start preparing for its Southeastern Conference opener next weekend at Mississippi State.
Persistent lightning strikes near Baton Rouge caused officials to cancel the Tigers' opener with McNeese State on Saturday night following a delay of nearly four hours.
"It boils down to player safety," LSU athletic director Joe Alleva said. "We just felt like it was not in the best interest in our players to play this game. I apologize but we can't control the weather and I'm sorry."
Alleva noted that team doctors and trainers were recommending a minimum 30-minute warmup if play had resumed because the delay was so long.
Because NCAA rules prevent players from taking the field until 30 minutes after an area lightning strike, the best-case scenario would have been a delay approaching five hours with the first quarter resuming close to midnight.
Alleva said LSU would still pay McNeese $500,000 for the game, but LSU officials were still working on options to compensate fans who bought tickets.
The game won't be made up, meaning LSU will have an 11-game regular season schedule this season.
The teams did not have matching open dates, and returning to play Sunday would not have worked either, Alleva said, because McNeese State, a fellow south Louisiana school about a two-hour drive away, did not have a hotel.
"McNeese had to go home," Alleva said.
Players were first ordered off the field in a scoreless game with 10:08 left in the first quarter after lightning was observed in the area around 6:50 p.m. Soon after, wind-driven heavy rain arrived, sending fans scattering to the exits, except for some students who seemed to be relishing the downpour while chanting, "L-S-U!," or dancing to rain-themed songs such as "It's Raining Men" playing over the Tiger Stadium public address system.
More than two hours after the delay started, some coaches and officials returned to the field. It briefly appeared officials were planning to resume the game before more lightning strikes were seen in the area.
"We would have liked to prepare best for Mississippi State having had a first game under our belt before we played them," LSU coach Les Miles said. "The idea that we would wait until just before midnight to see if we could possibly get on the field and to play until 3 a.m. was not in the best interest of our players.
"We have to accomplish our same goals without that game," Miles added. "Our preparation is going to have to be that much better."
Miles did not sound too concerned that the shortening of LSU's regular season from 12 games to 11 might be a detriment to getting into the College Football Playoff, should the Tigers remain in contention the whole season.
"It really depends on what you can get accomplished," Miles said. "If you march through conference and end up as conference champions, it won't make any difference. If you are the best 11-win team at the time and there are some best 12-win teams, it will be interesting to see how that might play."
Players were not made available to reporters after the game was called.
LSU had entered its opener against McNeese wanting to see how its defense looked under new coordinator Kevin Steele. Coaches also wanted see how sophomore Brandon Harris, who was named the starter over Anthony Jennings at the end of August camp, would handle his first significant action since struggling at Auburn in the middle of last season.
Instead, Harris got to throw only two passes, completing one for a loss of 4 yards. The Tigers got one first down on Leonard Fournette's 10-yard run before they had to punt. LSU's defense had two tackles for losses, including a sack and forced a punt after only three plays. Then the game stopped.
"Unfortunate for both of us. (But) I think the right decision was made at the right time," McNeese coach Matt Viator said. "They've got a game next week, obviously and we open conference (play), so just for those matters we wanted to play."