NNS: It's The Kyle Busch Show – Again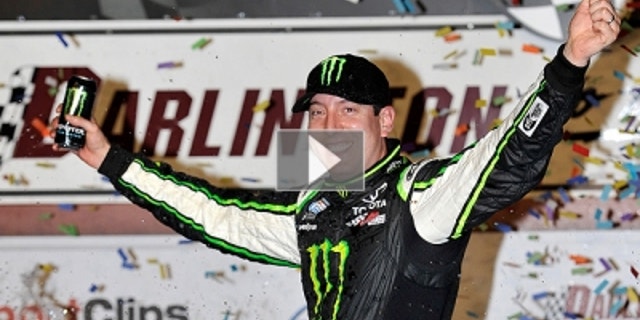 Kyle Busch, who has dominated the Nationwide Series as an outsider this season, showed that power again Friday night, easily winning the VFW Sport Clips Help A Hero 200 at Darlington Raceway.
The win was Busch's fifth in eight Nationwide races this year.
Busch held off Elliott Sadler over the closing laps to win without a serious challenge. He led 107 of the race's 147 laps in winning his 56th career race in the series.
VFW Sport Clips Help A Hero 200 Race
Joe Gibbs Racing took the first, second, third and fifth spots as Sadler, Brian Vickers, Joey Logano and Matt Kenseth rounded out the top five.
The green flag flew with 23 laps to go and the leaders working on different tire strategies.
Logano had the lead on the restart, but Busch quickly moved into second and then began challenging Logano for first.
With 17 laps to go, Logano bobbled in the second turn and Busch zipped past, regaining command of a race he had dominated. Busch led 85 of the race's first 117 laps.
Busch's only problem occurred on pit road. He lost several positions when his jackman fell during a stop, costing the team several seconds. But Busch made up the deficit quickly.
"You just keep doing what you're doing," he said. "You work hard and do what you can each and every lap and try to come back from something that happens. The guys gave me a great race car. It started getting loose. We had to make a lot of adjustments."
Sadler made a remarkable recovery from an early-race slip that saw his car slide down the track and onto the apron. Sadler didn't make contact with the wall or other cars and returned to the track during the ensuing caution.
Sadler climbed through the standings and, with 14 laps to go, moved past Logano to take second, behind Busch.
"That Kyle Busch is pretty good," Sadler said. "I was trying to chase him down there. We just needed a little more for the 54."
Regan Smith kept the series point lead over Sam Hornish Jr. Sadler moved up two spots to third.
Mike Hembree is NASCAR Editor for SPEED.com and has been covering motorsports for 31 years. He is a six-time winner of the National Motorsports Press Association Writer of the Year Award.