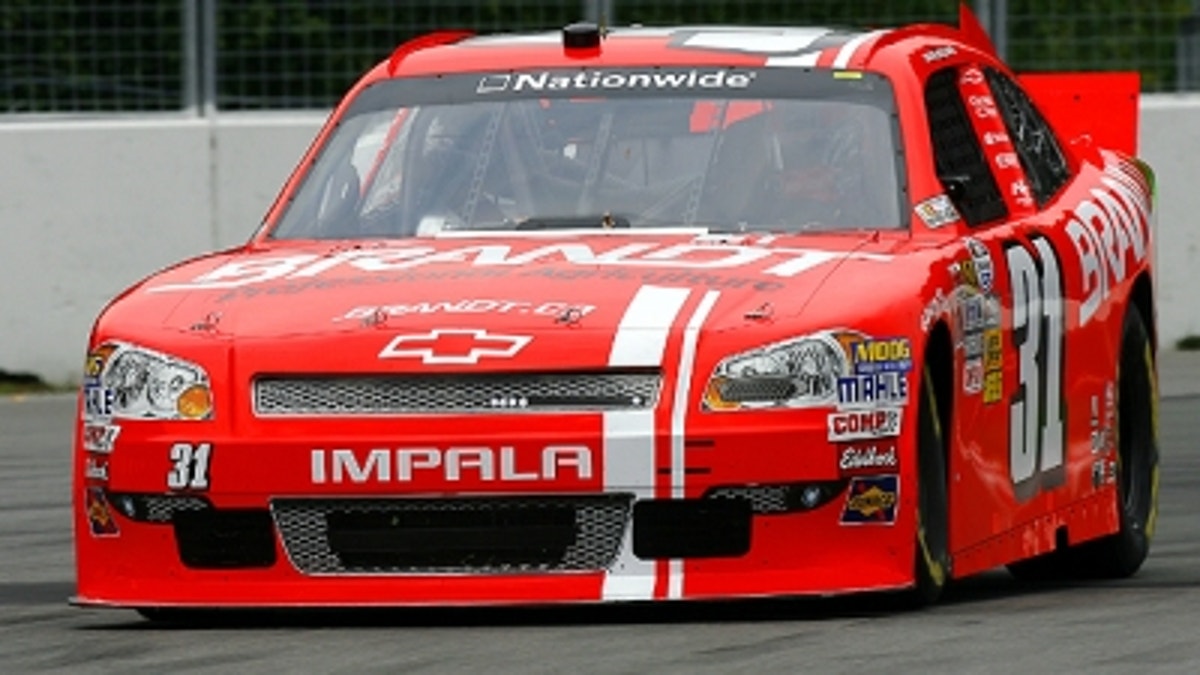 Justin Allgaier made a last-lap pass of Jacques Villeneuve to win today's NAPA Auto Parts 200 NASCAR Nationwide Series race at Montreal's Circuit Gilles Villeneuve.
Allgaier put the bumper to Villeneuve on the only lap he led to score his third career victory in 130 career starts and dash the hopes of the Canadian driver on the road course named after Jacques' late father.
Sam Hornish Jr. also passed Villeneuve to finish second and make it two Penske Dodges in the top three. Series points leader Elliott Sadler finished fourth, with Ron Fellows completing the top five.
Montreal native Alex Tagliani started from the pole in his No. 30 Turner Motorsports Chevrolet, flanked by the No. 12 Penske Racing Dodge of Sam Hornish Jr.
Tagliani led the first two laps, with Hornish moving to the point on Lap 3. But one lap later, Tagliani ran into the back of Hornish, and then re-passed him for the lead.
Like many others, Tagliani short-pitted, coming in on Lap 7 for the first time.
On Lap 8, Jacques Villeneuve passed his Penske teammate Hornish to take his first lead of the day.
When Timmy Hill's engine failed, bringing out a caution on Lap 24, Villeneuve pitted and Danica Patrick moved to the point.
The green flew on Lap 27, with Patrick in the lead. But Kyle Busch quickly passed Justin Allgaier for second and began pressuring Patrick.
Busch soon pitted, though, which moved Villeneuve back into second and in hot pursuit of Patrick.
Then it got bizarre. Around Lap 40, Patrick ran over a shoe that someone threw on the track and began complaining of steering issues.
That opened the door for Villeneuve, who took the lead on Lap 41, with Tagliani starting to pressure Danica for second. Patrick apparently damaged one of the rear truck arms on her JR Motorsports Chevrolet, necessitating several pit stops, effectively eliminating her from contention of winning.
Then it was Busch's turn to pressure Villeneuve for the lead, with Hornish back in third.
Suddenly, things got crazy. Jason Bowles spun to bring out a caution, and on the restart with 11 laps to go, Tagliani blew by Villeneuve to take the lead, while Michael McDowell ran over Hornish and knocked him off course and out of second place.
Moments later, Kyle Kelley turned Patrick, who got wadded up with Hornish and Mike Wallace.
With 9 laps left, Ron Fellows and Busch made contact, with Fellows going off track and stalling.
The next lap, Villeneuve ran into Tagliani and turned him, taking the lead as Billy Johnson moved to second. Tagliani got loose, but Villeneuve drove right through him, never lifting as he moved into the lead.
Mike Wallace spun with four laps to go to set up a restart with 2 laps to go. Tagliani and a bunch of others got wadded up in Turn 1 when the green came out, setting up a green-white-checkered restart.
Villeneuve held the lead on the restart, but Ricky Stenhouse Jr. was right on his tail, only to spin himself out in Turn 7, as the yellow came out yet again.
On the second restart, Villeneuve pulled away as Allgaier moved to second ahead of Sadler. Hornish was soon into Turn 3, as Brian Scott ran out of fuel.
On the last lap, Villeneuve started to run out of fuel, allowing Allgaier to take the lead and Hornish to move into second. And that's how they finished.
Tom Jensen is the Editor in Chief of SPEED.com, Senior NASCAR Editor at RACER and a contributing Editor for TruckSeries.com. You can follow him online at twitter.com/tomjensen100.